When installing a fire pit in your backyard, you want to use a material that is safe but also looks nice and stays in place.
Although many people have used various items to layer the bottom of their bonfires, five products are more effective and efficient than the rest.
Sand
Stone
Dirt
Lava Rock
Bricks
If you are adding a fire pit to your home, look at each option listed above to choose the best bottom layer for your specific needs. Remember, each option can work well on its own but might do better paired with another.
Why Put Anything at the Bottom of Your Fire Pit?
There are a few reasons to put some type of material at the bottom of your backyard fire pit. Whether it is a small pit, just spacious enough for a few friends, or a large one big enough to entertain an entire party, specific requirements are needed to keep your space safe and secure.
Absorbs heat
Evenly heats the metal above it or surrounding it
Keeps the fire from spreading
Protects the metal fire pit from extreme heat
Gives the fire pit an attractive look
Making sure you have the best bottom layer for your fire pit will ensure you, your guests, and your property are as safe as possible.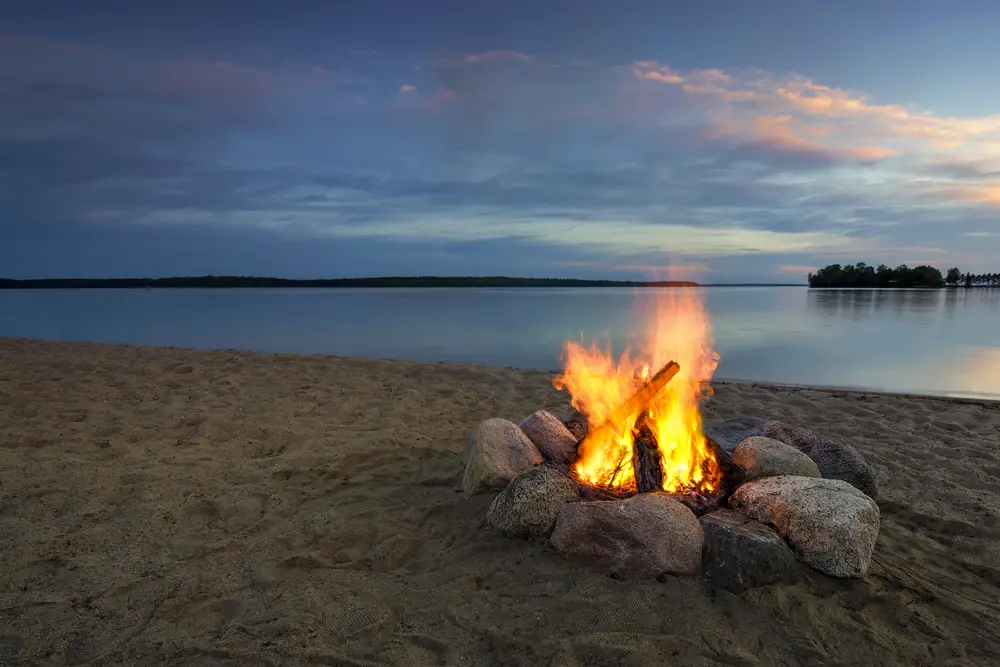 5 Materials to Put in the Bottom of Your Fire Pit
As mentioned, there are various options when adding a material layer to the bottom of your fire pit. But, there are five products we prefer.
These five products are ideal for a safe, attractive, and efficient fire pit you can enjoy all year round.
1. Sand
Sand is by far the most common material to lay at the bottom of backyard fire pits, and it's the cheapest. It is perfect for most areas because it is easy to use and will fit in any space.
Sand is an excellent option because it does a fantastic job absorbing intense heat and dispersing it evenly over the bottom of the metal base. This coverage keeps the base of your fire pit from getting too hot and cracking.
You can use different types and colors of sand for this task, so take some time to pick out the perfect option before getting started. 
When using sand as the base of your backyard fire pit, read the instructions provided by the manufacturer to ensure everything is completed correctly.
2. Stone/Gravel
Another common material to use at the bottom of a fire pit is small stones or pea gravel. While a bag of stones is a little more pricey than sand, it will provide the same protection while offering a slightly cleaner look. 
The only difference between the two is the amount of heat they can absorb. Gravel is not ideal for extremely high temperatures and shouldn't be mixed with products like magma lava rocks or fire glass as this could cause a hazardous situation.
You can use larger stones you find around the yard or buy the bags of landscaping stones sold at local home improvement stores.
When using stones for your DIY fire pit base, ensure they are evenly layered, covering about 10% of the fire pit, so your flames disperse the same amount of heat all around.
3. Dirt
Dirt is the easiest and least expensive option for the bottom of a fire pit. This product works well when mixed with sand. However, like gravel, it doesn't absorb as much heat as sand does, which can make your outdoor fire pit burn unevenly.
Although dirt can be a great base and won't cost you a thing, it could plug up the holes of a portable firepit, suffocating the flames and eventually stoking out your fire.
Dirt bottoms are a much better selection for backyard fire pits built into the ground. However, many people will fill these holes with a layer of rock or sand as well as dirt for added protection.
4. Lava Rocks
Lava rocks or magma lava stones are a great material to use to line your fire pit, especially when you want a product that will last you a long time and can withstand extremely high temperatures.
Although these rocks make one of the best options to add to any fire pit, they are much more expensive than the other options we have discussed so far. Not only will you pay more for this product, but they also aren't that easy to find. There's a good chance you will have to order them from a specialty shop online.
However, if you choose to purchase magma lava rocks, you won't be disappointed. These stones offer a gorgeous appearance, giving you bragging rights when your friends come to visit.
5. Brick Pavers
Although bricks won't work inside portable firepits, they are an excellent choice for those constructed in or on the ground. You can use various bricks to give your pit a unique look while still controlling the flames.
Another benefit of using brick pavers is that they make creating specific shapes and designs easier without digging into the ground. Simply remove the grass, layer your bricks in the shape you like, and add your logs.
When using this item as your base, make sure you buy fire-rated bricks to ensure they can withstand high temperatures.
Using bricks and half bricks is a great way to provide adequate oxygen to your fire without snuffing it out.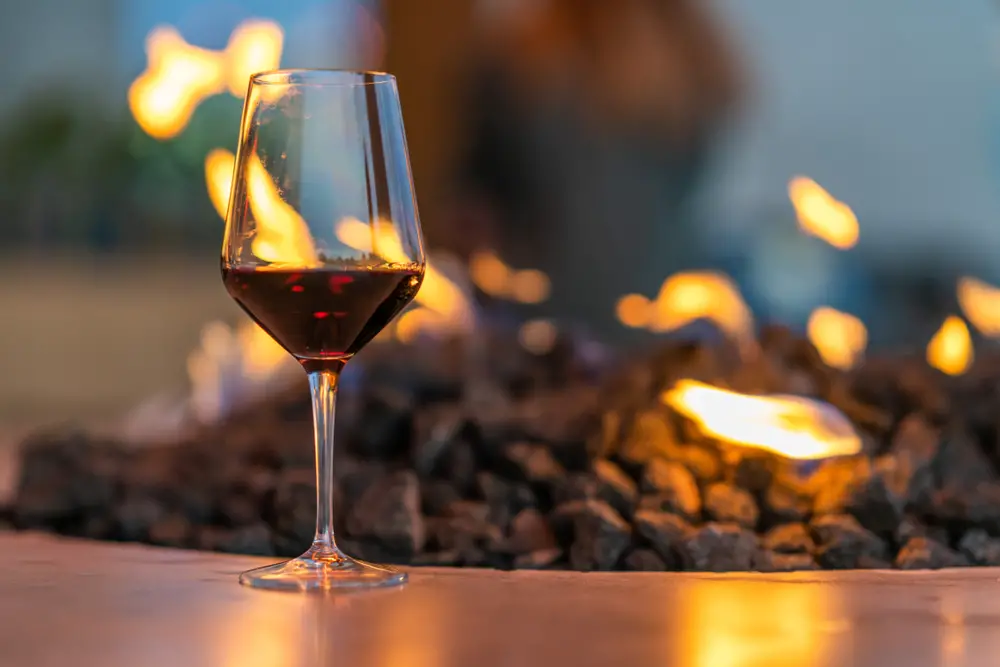 Other Options to Consider
Although the five products listed above are our go-to selections, they aren't the only options out there. There are a few others you might want to try.
Fire Glass
Concrete Pavers
River Rock
Ceramic
Engineered brick
Final Thoughts
A fire pit is a great way to get together with friends and family for some summer fun or sit quietly gazing at the stars. To ensure your fire pit works efficiently and safely, use one of the five options listed above to layer on the bottom. If you put safety first, you'll never have to worry about anything except having a great time.