During warm weather, our thoughts turn to pool parties, barbeques, sitting on the patio or deck, and enjoying outdoor living. You may know of someone who has an outdoor pool or garden. If you are thinking about adding a water feature to your outdoor area – like a tabletop fountain, wall fountain, or pondless waterfall – but are tight on space, we outline small water features that can be incorporated into any space.
Small water features don't have to be reserved for small backyards. They can be used in any sized area to update the space. These features can be waterfalls, fountains, rock ponds, or simple birdbaths. They take many forms. Plus, they can use standing or flowing water to enhance your outdoor living space.
These tiny touches are a wonderful way to give your yard a little something extra at an affordable cost. They are beautiful plus they provide homeowners and guests alike a relaxing outdoor space.
8 Ways to Incorporate Small Water Features to Your Garden
There are a multitude of ways that you can add small water features to your space. Water features – even minor ones like water lilies or rock ponds – can be designed for small spaces or added to larger ones for more variety. These features range from understated to bold and are able to enhance any area.
Stairway Water Feature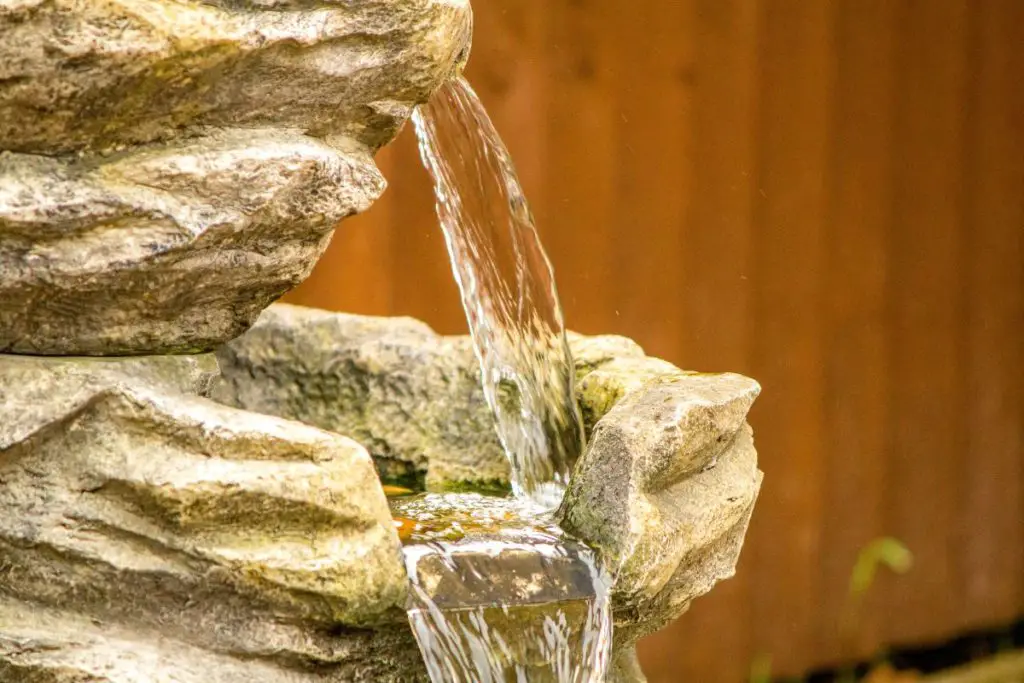 A stairway water feature is one of the most innovative additions to any outdoor space. It can be incorporated anywhere for an exceptionally modern or natural feel. Some homeowners have placed narrow stairway water features close to their deck/patio for a more modern, contemporary feel.
Others have used it in rock formations along areas that are sloping in their backyard or to compensate for uneven terrain. Some usages include creating separate areas between dining spaces and relaxation spots in the remainder of the backyard.
These features can be placed off to the side of a set of stairs or in the middle. It is part fountain, part waterfall. Installing them involves establishing a hidden spout or waterfall located at the top or middle of paved walkways. The flow generally culminates at a shallow basin located at the bottom of the stairs.
Basins are connected to the small reservoirs using a channel running down the stairs or walkway. When in use, the water from the waterfall flows down the stairs and into the basin. From there, it recirculates to the top.
This feature adds the soothing sound of rushing water to the home and is a fun conversation piece for guests because of its uniqueness.
Spa Pool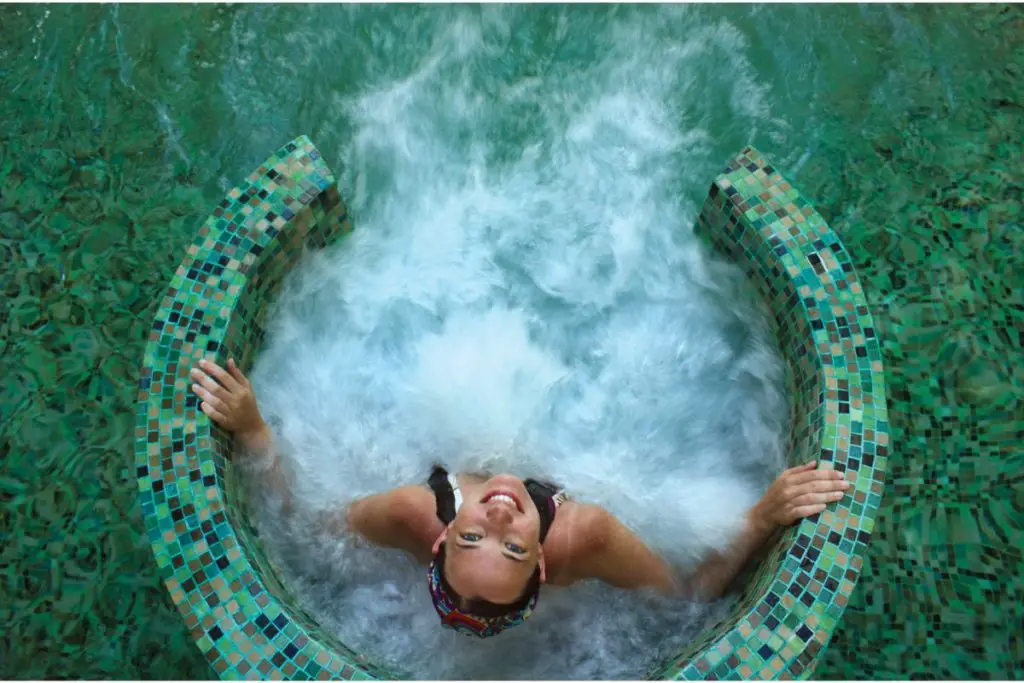 If you have a bit of space, spa pools are a delightful addition to any outdoor area. They don't have to take up exorbitant amounts of space as they can be scaled back. However, they are a complete delight on a hot, busy day when you want to relax outdoors.
The first thing to do is install a small whirlpool or spa with a cascading waterfall at the end. You can also incorporate one that rains or have one spitting out water in an eye-catching arch.
This project is multi-purposed. The water feature and pool create relaxation but also incorporate visual and audible appeal to delight the senses. You will need to pay close attention to each facet to ensure the best outcome.
Be sure to select the proper pool shape and size for the area. You also need to make sure your waterfall, waterspouts, and/or waterfall fountain are placed in sheltered, scenic areas where they can easily be heard and seen for maximum effect. This allows you to hear it even when you aren't in the water, plus it allows you to feel relaxed while lazing under the sun.
Water Basin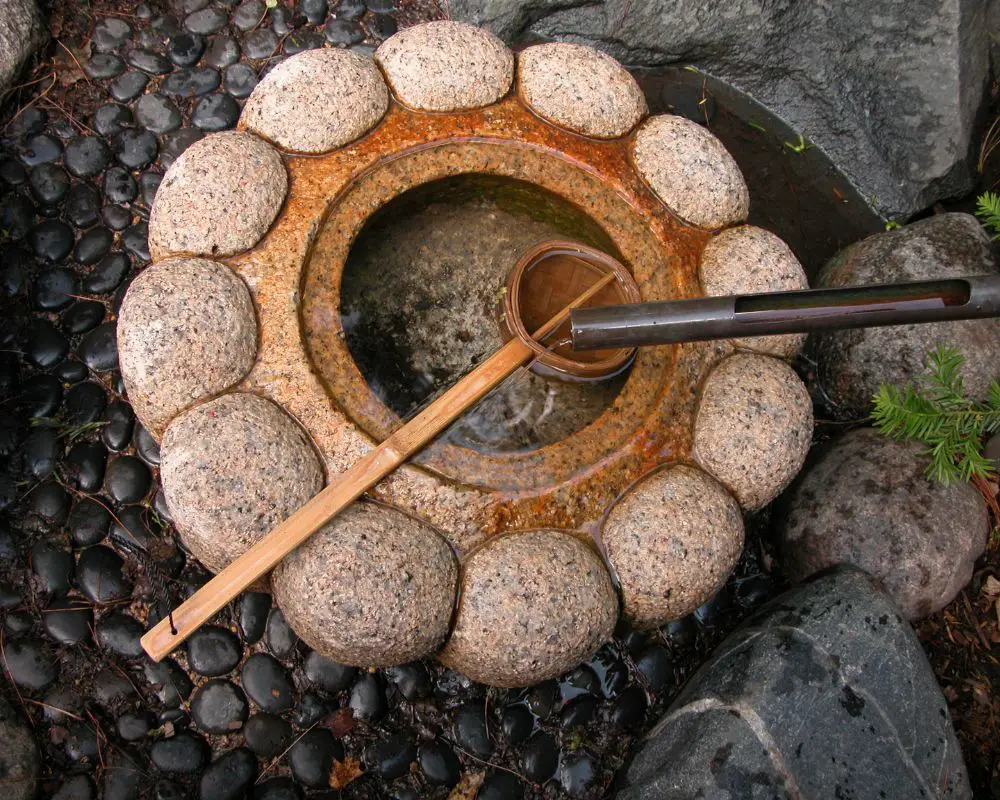 Like bird baths and waterfalls, a water basin is a decorative bowl catching dripping or pouring water from nearby spouts. When the basin is full, it overflows onto decorative rocks hiding a buried underground reservoir. Water is recirculated from the reservoir to the spout.
Basins are made from hand-hammered copper, stone, wood, or aluminum. Spouts can be made from bamboo if you want to create an Asian appearance, or many other materials for different effects.
This type of design has roots in Japanese gardening. Chozubachi basins were set near garden gates with ladles, allowing guests to enjoy a refreshing drink or splash water on themselves to establish a ritual suggesting forgiveness.
Tsukubai basins are placed low and don't have any ladles, allowing guests to bend to reach water as a show of reverence. This indicated that the person was entering a sacred part of the garden.
Japanese Water Garden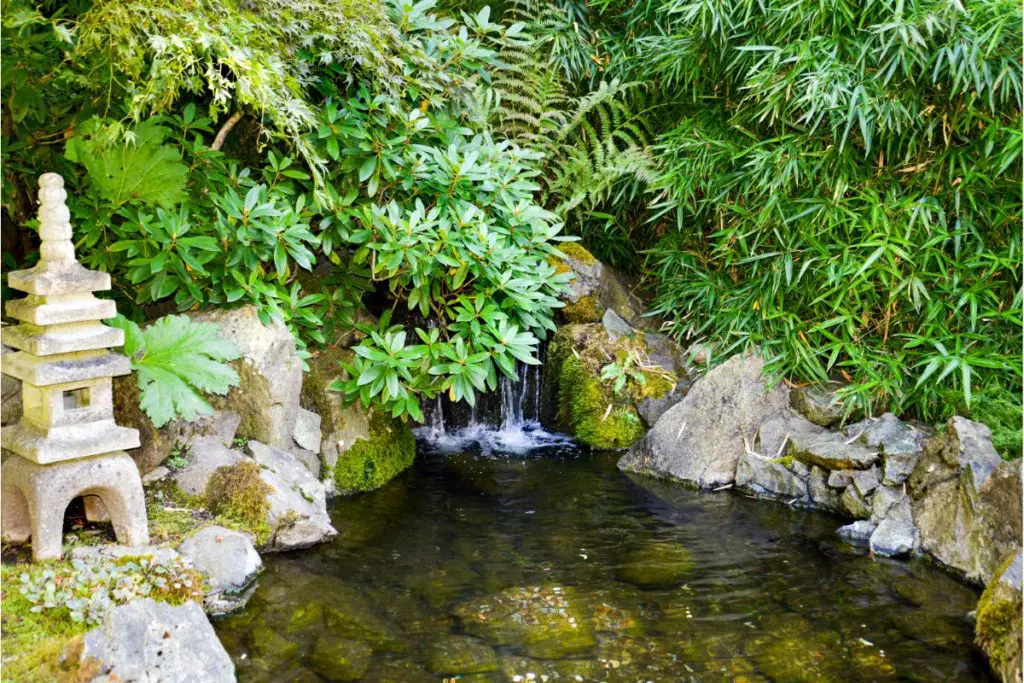 Maintaining Buddhist tradition, a Japanese water garden creates tranquil and peaceful spaces. It allows people to reflect and collect their thoughts. For a peaceful environment, ensure the water garden is quiet. Refrain from loud, rushing water and places that are noisy. The sound of the water needs to be soothing. It can also be still if you wish.
Accent the garden with rocks and plants. Combinations of flora and fauna provide the perfect finishing touch. Bonsai and bamboo trees are commonplace. However, you can use any type of plant.
Rocks add an extra touch and serve as a foundation for the water. For the perfect effect, ensure rocks and plants have adequate space between them. Japanese water gardens are symbolic of space.
Birdbath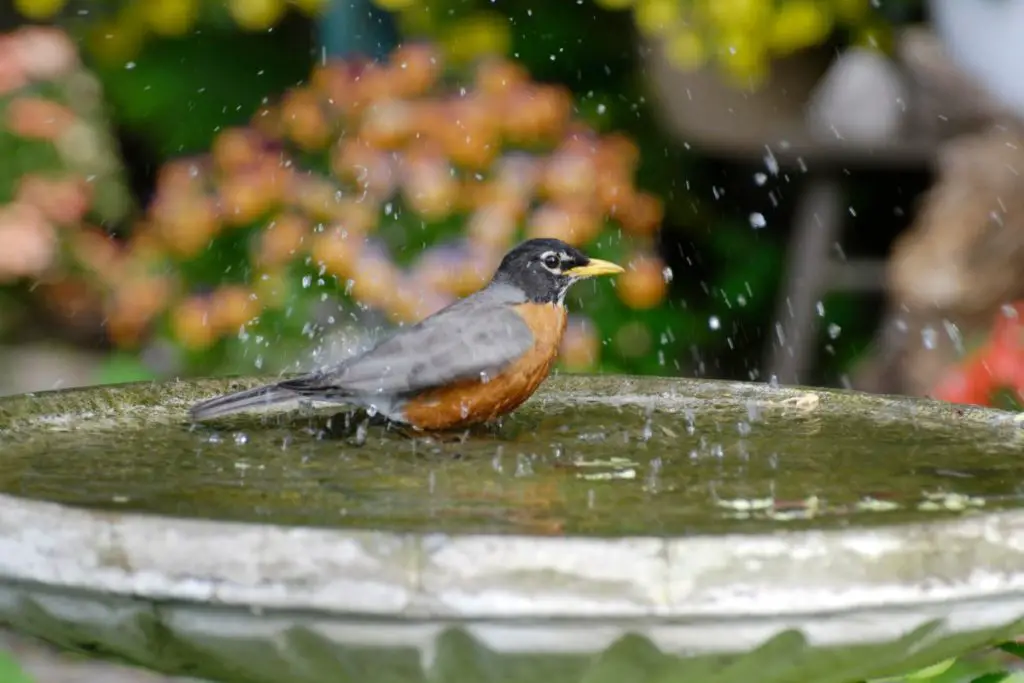 This simple addition is a great way to add something to your space. It is entertaining as you watch birds splash about and you can view different types of birds as well.
Generic birdbaths can be purchased, along with several other types. Heated ones can be enjoyed year-round when water is usually frozen. Electricity runs to the pedestal of the bird bath, keeping the water from freezing without making it too warm.
Fountain mists can also be added to attract other types of birds.
With the bird's safety at the forefront, find a bird bath with a gradually sloping wall and non-slippery surface. Ensure the water is not deeper than three inches to prevent small birds from drowning.
Rocks can be put under the bath to make shallow water and help birds enter the bath. Water should be changed every other day to prevent it from getting dirty and to maintain its freshness. Never use chemicals in a bird bath. 
Miniature Ponds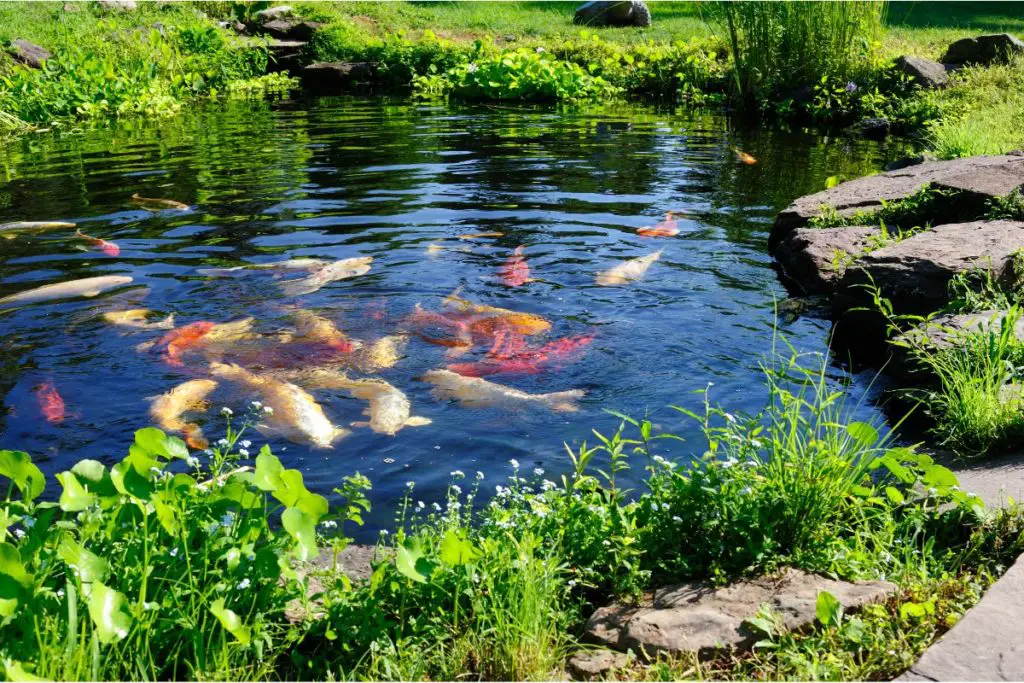 The first thing to consider with this water feature is location. Your miniature pond should not receive too much shade or sun. In the perfect location, it'll receive four to six hours of sun during the day. This ensures water is clean and clear of algae.
If you want to add tropical plants or fish, too much sunlight can harm them. The key is to find an area that will provide the perfect balance. It should also not be prone to runoff from rainwater. This allows debris to enter and interrupts the delicate ecosystem.
Ponds should be two feet deep by three feet in width. Width can be expanded according to preference and space size. When digging the pond, consider adding a shelf along the edge to plant vegetation. Line the area using heavy-duty waterproof plastic and fill with water.
You can also sink larger containers or tubs into the ground to house the pond. However, the inside of the container needs to be properly coated and you may need to aerate the watering hole to prevent bugs from taking over.
Water Fountain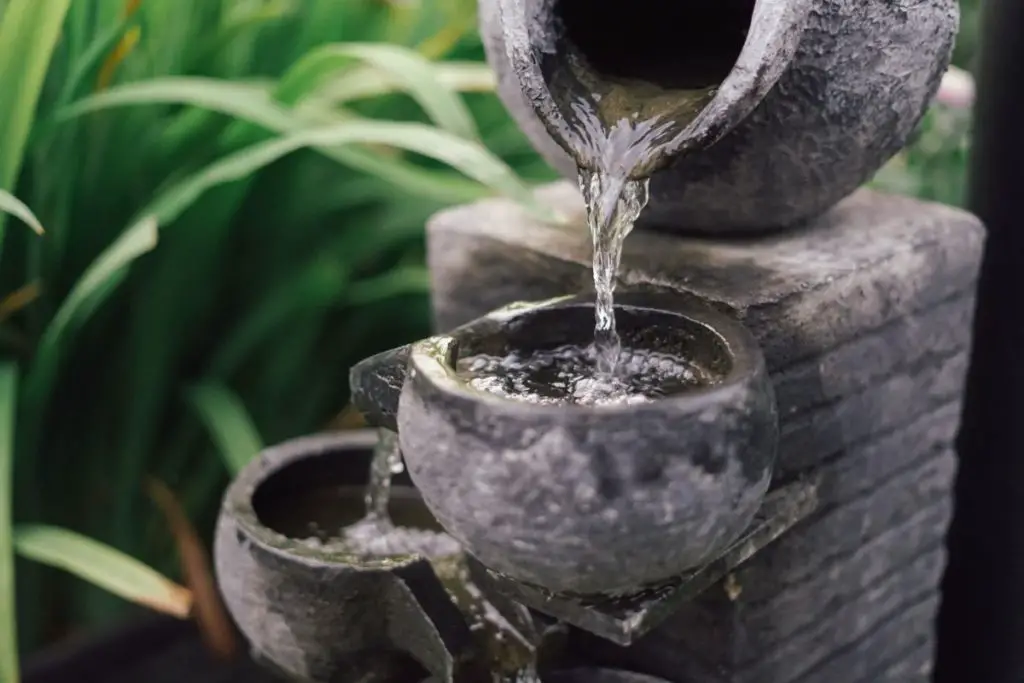 With a wide selection, it is vital to do your research to see which water fountain will best complement your space. They come in a variety of sizes and shapes. A water fountain can also easily mount on waterfalls and walls. Featuring decorative toppers, these fountains are a visual delight. They can be either tiered or spherical. In terms of material, they can be cement, copper, stainless steel, or brass.
These fountains can be used to accent yards, patios, or gardens. They also look great in outdoor ponds. With a water fountain, bigger ones aren't always best. While they can be a great addition, you need to refrain from choosing one that will overpower the area.
Rainfall Wall
Rainfall walls are a soothing addition to any backyard. They can be installed anywhere, ranging from deck spaces to a feature in your backyard. Homeowners and guests will enjoy listening to the trickling waterfall and spray on a hot, humid day.
They can also be incorporated into other features like ponds or gardens. Rainfall walls can either have trickling water or a sheet of water. The style you choose is up to you.
Final Thoughts
These eight suggestions will provide you with a multitude of options when decorating your outdoor living space. They will create a tranquil retreat that you can enjoy for many years to come. What better way to get away from the noise of the outside world than relaxing in your own backyard oasis.
These small water features are perfect for any sized space. They can be scaled back from larger versions to fit your own space or just be subtle additions to promote a peaceful backyard environment.