If you are looking for a creative way to brighten up your driveway, you are probably already considering purchasing driveway lights, which is an excellent idea.
Tons of slips, trips, and falls occur each year due to a lack of being able to see at night, making it difficult to identify obstacles that may be blocking your path. You may also end up with tons of frustrated friends and family, undelivered packages, and tire tracks in the lawn when your driveway is hard to find. 
Luckily, we have a great list of fantastic driveway lighting ideas to help you create a bright entrance everyone will be able to see from a distance. 
6 Ways to Light Up Your Driveway
Below are six awe-inspiring ways to light up your driveway, with options and examples that can be useful in any home. 
1. Light Up Your Garage
Instead of focusing your attention on your driveway, put some illumination on your garage. This way, your driveway and much of your yard and walkway leading into your house will be lit up, ensuring you can see everything.
Here is a list of a few garage lighting options for you to consider when trying to brighten up your entrance.
2. Work from the Ground Up
One great way to illuminate your driveway is by placing all the attention on the driveway itself. Make your driveway a runway! You can easily do this by adding some ground lights to the edges of your driveway. And, thankfully, there are many options on the market today that will do just that.
3. Illuminate Your Gorgeous Garden
Do you have a beautiful garden setting close to your driveway? Highlight both outdoor spaces at once with some landscaping lights.
These lights come in various colors, designs, and power-up options, giving any home multiple options for brightening their driveway. Here are just a few of our favorites. You put so much time into making your garden beautiful, why not make it shine?
4. Make Your Home Welcoming with Front Door Lighting
There are a ton of great lighting fixtures and products out there to light up your driveway and brighten your entrance. 
Find the perfect front door light that provides enough light to keep your home, sidewalk, and driveway illuminated. More and more people are looking to these multi-purpose lights to make finding their way home that much easier. 
Here are a couple of the more popular ways to increase the brightness of your front door:
5. Create a Fabulous Fence Full of Light
Many homeowners have fences surrounding their house and along their driveway. Why not utilize these outdoor walls to bring some extra brightness to your entrance, guiding you down your driveway in a safe fashion?
JSOT Solar Lights Outdoor – These solar-powered light fixtures are easy to install, and you can use as many or as few as you need to guide you to your parking space.
Fence Lights LED Tungsten – If you are looking for something a little fancier, these tungsten LED bulb fence lights illuminate the lawn with pretty patterns.
ROSHWEY Waterproof Fence Lights – Do you have a large lawn or parking area? If so, these fence lights may be the best option for your home.
6. Let the Walkway Be Your Guide
Instead of shining light directly onto the driveway, why not use bright fixtures to illuminate the walkway that takes you from the driveway to the front door? This provides a way to see your driveway's edges and safely get you to your front door.
Bonus Idea: Step Up Your Game
We like to provide our readers with as much helpful information as possible, and we didn't want to leave any stone unturned. So here is another helpful tip that can brighten up your entrance.

Step Lights: There are a lot of great brands that make beautiful, bright, and easy-to-use lights that attach to your porch, driveway, or walkway steps to make it much easier to see where you are going at night.
Beautiful Driveway Lighting Examples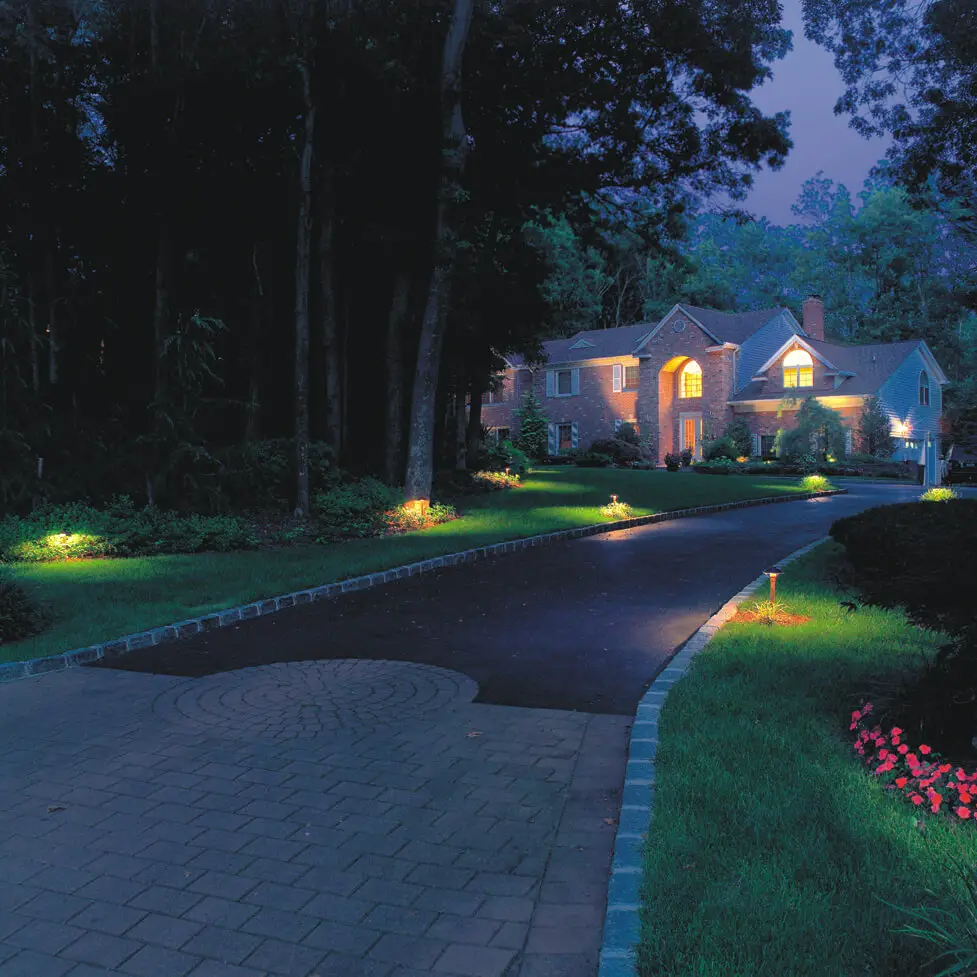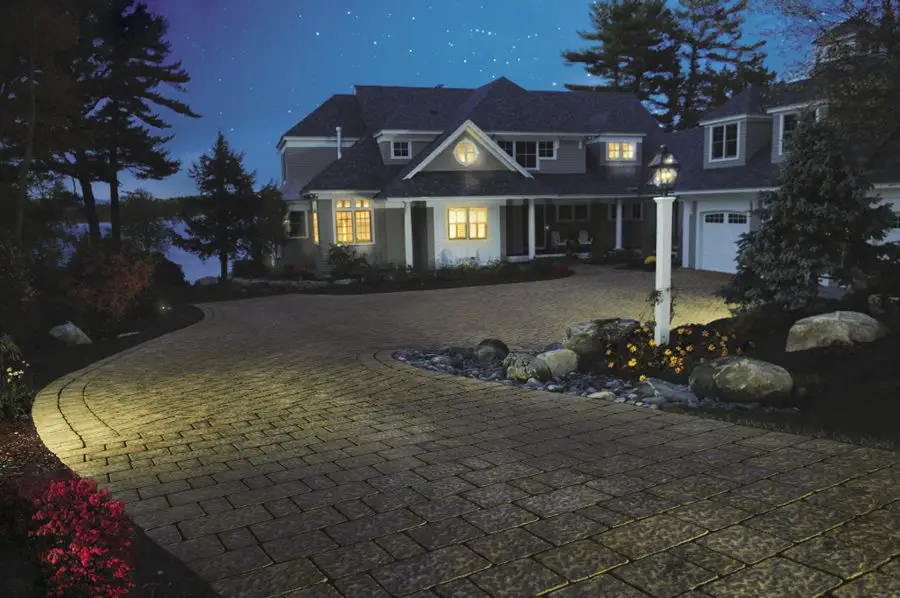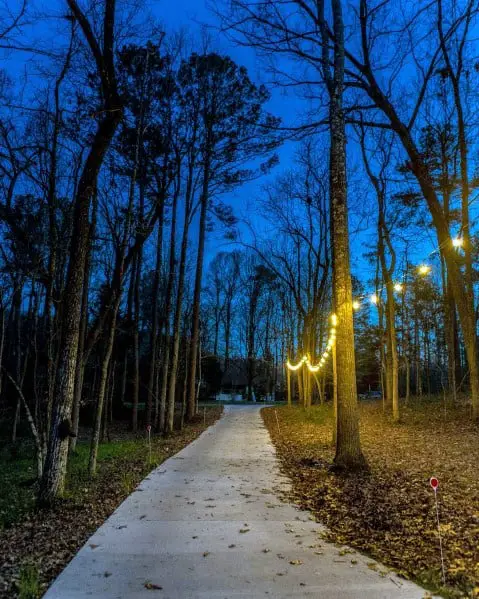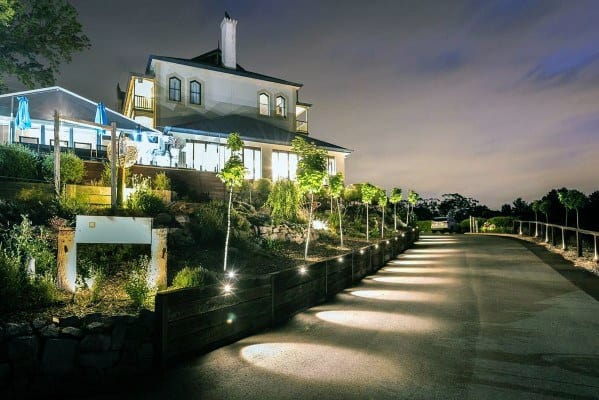 Things to Consider When Looking for the Perfect Driveway Lighting
There are some things to keep in mind before purchasing lighting for your driveway so you know you're getting exactly what you need. Below is a list of things to think about before taking on this task.
Taking extra time to consider all the variables and checking out all your options will help you get the perfect look with just the right amount of light.
Summing Things Up
There is no one-size-fits-all option when it comes to the driveway and landscape lighting. Each home has its own unique look and design, and the best way to illuminate the driveway will differ depending on specific needs and personal style. However, the outdoor lighting ideas that we've listed are a great place to start and will hopefully help you decide what works best for you.