While many homeowners tend to choose below-ground ponds, there are advantages to ones that reside above ground as well. Not only are they perfect to put outside no matter what your yard size may be, but they are so highly customizable. We go over the benefits of having one of these ponds and what the best above-ground pond kits are.
Benefits of an Above-Ground Pond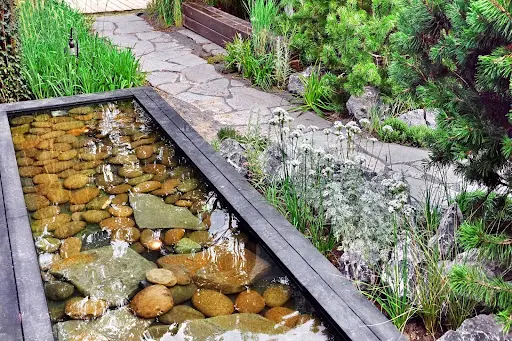 The benefits of above-ground ponds range from decorative to being able to easily tend to your fish. If you are wondering if this is something for you, consider the following:
A beautiful above-ground pond kit is a stunning water feature. As such, it increases your enjoyment of your garden and home. Additionally, it can increase your property value should you ever decide to sell. This is reassuring for some homeowners as they know that their rewards for installing one will be monetarily rewarded.
Should you move, you can easily take the pond with you for enjoyment at your new location.
Keeping fish is a hobby that encourages tranquility and a peaceful mindset. It permits you to get closer to nature, be responsible for an animal's health and well-being, connect with another living thing, and tend to fish, which makes many people happy. This is true whether you decide to do this indoors, outdoors, or a combination of both.
Depending on your plant life and the fish you choose for your pond, outdoor above-ground ponds can be more of a challenge to a fish enthusiast who mastered the use of indoor aquariums. You will have to learn how to combat additional elements like falling debris (leaves, branches, etc), predators (birds and cats), and weather.
An outdoor pond is at the mercy of rain, snow, sun, and wind. You will have to tend to these facets as well. In winter, the pond may need some tending in the form of ensuring the pump and pond filter are working despite plummeting temperatures.
Tending to these ponds in summer is a joy. The bright, warm sunshine is the perfect time to enjoy the hard work of caring for a pond and enjoy the fresh air while performing maintenance. Furthermore, as you sit outside on the deck or patio, you can enjoy watching your pond.
When deciding whether to incorporate this water feature into your backyard, you will need to weigh the beauty and benefits of the pond to maintenance issues. If you have time and find tending to the pond therapeutic, you will enjoy this aspect immensely.
What Items Are Required?
As with any fishkeeping, the benefits need to be justifiable financially. If it is too expensive, you will dread your decision and won't reap the benefits of having your own outdoor water pond. Not only do you have to budget for installation, but maintenance as well. Considering all these factors will prevent you from experiencing buyer's remorse down the road.
For most people, investing in a raised pond kit is the most cost-effective method to get everything they need. There is a price range depending on what features you require, the shape, and the size. However, you will receive everything you need to make one for yourself.
If you are good at construction and looking to tackle a challenge, creating your own and buying supplies may save some money as well. Yet you must know what you are doing and invest in quality materials. What you will need in either a kit or if you are doing your own DIY project are the following:
All-in-one filter kit – These provide tidy solutions and are compact. It allows you to combine all necessary components to creating a healthy above-ground pond in a single device. Water is safely kept within the pond, and you will not require additional pipework or hosing. Many come with built-in fountain nozzle kits to add extra elements. They also add to the oxygenation of the pond.
Pond pump – This is required if you want to keep fish in the above-ground pond. Its function is to be a reliable and continuous water circulation by pushing water through the pond filter. It also is circulated through water features like waterfalls and fountains.
Pond liner – This is essential to any pond foundation. It can be made of brick, wood, or any other materials. They permit you to create a fully waterproof enclosure, which is later filled with plants, water, fish, and other necessary pond equipment.
Pond filter – This filters pond water, thereby keeping it free of contaminants that may harm the fish. If you select one that contains an integrated UV filter, the water will remain clear and not become discolored from green algae.
Water features – These add another element to your backyard pond and generate additional tranquility.
Additional equipment may be required, like a solid frame, tools, and knowing how to construct the pond. If you aren't confident in your skills or are looking for a simpler method, choose an above-ground pond kit.
You will not have to replace fish that are lost or damaged equipment.
Finding the Best Above Ground Pond for Your Backyard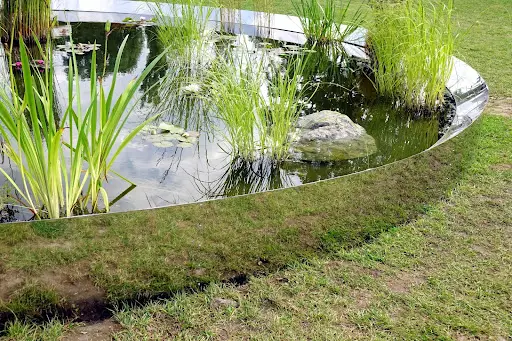 There is a wide selection available to you with many features for you to consider. You will have to know the size and shape you want prior to making a purchase. However, once you have determined this facet, the rest becomes fun.
This kit provides components sourced from leading manufacturers. They work together intricately to create a low-maintenance, beautiful oasis in your backyard. There are a variety of sizes available where you can build a shallow water garden or one that is deep enough to create a koi pond.
This kit includes a 20" waterfall, Aqua Pulse 4,000 GPH pump, 7" pond skimmer, PVC PolyGuard pond liner, geotextile underlay, kink-free tubing, black waterfall foam, bronze spotlight, pond starter, and fittings for plumbing.
Pros:
High-quality equipment
Complete with maintenance tools
Manufacturer's warranty
Biological and mechanical filtration ensures water is clear and clean with minimal effort
Faux rock lid integrates well with surrounding areas
Cons:
Skimmer door may interfere with silicone application
The Pennington Aquagarden is the perfect pond kit as it allows you to see your fish as they swim by. The best part is that it can be viewed from several sides, allowing for multi-dimensional enjoyment.
The pond filter and water pump provide instant solutions for a healthy, clear pond. The pump is efficient along with the filtration pack. It manages ponds up to 300 gallons.
Pros:
Comes with detailed instructions
Contains three fountain displays and LED lights
Has two planting baskets for aquatic plants and as a fish habitat
Windows allow you to view the fish
Comes in a half-moon and octagon configuration
Three-stage filtration process
Cons:
Some of the pieces don't line up properly
Instructions difficult to follow
This pond kit is perfect when space is at a premium. You can enjoy this planted water garden container in a variety of settings. The kit includes a high-quality pouring fountain made of bamboo, components for plumbing, and the pump. The overall appearance is similar to that of a Japanese garden.
The container is square, accompanied by a textured gray-slate finish. This is perfect for outdoor and indoor usage as it complements any area.
Pros:
Doesn't chip or fade
Ages like real stone
Easily assembled
Made of durable fiberglass
Cons:
Not as sturdy as other models
Pump may not be as powerful 
This pond kit provides an easy, simple way to incorporate an above-ground pond to your outdoor living space. It creates a relaxing focal point for patios, balconies, gardens, and more. Furthermore, when temperatures drop, it can be moved inside.
This kit includes a waterfall and plant filter, transformer, LED waterfall light, low suction attachment, water pump, clay grow media, and a mixed/black-polished decorative gravel. The Aquagarden pond will hold some floating plants, water lilies, or some small fish.
Pros:
Container is durable and lightweight
Integrated waterfall and plant filter cleans water and plants
Pump contains low suction to maximize circulation and water efficiency
Waterfall is illuminated
Clay grow media generates a perfect environment for growth of plants
Cons:
Slight humming sound
Not ideal for very small fish due to the filter/motor
Summary
These above-ground pond kits provide a gorgeous avenue to enjoy plant and fish life with minimal effort. While there is a range when it comes to costs, the variation is truly due more to size and quality.

Above-ground pond kits provide an easy way to set up a pond in record time. They come complete with everything you need to get started and remove the guesswork that comes with doing it yourself. Creating your own above-ground pond takes knowledge and time. The kits make everything very easy, allowing you to have it up and running in a fraction of the time.