If you have an active pup and a large backyard, it's important to have a dog fence to prevent them from running away and getting lost, especially if you have a rather large yard. If you don't know where to start when it comes to getting and installing a dog fence, you've come to the right place.
In this article, you'll learn the benefits of a dog fence and discover some great backyard dog fence ideas for your dog's safety.
Why Do You Need a Backyard Dog Fence?
A backyard dog fence is a great idea for any dog owner. They are typically easy to install and take down when necessary and can ensure optimal safety for your dog. 
There are several reasons why you should consider a backyard dog fence for your pooch. Let's take a look at some of the top reasons.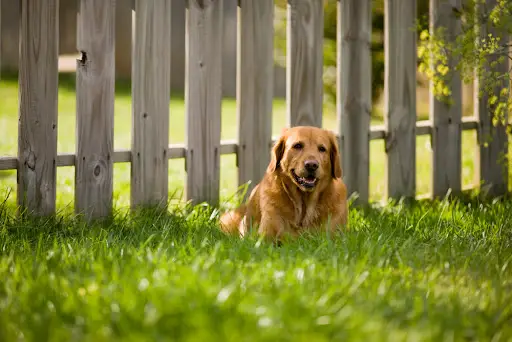 Safety and Training
The most obvious and important reason for a backyard dog fence is safety. This is especially true if you don't have a fence in your backyard and if your dog is just a puppy or new to the family. 
Dogs that have lived with their family or in the same area for a while know where their home is and how far they should wander. This requires a lot of training and supervision and takes time to develop. 
Until both you and your dog are comfortable enough to let them roam free, a backyard dog fence provides a safe space for them to run, get their exercise, and explore. 
However, even if your backyard is fenced in, there are several other reasons why you'd want to add a backyard dog fence for your dog.
Boundaries
Another reason to add a backyard dog fence is to create a boundary between your dog's play area and the rest of your backyard — even if your backyard is fenced in.
Sometimes you want to give your dog the freedom to roam and run free, but you don't want to do that at the expense of other parts of your yard, or your dog's health and safety.
Keeping your dog's play area separate from the rest of the yard also keeps your pet safe from dangerous things in your backyard, such as poisonous plants, open flames, or sharp objects. Dog fences even help protect your dog from other animals that may find their way into your backyard. 
A fence also gives your dog a place to play away from some of the meaningful areas of your outdoor space, like your garden or patio. 
Easier Clean Up and Maintenance
Lastly, a key benefit of a backyard dog fence is that it gives your dog their own space to hang out, which will also be the only space you'll have to pick up after them.
There's nothing worse than finding dog feces in your garden that you didn't know was there because your dog was wandering around the yard. This is especially true if you have a large yard with a lot of moving parts to keep track of. 
A backyard dog fence gives you just one space to take care of after your dog's done playing.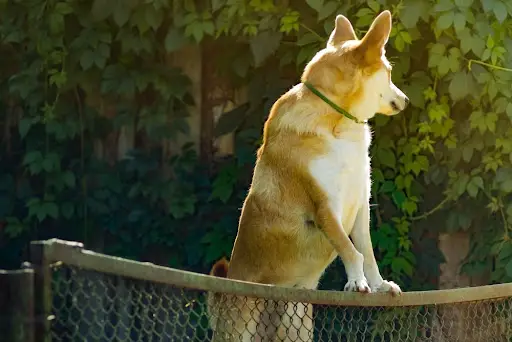 Choosing the Right Material for Your Dog Fence: Weighing the Pros and Cons
When it comes to securing your property and keeping your beloved furry friend safe, choosing the right material for your dog fence is essential. With various fencing materials available in the market, it can be challenging to determine which one is the best fit for your needs and your pet's safety. In this blog post, we will discuss several popular fencing materials, along with their pros and cons, to help you make an informed decision for your canine companion.
Wood Fencing
Pros:
Aesthetically pleasing, offering a traditional and natural look
Provides privacy by blocking the view into your property
Can be customized with paint or stain to match your home's exterior
Cons:
Requires regular maintenance, such as painting or staining, to prevent rot and decay
May be susceptible to damage from insects and moisture
Can be more expensive than other materials, depending on the type of wood
Chain Link Fencing
Pros:
Affordable and cost-effective option
Durable and low-maintenance, with resistance to rust and corrosion
Provides visibility, allowing your dog to see through the fence
Cons:
Less privacy, as it does not block the view into your property
Can be climbed by agile dogs, potentially leading to escape
May be less attractive than other materials, with an industrial appearance
Vinyl Fencing
Pros:
Virtually maintenance-free, with no need for painting or staining
Resistant to fading, cracking, and peeling, offering long-lasting durability
Available in various styles and colors, allowing for customization
Cons:
Typically more expensive than wood or chain-link fencing
Can be damaged by extreme temperatures or heavy impacts
May not be as sturdy as other materials, depending on the quality of the vinyl
Aluminum Fencing
Pros:
Lightweight and easy to install
Resistant to rust, making it a low-maintenance option
Offers a more elegant appearance than chain-link fencing
Cons:
Less privacy, as it does not block the view into your property
May not be as strong as other materials, potentially leading to bending or warping
Can be more expensive than chain-link fencing
Composite Fencing
Pros:
Made from a blend of wood and plastic, providing the look of wood without the maintenance
Resistant to rot, decay, and insect damage
Environmentally friendly, as it often uses recycled materials
Cons:
Can be more expensive than wood or chain-link fencing
May fade or change color over time, depending on the quality of the composite material
Heavy and may require professional installation
In conclusion, the best fencing material for your dog depends on several factors, such as your budget, desired level of privacy, and maintenance preferences.
By carefully considering the pros and cons of each material, you can make an informed decision that will keep your pet safe and secure while enhancing the appearance of your property.
Top 6 Backyard Dog Fence Ideas You Can Buy Now
There are a few factors that you should keep in mind when choosing a backyard dog fence, as you want to choose the best one for your pooch. 
You want to pick a fence high enough so your dog will not jump over it easily. At the same time, when choosing a dog fence, it's important that your dog can see you and that you can see them, so your fence should not be too high. You also want the fenced area to be large enough to give them room to move around freely.
Beyond that, it's a good idea to consider the placement of your fence before purchasing it. Do you want it bordered along your house like a traditional fence? Or do you want it in the middle of your backyard? 
These are all crucial criteria to consider, but once you've narrowed down your dog's needs, it's easier to find what you're looking for. To help you get started, here are 6 backyard dog fence ideas for your favorite pup.
The first backyard dog fence on our list is this heavy-duty pet playpen from Yaheetech. 
Suitable for indoor and outdoor use, this backyard dog fence is electrophoresis metal fence panels and stakes covered with a premium powder coating as well as non-toxic, anti-rust, and waterproof square tubes to ensure safe and long-term use.
The dimensions of this physical fence playpen are ​​32" W x 24" H, giving your dog more than enough room to roam around and get some exercise in. Better yet, you can connect two or more of these playpens to create an even bigger one for your pooch or expand it when they have some friends over for a playdate!
With perfect bar spacing and a latch on the door, your dog will be safe and secure in this playpen. What's more is that you don't have to worry about any harm coming from rough play, as the rounded edges of this dog fencing unit keep your dog out of harm's way. 
When you aren't using the playpen and want your yard back, all you have to do is fold the playpen and easily store it for next time! 
Next, we have this large outdoor dog kennel from HITTITE.
This large dog kennel isn't the best choice if you want to give your dog enough space to roam free, especially if you have a large dog. However, it provides your dog with enough room to move around and get some much-needed fresh air in a controlled environment. 
This kennel is 6.76'L x 6.76'W x 5.64'H, allowing your dog to move around freely. It's also UV-protected and waterproof with a lockable door, protecting your dog from the elements as well as from potential predators. 
Made with a reinforced steel frame and strong galvanized metal, this kennel is sturdy enough to support even the largest of dogs. Rest assured that your best furry friend is safe, as there are no sharp points on this kennel that may harm your dog. 
Next on our list of the top backyard dog fences, we have this dog pen pet playpen from Nova Microdermabrasion.
This fence is sturdy metal and powder-coated black vein finish for rust resistance. It also has smooth, rounded edges throughout the perimeter. This increases the durability and keeps your pet safe within the confines of the fence without injury. 
The height of the fence is high enough for your dog not to jump over but low enough for your small child to reach in and pet their favorite furry friend. Assembly is easy, and no tools are required – just connect the fence panels, and you're good to go.
The best part about this fence is that you can mold it into several different shapes and configurations. The 16-panel design lets you create a rectangle of various sizes, an octagon, or an L-shape. Experiment with the different shapes to find out which one your pet enjoys the most!
If you've always wanted a white picket fence but never got one, you can now make that dream come true for your dog with this No Dig Madison Vinyl Picket Fence from Zippity Outdoor Products. 
Made with weather-resistant vinyl, this fence won't crack, yellow, warp, rot, or splinter. If, by chance, it does get damaged, you can take advantage of the 10-year warranty.
Unlike a white picket fence, however, assembly and installation are relatively easy, with — as the name suggests — no digging required. All you have to do is insert the stakes into the ground, and they should be secure enough to support your dog. 
However, it's important to note that this vinyl fencing is best used for small dogs, as large dogs and bigger dog breeds may be able to move the pickets. Nonetheless, this is a great backyard dog fence option that's both practical and stylish. 
Next on our list of the best backyard dog fence ideas is this wireless dog fence from WIEZ.
Want to control where your dog goes in your backyard, but don't want to add a fence that may take up space? This wireless dog fence is the perfect compromise. 
The way it works is, using GPS positioning technology, you set a range for your dog to be able to freely move around. From there, you put the collar on the dog. When your dog surpasses the invisible fence boundaries you set, the vibration or small electric shock will go off for 16 seconds, followed by a 30-second rest. It will then automatically repeat this action three times until your dog returns to the safety area.
If your dog still hasn't returned to their safety area after three warnings, the system will disengage and will no longer work until your dog returns to the safe area within the set boundaries. This system is designed to avoid any harm to your dog while training your dog to understand its limits.
Setting up this wireless dog fence is easy, and you can change the level of electric shock to make it suitable for your dog. All in all, this is a great option to train your dog and to have one less piece of hardware in your backyard. 
Last on our list of the best backyard dog fence ideas is this super wide pet pen and gate from Carlson Pet Products. 
This 144-inch gate is a great option if you want to keep your dog playing close to home, literally. It works best to section your dog into a part of your deck, patio, or lawn against your home. It's sturdy, but also light enough to move around. 
Made with weather-coated all-steel construction, this 28-inch tall dog fencing gate can be constructed into several different shapes to suit your home. It even features a walkthrough door to get your dog (and you) in and out of it easily. 
Conclusion: Get A Backyard Dog Fence For Safe Fun
Fences aren't just for privacy or your vegetable garden. A backyard dog fence is a great way to let your dog roam free without keeping them tethered to a leash, especially in their own home. There are a multitude of reasons why every pet owner should get a fence, and they're usually very easy to install while also being highly effective.
Hopefully, this guide helps you make a choice that benefits both you and your dog. A backyard dog fence provides you with peace of mind, and your dog will love you for it.