Are you planning on growing a vegetable garden this season but not sure how to fence it in? Well, you have come to the right place. We're going to give you a list of nine fabulous ways to design a creative fence to enclose your vegetables. 
Whether you are looking for something modern and elegant, going for something a little rustic and country, or planning something downright crazy, we have some great garden fencing ideas for you. 
Nine Creative Fence Ideas for a Vegetable Garden
Who said fencing material for vegetable gardens can't be artistic, exciting, and unique? Don't feel like you have to follow the crowd and fence your garden with basic orange plastic or short wooden stakes. Here are nine ideas to set your vegetable garden apart from the rest.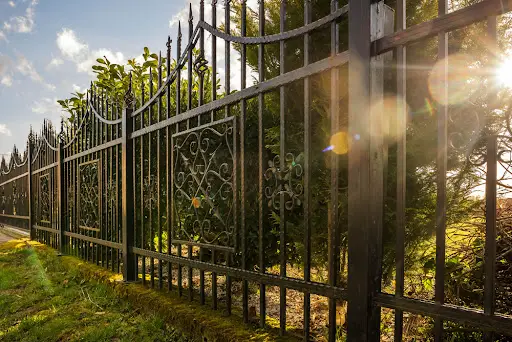 1. Wrought Iron Metal Fencing
Try wrought iron fencing around your vegetable garden for a rustic look. This fencing provides a durable and long-lasting barrier between your vegetable plants and outside elements such as pets, herbivores, and children.
Ideas to try:
Take some black-painted wrought iron fence sections and put them together in a rectangular formation. Leave an opening in the front of your garden about four feet wide for easy access. 
Use fortress wrought iron sections and use them in the front of your vegetable garden, then use regular metal fencing on the other three sides.
If you don't mind spending some money, you can purchase laser-cut wrought iron fencing with unique designs that will make your neighbors jealous.
Add a black metal archway to the opening and plant climbing vines right next to it, so the entrance of your garden is covered in beautiful green foliage, creating a living fence. 
2. White Lattice
White lattice is a versatile resource you can use in many ways around the house. It is weather-proof, strong, and attractive. Lattice is easy to set up and lightweight, making it ideal for vegetable garden fencing. 
Ideas to try:
Take a few yards of white lattice and arrange it in a square shape around the rows of vegetables that you plan on planting. You can keep the lattice an even height all around the garden or use two different sizes and interchange them as you move around the space.
Set up white lattices all around the perimeter of your vegetable garden, then plant crawling vines against them, so the entire fence is eventually decorated with a natural look. 
Use a white lattice fence to surround the entire vegetable garden, then place large planters around the edges to add a little extra decoration and color. 
You can also place wooden planters around the sides of the garden and decorate your backyard with beautiful flowerpots.
3. Old Doors
If you want to get creative, one unique idea people are running with these days is upcycling old doors and using them as walls to create an artistic and rustic fence great for surrounding a vegetable garden. 
Ideas to try:
Hit up some junkyards, rummage sales, or ask family and friends for their old doors to create a makeshift wall surrounding the perimeter of your vegetable garden. Make sure you dig deep into the soil surrounding the doors to provide plenty of stability so they don't go flying during a storm.
You can also consider sticking the doors into the ground at an angle, giving your garden space a unique frame.
Paint the doors that you use different colors or use them as a canvas and paint a masterpiece on each one after they have been inserted into the ground. 
4. Picket Fence
Whether it is a white picket fence, stained, or painted, a picket fence can make a great border surrounding your vegetable garden and give your lawn a modern and pleasant look. 
Setting up a picket fence around your vegetable plants is pretty simple and it won't take you much time or energy to make. 
Ideas to try:
You don't have to place the fence around the entire garden to get a fantastic look. Use the white picket fence across the front of your vegetable garden, then use a wired fence to cover the rest. 
Use a wooden picket fence but separate the wooden stakes further apart than traditional fencing for a unique look that will get tons of compliments.
Hang baskets on the wooden stakes. Use these for seasonal flowers, or use them to keep fresh herbs.
5. Bamboo Fence
Bamboo is a natural and flexible wood used for different DIY projects around the house. Using it to create an amazing garden fence is only one of the many ways you can utilize this product. 
The benefit of using bamboo is how durable, weather-tolerant, and natural-looking it is, giving you a garden fence like no other.
Ideas to try:
Create a few rectangle sections out of wood planks, then take bamboo sticks of the same height and lay them in a row from top to bottom on the wood sections. Secure the sticks to the wood and place them side-by-side around the garden, creating bamboo walls. 
Take a bunch of bamboo sticks and lay them next to each other side by side, secure them all together with a strong rope or wire and insert them into the ground around the vegetables.
Create a bamboo accent wall by building one large rectangle from wood planks and lining bamboo across it from top to bottom.
6. Large Bushes
Take advantage of what nature already has to offer and utilize it to create a natural-looking fence that will surround your garden with ease. 
There are tons of bushes to consider that will look fantastic on your lawn, including soft-touch holly, dwarf English boxwood, butterfly bushes, and wintergreen boxwood shrubs.
Ideas to try:
Dig a small trench around your garden and fill it with red, black, or brown mulch. Take a bunch of widespread bushes or shrubs and plant them on the border, surrounding your vegetables with a unique garden fence.
Use a light metal fence to wrap around your vegetable garden, then plant a few large bushes spaced a few feet apart to provide a line of protection and a nice green look.
Plant some wintergreen boxwood bushes side by side, spanning the entire perimeter of your vegetable garden. These bushes are easy to trim and can make an amazing fence to hide your vegetation. 
7. Wide Wooden Planks
There is a lot you can do with wooden planks and the best part is that they don't have to be new. You can use these planks horizontally or vertically to create a fun and interesting fence to keep your vegetable garden safe and sound. 
Ideas to try:
Use old, used wooden planks and stick them into the soil surrounding the outside of your vegetable garden. Put each piece of wood into the ground at different levels to make an uneven work of art. 
Place a few wooden plants into the ground standing up vertically in even intervals, then attach the wider boards to these fence posts horizontally to create a fence that looks similar to a horse fence. 
Try getting a little creative and paint the wooden planks black and white or any color scheme you prefer. 
8. Rock Formations
You can use just about anything to create a great vegetable garden fence, from wire to wood and even rocks. Rocks are abundant, easy to move, and can be stacked and piled to make a small decorative garden fence to cover the sides of your space.
Ideas to try:
If you are strong or have the proper equipment, find some large boulders and place them side by side to create a border around your vegetables. The great thing about rocks is that they are easy to use to create fun and unique shapes.
Use smaller rocks to create squares. In each square, plant a specific vegetable. You can even mix up the shapes to make an interesting design. 
Create a tall, thin box made from a wooden frame and enclosed with wire fencing. Fill the box in with plenty of rocks to make a bunch of strong, stable, rock wall panels that you can place around your garden.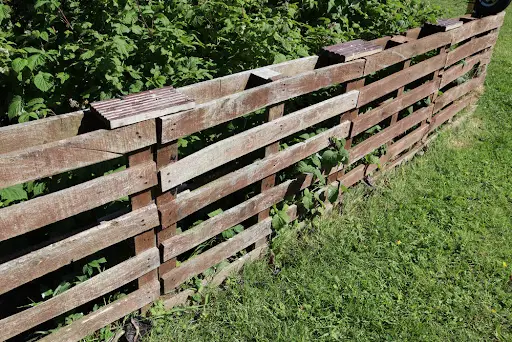 9. Old Pallets
People are using pallets to create tons of different things these days, from pallet furniture to garden fences. Upcycling these wooden pallets to make a DIY garden fence is a creative and easy way to keep your vegetation safe.
Ideas to try:
Take old pallets and set them up side by side. Place a layer of white decorative rocks down over the bottom of the fence to give it an extra touch of class. You can even stain the pallets to make them look a little more attractive.
Put hinges on the sides of all the pallets you plan on using and attach them in a way that they can fold, bend, and move to give your garden a creative edge.
Be creative and paint some fun scenery on the pallet fence to give your vegetables something to look at while they grow.
Tips for Making a Creative Vegetable Garden Fence
Before you begin construction, here are some important tips for choosing the best garden fence idea for your vegetable garden.
Measure Your Space
The amount of space you are working with determines what materials you can use for your fence. If you have a tiny garden, you obviously wouldn't want to use large doors or bushes to create your border.
If you have a wider area to cover, spending tons of money on wrought iron panels may not be in your best interest. 
Think About the Seasons
The materials you choose to use should be able to hold up during each season throughout the year. If you live somewhere where it rains a lot, choose plastic lattice and rocks. 
If you choose to go with materials such as wood, wrought iron, or bamboo, keep in mind that you will have to maintain your fence, applying a top coating to keep it from wearing down due to the weather.
Remember Gardens Require Maintenance
When you start to construct your fencing around your garden, keep in mind that you have to have enough space and an easily accessible entrance to maintain your vegetables. This means access to a hose, space to move around, etc.
If you prefer using machines to till the soil and keep the space neat, account for that in the entrance measurements as well.
Be as Creative as You Want
While many of us tend to go for landscape options that add a little curb appeal to our homes or design things to impress our family and friends, the bottom line is that your yard should look how you want it to look. 
Show your true creative side and put together a fun and exciting vegetable garden fence that matches your personality, style, and interests. If you make a fence you don't like, you will regret it every time you go out to your garden.
Summing Things Up
There are endless ways to create interesting and creative fences to go around your vegetable garden, whether you are looking for something to keep critters out or simply a way to give your space a little sprucing up. 
If you are unhappy with your boring garden design and feel a fence is a great way to add a little pizazz, give one of the nine options listed above a try.