There are several reasons why you may want an outdoor towel rack. For one, who wants a soggy pile of towels next to the hot tub or pool? Keeping them in a pile doesn't allow for the warm summer air to circulate enough to dry them. Furthermore, by hanging them on a towel rack, you have an excellent way to display your towels and keep them all separate.
Outdoor towel racks can be placed:
By a hot tub
Beside an outdoor shower
Around a pool
Beside your children's slip-n-slide
By a sprinkler
Why Do You Need an Outdoor Towel Rack?
While the idea sounds silly to some, there is some merit to buying an outdoor towel rack. For most people, it is sufficient to lay out a towel by the pool so that it dries in the sun, or you can use it to lay on. Others will drape their towel on the back of a chair to dry or place it decoratively at the end of a chaise lounge.
While these may be good ideas, they don't always fully dry a wet towel like a towel bar will. Furthermore, if you have kids, they often leave their towel in a pile somewhere by the pool or lawn. People also run the risk of their items being stepped on when they leave sunglasses or other items – like bathing suits – by the pool. A towel rack or towel bar can prevent this from happening.
Also, if you have an outdoor hot tub, wouldn't it be nice to have a place to conveniently place multiple towels? If you put them on the edge of a tub (which people do), they can easily fall in. Placing your dry towels on a nearby table may mean that you must exit the tub and hit the cooler temperatures just to dry off. Wouldn't it be great to have it close by?
What if You Don't Have a Hot Tub or Pool?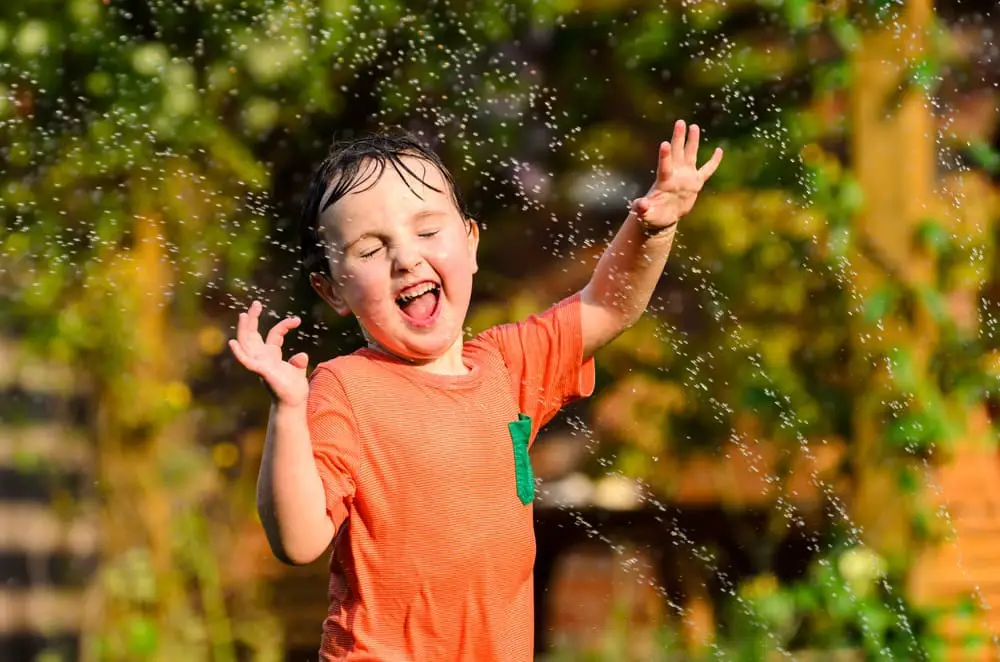 Do you have kids? Almost all kids love to run through the sprinklers or down a slip-n-slide when the weather gets hot. This is done repeatedly where they will go down and dry off. This is where towels can become soaked very easily and a portable rack comes in handy.
Plus, who doesn't love the smell of air-dried laundry?
What if None of These Things Apply to Me?
If you have an outdoor kitchen, you may need a towel rack to place or dry dishes. You may need them to wipe your hands. For those who enjoy sunbathing, it is nice to have a towel to wipe the sweat off your face or cool down. You can also use it to hang clothes if you wish. There are many uses for a towel rack that you may never have thought about.
Things to Consider Before Buying an Outdoor Towel Rack
There are several things you need to consider when looking for an outdoor towel rack, ranging from the size and portability to the material.
Size – How Many Towels Will Be Hanging at Once?
You need to consider how many towels, on average, will require drying simultaneously. This affects the amount of hanging space you need. It will also determine the material you will need. Towels that are wet become very heavy. If a lot of them are hung at once, you will need a rack that is sturdy and strong. It will be able to handle the weight without bending.
Portable or Fixed Rack?
Do you just need a towel rack beside your outdoor pool or hot tub? Then you can buy a fixed rack or one that contains hooks to keep everything neat and dry. However, if you need to move the rack around the yard, you'll need one that is portable.
Additionally, if you want to move the rack around the pool to catch the sun's warm rays for better drying, you will need a portable towel rack.
Is it Windy?
If your yard gets a lot of wind, towels left hanging can act like sails, which might knock a portable rack over. Fixed or mounted towel racks may be a better option for you.
Outdoor Towel Rack Options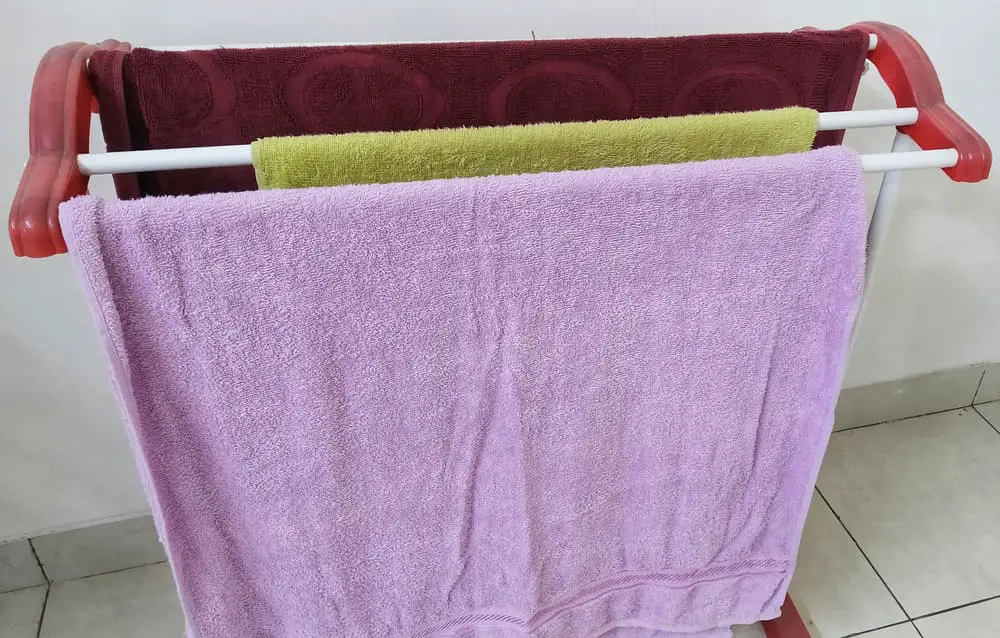 There are multiple options available when it comes to towel racks. Once you have determined how large the rack needs to be, its location, and whether you need a fixed or portable one, you can narrow down your search.
Make sure that whatever you buy can withstand weather. It should be resistant to rusting and corrosion if it remains outdoors. Otherwise, the rust could end up coming off on your towels.
Curved PVC Pool Towel Rack
TowelMaid offers both a five- and seven-bar towel rack. This rack is wider and more stable compared to towel trees. The five-bar towel rack also doesn't take up as much space as the seven-bar rack. The rack has a wide base, so it won't tip over as readily.
It will not rust, is easy to clean, and offers a UV blocker.
Plastic Outdoor Pool Rack
This towel rack by Wassers is made of PVC. It withstands wind better than an outdoor towel tree because of the wider base. It contains five wide towel bars placed horizontally and shorter bars along the side for stability. These shorter areas provide additional hanging space, plus hooks can be added for smaller items like goggles, sunglasses, etc.
This pool rack is a great option for large families or for those with a great deal of pool accessories.
Towel Tree
Outdoor Lamp Company has a portable towel tree composed of PVC. The base can be anchored with sand or water. It provides a nice option beside hot tubs or sprinklers. 
Since this one is smaller, there is a larger one made by Milliard. It is over five feet tall and provides six places to hang towels. While it is lightweight since it is made from plastic, it may not withstand the weight of wet towels too well. 
Plastic Swinging Towel Holder
This handy option can be mounted anywhere. If you have limited space, you can mount it to a fence post or simply make a post to hang it on. With 17" arms, it will allow you to hang a larger amount of the towel over the arm, but it is made of plastic. 
Hot Tub Rack
MySpaCover makes a rack that can be installed on the side of a hot tub. This prevents the towel from touching the ground, keeps it within easy reach, and allows you to quickly dry your hands or body. One rack will only fit one towel. However, several can be mounted to each side of a hot tub.