Placing a flagpole in your backyard offers a patriotic highlight to any home. When it comes to finding backyard flag locations, you need a keen eye to find the right placement. The first step to installing a flagpole is to be aware of what location will look the best and what will highlight the overall appearance of the yard and home.
What to Consider Regarding Backyard Flag Locations
There are many factors to consider when it comes to placing your flagpole. While many homeowners don't necessarily consider some of these, they do play a factor in displaying your flag in the best possible location.
Height
You should factor in the height of the pole with other considerations, like the slope of your lot and the distance between the pole and the house. Since many lots slope away from the dwelling so that rain doesn't enter the home, you may need to raise your pole to rectify this. 
When the distance between a home and flagpole increases, so should the height. When placed on a driveway or street, consider the position from the public view and the homeowner's perspective. 
Watch Your Utilities
The proximity of your utilities will also influence a flag's position. Utilities shouldn't interfere or be tampered with by pole placement. Poles should never be placed beneath or near any power lines, overhead wires, or telephone lines. Furthermore, when you dig, be sure you avoid cutting into or touching any water pipes as well. 
If you don't know where some of the underground cablings exist, contact your local municipality office and ask where it is safe to dig. Some places have a porthole where you can submit your request online, and they will get back to you as to whether it is safe in a few days or weeks. 
Utility locations will identify where gas, telephone, electricity, cable, and water lines run. They are instrumental in preventing injury, gas and water leaks, and severed electrical lines.
When completely stretched, the flag should be ten feet from straight lines in the air. Additionally, it cannot be built over underground power lines. Utilities indicate the foundation edge should be 18-24" away from any power lines.
Property owners should be responsible and informed regarding non-public lines. Watch for driveway traffic and sprinkler systems in your yard as they may damage your pole. Try to predict the development of surrounding trees and check if it's safe to dig before doing it.
Yard Sight
The main reason for installing a flagpole is to enhance the beauty and appearance of the home. It is a profoundly patriotic gesture. You should consider the location of your flagpole as part of your landscape design. 
Some landscapes commonly use trees and bushes to draw visual attention. Applying this to installing your flagpole is a good idea. Poles can be placed on one side of the front entrance. Those with circular driveways/center islands frequently place them directly in the center as they are prominent locations.
Steps to Proper Placement of a Flagpole
1. Consider Location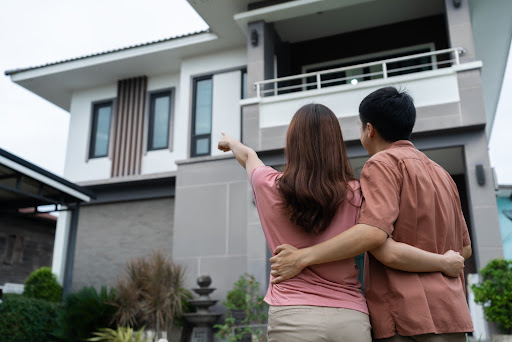 Where will the flag look best? Consider how it will look from the window and how people see it outdoors. Often, a pole is placed close to the front door, but some homeowners may want to place it in another location. The pole shouldn't be taller than the home and should be lower than your roof's highest part. Generally, ones that are 20 feet are a good size.
The pole shouldn't be close to your home and should allow plenty of clearance for your flag to fly without touching the roof. Additionally, the further away it is from your home, the taller it can be.
2. Prepare the Ground
Utilize a post-hole digger. It will break through the ground and work itself into the soil. Lightweight manual diggers do well for small holes, but a heavy-duty one is required for a large post. You can rent one if you don't have one. 
Holes should be two feet deep and four to six times the pole's diameter to accommodate a ground sleeve. You can purchase this when you buy your flagpole.
3. Fill in the Hole
Put the ground sleeve into the hole. Then, fill a surrounding gap using landscape rocks or gravel. Keep filling it until the ground sleeve is two inches above the ground. Place crumpled paper into the ground sleeve, so the hole is covered. When you start adding concrete, you will not want any of it to fall into the ground sleeve. 
Utilize a level to ensure the ground sleeve is plumb. Put small wood pieces or other materials around the sleeve to keep it in place. The sleeve shouldn't shift or tilt as the concrete sets.
4. Set the Ground Sleeve
Once the ground sleeve is secure, set it in place using ready-mix concrete. Stir the mix and pour it around ground rocks or gravel. Be careful to avoid pouring the mixture into the sleeve. The concrete should fill the hole.
Smooth the concrete using a trowel to ensure an even surface. Then, insert the flagpole into the sleeve while the concrete is still wet. This ensures the sleeve is still plumb. Make sure to use a level to determine whether the pole is straight. Once it is, remove the pole and allow the concrete to set.
Concrete should be allowed 24 to 48 hours to cure before you move on to the next step.
5. Prepare, Then Install Your Flagpole
Once the concrete cures, assemble your pole plus any attachments. Your flagpole kit usually contains any required parts and may even include a flag. Some may need other accessories or flagpole brackets, so follow the instructions on how to put the unit together.
After the pole is assembled, stand it in the ground sleeve.
6. Raise the Flag
Once the pole is in the ground sleeve, raise the flag using snap hooks or rope. Use the manufacturer's instructions to raise and lower the flag. This will prevent ripping and tearing and allow you to keep the flag longer.
Some homeowners choose to add landscaping accents around the pole. This may include low stone walls or plants to increase curb appeal. 
You may wonder whether you are allowed to fly the American flag at night without using a light. The answer, surprisingly to most people, is no. It is actually illegal to fly the flag in the dark. The United States Flag Code indicates the American flag requires adequate light.
While the federal code contains no penalties for infringement, some state laws do.
However, remedying this is easy by incorporating above-ground mounted directional spotlights, dedicated mounted flagpole lighting, and below-grade up lights.
Some people take pride in the daily ritual of removing and hoisting the flag, while others prefer to set it and forget it. If it is regularly taken down, the flag will last longer. It will not be as susceptible to rips and tears if there is a strong wind or severe weather. It may also preserve the color of the flag since the sun will bleach it.
There are also some rules of etiquette when it comes to displaying your flag. 
Common Questions
There are many common concerns when it comes to flagpoles and where to place them. We address many of your concerns.
Can I Place a Flagpole in My Yard?
While it sounds silly to most of us, in some places, this is a legitimate concern. This depends on where you live. In some nations, such as Iran and North Korea, placing the national flag behind your home is a gross violation of custom. In free countries, anyone can install a flagpole. 
How Far Should It Be from My House?
Display the flag away from the structure of your house or other poles at a minimum of two feet more than the largest flag length flown.
Does Placing a Flagpole Require a Permit?
If you want to fly your country's national flag or the Union flag, you probably will not need planning permission for a flagpole. However, planning clearance is necessary for advertising flags in an outdoor space.
What Flagpole Colors Are Available?
Flagpoles come in bronze, white, black, and silver. Select one that best compliments your house's trim or the fencing shade. To finish the pole and prevent rusting, consider painting, powder coating, and anodizing it.
When installing a flagpole, first consult with all the utilities. While you may think you have found the right location, it may interfere with underground cables, electricity, or pipes. This can cause severe injury if left unaddressed. Not only could you end up rupturing a line (that would be embarrassing!), but you could also injure yourself. It is always a good idea to check before you dig.
When choosing backyard flag locations, find a place where the flag looks visually appealing and will add curb appeal. Flags increase your home's value and look patriotic. It should be displayed with pride and reverence as it hangs by your home.