With spring around the corner, you've probably already started envisioning your garden and flower beds for the year. If you're thinking about switching it up, add a garden path to your backyard. 
Even if you already have a garden path, it might be time to try some new ideas. Can't think of any? Luckily, you've come to the right place.
In this article, we'll explore the top garden path ideas to revitalize your garden and give it a new look for the year. 
Garden Path Ideas – Materials
The first thing to think about when exploring garden path ideas is the type of material you'll want to use. There are a variety of options when it comes to material, including:
Stone
Gravel
Flagstone
Slate
Brick
The type of material you choose depends on the look you're going for in your garden path. You'll want to consider more than aesthetics, however, and keep durability in mind as well. 
What's more, you want to consider the type of plants in your garden, particularly if you have ground cover plants such as English Ivy. Integrating these ground cover plants into your garden path ideas is a good idea to make it even more interesting. 
With all these materials in mind, let's jump into some garden path ideas for your outdoor space.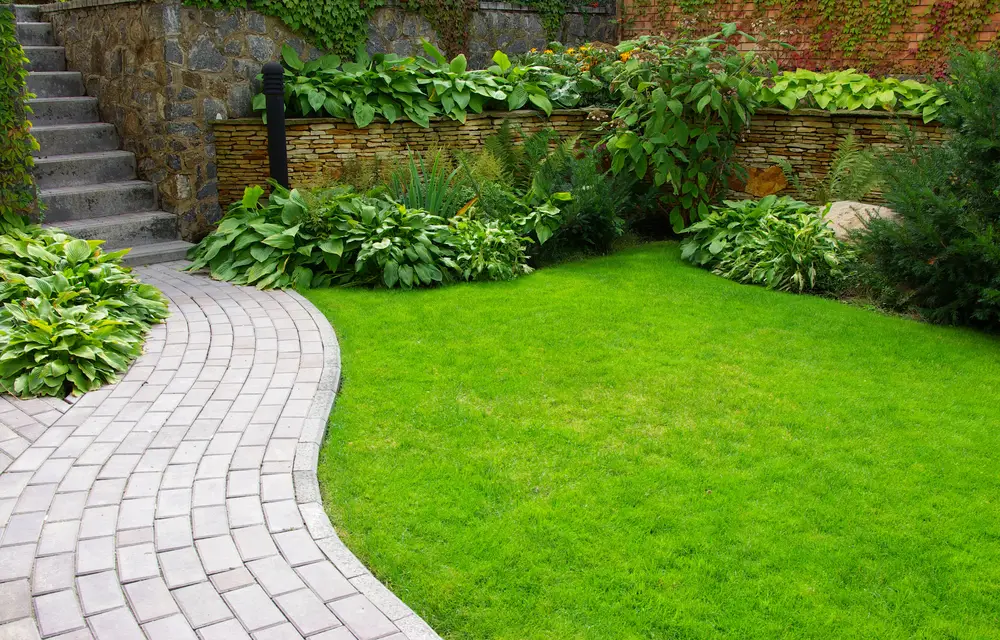 Top 10 Garden Path Ideas
Without further ado, here are the top 10 garden path ideas. 
1. Cobblestone Garden Path
Cobblestone has been used for centuries and continues to be a staple in Europe. You'll often find European garden paths designed with cobblestone, which makes it a great idea to introduce to your own garden.
Cobblestone definitely creates a rustic atmosphere in your garden. It's one of the most durable materials you can choose, and it can withstand almost anything thrown at it, from extreme weather to your garden's fertilizer. 
2. Grass Garden Path 
Even if your backyard is already full of grass, you can use that grass to create a garden path. 
This idea is best for elevated gardens, especially ones surrounded by stone. This way, there is more contrast between your garden and grass walkway and emphasis on the fact that it is a walkway. 
If you want to amp this idea up even more, you can add stepping stones to the grass walkway for further contrast.
3. Brick Garden Path
Brick is a timeless material, as well as a low-maintenance option. It's also very durable and easy to install. 
Despite how straightforward it may seem, you can get quite creative when using brick in your garden to create a pathway. Turn it into a weekend project and see how unique a pattern you can come up with. 
Overall, brick should be a top choice if you're looking for a traditional look in your garden. 
4. Brighten Up Your Garden Pathway
When thinking of garden path ideas, you shouldn't only consider what you'll be walking on. Lighting is an essential component of any pathway, including a garden pathway.
There are many different garden path light options available. These lights are usually on small posts that you stick into the ground, making for easy installation. 
The best part is that most garden pathway lights are solar-operated, so you don't have to worry about electricity or changing their batteries. They may also automatically turn on and off, so you can rest assured that your garden pathway is always lit up when you need it. 
5. Stepping Stones Garden Path
Sometimes making a beautiful garden path can be as easy as adding some stepping stones to your garden.
A stepping stone path can be made out of a variety of materials and is easily installed. Consider adding ground cover plants between the stepping stones to bring the entire look together. 
6. Mulch Garden Path
Your garden path doesn't have to be made from stone or brick. Loose materials such as mulch are a great option as an interesting garden path idea. While you'll probably have to replace the mulch path every year or two, it's generally relatively low maintenance. 
Mulch is great if you want to give your garden that relaxed look. It's also incredibly easy to set up: all you have to do is lay down some landscape fabric and spread the mulch over it. 
7. Gravel
Gravel paths are similar to mulch because gravel is easy to spread over your pathway. It's also low maintenance and goes well with every kind of garden.
Just be sure to install a barrier (like landscaping fabric) between the gravel path and your garden, especially if your garden isn't elevated. Moreover, if you enjoy going outside in your bare feet, then gravel probably isn't the best material for you.
While a gravel pathway may not give your garden the most creative look, it gets the job done if you're simply looking to create a garden path. 
8. Flagstone Walkway
Flagstone is a very popular material for garden paths. They're a great way to turn your garden into a romantic scene and easily match other decor in your garden.
Flagstone is low maintenance, but it is a little more challenging to install than other pathway materials, so it's essential to keep this in mind if this is a DIY garden path project.
9. Wood Garden Path
Wood is versatile, so why not consider it for your garden path?
This garden path idea requires a little more work to install than others, as you need to build a wood boardwalk. To cut down on some of the work, you can get pre-made wood pathways for easy installation. 
That said, there's still the aspect of maintenance, which would be required if you want to keep your garden path looking good.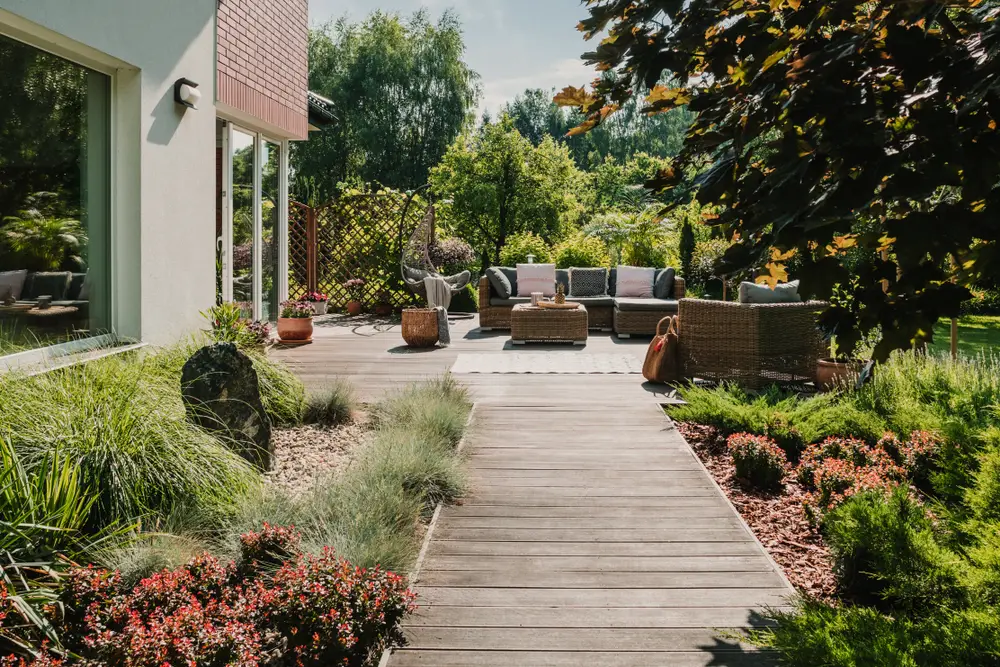 10. Stone Edge Pathway
No matter what material you use on the actual pathway, you should also consider what you want the edges of the path to look like. This is especially important if you want to protect your garden from the material on the path, such as gravel.
Lining your garden path with a stone edge is a great idea to keep everything separate and create a beautiful pathway at the same time. Lining your garden can be simple, and this can be done with any type of stone, fairly inexpensively as well.
Conclusion: Rejuvenate Your Garden With Garden Walkway Ideas
A garden path may be simple, but it can hugely impact your garden. With so many options, the possibilities are endless, and this is an excellent opportunity to get creative with your garden.
Think about how you want your garden to look to help you brainstorm some beautiful garden path ideas that highlight the hard work you put into your plants.
Looking for other garden ideas? Check out this article to learn how to integrate unique garden statues into your backyard.