As soon as the weather gets warmer, the urge to spend more time outdoors gets stronger, especially if you have a beautifully landscaped backyard and you like to entertain. Essentially, nice weather means it's time to throw an outdoor party.
There are endless outdoor party ideas for adults, but there are a few staple party ideas that you can't go wrong with. Keep reading to learn about the best outdoor party ideas for adults that will have your friends and family asking you to host all of the time.
Outdoor Party Ideas for Adults: How to Plan the Best Party
When it comes to outdoor party ideas for adults, planning is everything. There are several aspects of your outdoor party to consider:
Party theme
Day or night party
How many guests will be in attendance
The food you'll be serving 
What activities you'll be doing
Each of these elements plays into how you'll plan your party and how successful it will be. 
While you can have an outdoor party year-round, it's best to plan at a time with ideal weather. That said, you can't go wrong with a summer outdoor party. If you're worried about the heat, plan for your party to be during the evening or at night to take advantage of the cool summer air.
What's more, you must ensure that you properly prepare your backyard for an outdoor party. That means landscaping, having the right outdoor decor, and proper seating for your guests. 
No matter what outdoor party idea you choose, it's a good idea to have some activities prepared for your guests to do, whether that be outdoor games or other such activities.
Now, let's take a look at the best outdoor party ideas for adults for you to try out this summer and impress your friends.
Best Outdoor Party Ideas for Adults
Before you can get ready to party, you have to know what type of party you want to have. This can be difficult to come up with, but there are several different types of outdoor parties that are tried and true, and, therefore, should be at the top of your list of ideas to try.
To guide you through your planning of the best backyard party to remember, here are some of the top outdoor party ideas for adults.
Outdoor BBQ
One of the best and most popular outdoor party ideas for adults to try is a classic outdoor BBQ.
Chances are that every summer you get together with some friends to enjoy some grilled meat and cold beers outdoors. Although BBQs are famously simple and mainly about the food, there are several ways to liven it up and make it a more unique experience for you and your guests.
One option is to set up some yard games. Not only do games keep kids attending the BBQ occupied, but there are a series of adult lawn games that are loads of fun for all ages. One of the most well-known backyard games that never fails is ring toss, and you can typically get a ring toss set at a reasonable price. If you want an outdoor game that's different and requires a little more collaboration, get your hands on a giant Jenga set and strategically stack these blocks outdoors.
Another way to make your BBQ more exciting is by also having a pool party.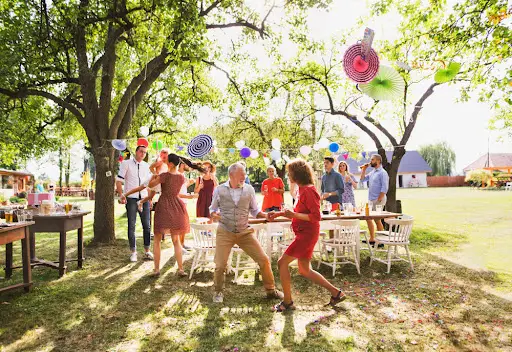 Pool Party
This one is another idea that may seem obvious but is still one of the most classic outdoor party ideas for adults worth mentioning.
Nothing is better on a hot summer day than jumping into a pool, which is why pool parties aren't just for kids. If you're blessed enough to have a pool in your backyard, you're doing your friends a disservice by not inviting them over for a pool party.
There are several ways that you can go about having a pool party. You can keep it simple and have it be part of a BBQ. You can also have a themed party, such as an all-white pool party. 
Don't forget to include games as part of your pool party. It can be as small as getting a few beach balls to toss around in the water, or depending on the size of your pool, get a net for your pool and play a game of water polo.
Dinner Under the Stars
Dinner parties are a great go-to party idea for adults to enjoy each other's company over some good food. In the warmer months, why not make it more exciting by taking your dinner party outside?
An outdoor dinner party is a great way to enjoy the fresh air over a meal. It doesn't necessarily have to be a BBQ — you can prepare all of the food in your kitchen and have your guests dine outside. However, this is an especially great idea to put your outdoor kitchen to use, if you have one, as you can prepare the food outdoors live in front of your guests.
An outdoor dinner party makes for a relaxed atmosphere and makes it easy to transition to gazing at the stars as a post-meal activity. You can also bring out a deck of cards to play with your guests too.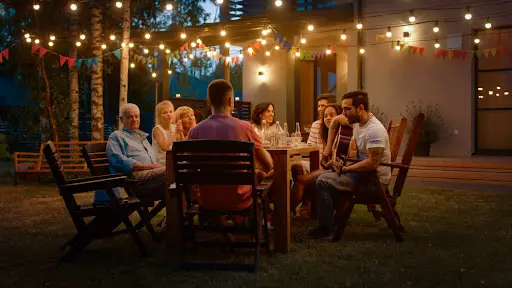 Backyard Wine Tasting
Wine tasting is a top-tier activity for adults. But you don't have to go off to a vineyard for a wine tasting experience. You can have an equally great experience in your own backyard with some friends. 
There are plenty of services that deliver cases of specialty wine to your home, or you can handpick a set of different wines for you and your friends to taste. 
Order a case of six different bottles, and chill as needed before your guests arrive. Set up the bottle and the wine glasses on your back patio, along with some other refreshments and a grazing board with cheese and fruit.
Taste the wines one by one and discuss them as you go. Once you taste all the wines, it's up to you how you want to continue with the party. You can keep it calm and enjoy your wine or do an activity, such as playing a drinking game. If a few of your guests end up a little tipsy, your party was a success.
Brunch Garden Party
Have a beautiful garden in bloom that you want to show off? What better time to do it than with a brunch garden party.
Everyone loves brunch, so hosting it in your garden will have your guests excited for some delicious treats and mid-day drinks. You can make the food yourself in your outdoor kitchen or turn this idea into a potluck and have your guests bring their favorite brunch dishes for everyone to try while taking in the beauty of your garden. Don't forget the mimosas!
Movie Night
Have you ever been to a drive-in movie theater? Well, you can easily recreate the experience at home in your backyard to enjoy with your friends and at a lower cost.
Invite your friends over for a movie night under the stars that they'll never forget. Pick a movie and have popcorn, drinks, and snacks ready to go.
All you need for this is a backdrop to act as a screen and a projector. This projector with wifi from NISOO is a great option as you can connect any device you want to it to stream your favorite movie by simply using wifi.
Bonfire
Last on our list of the best outdoor party ideas for adults is to have a bonfire.
Yes, bonfires are not just a teenage summer activity or a necessity when you go camping. Bonfires are a great way to gather and socialize while staying warm on cool summer nights. 
If you have a fire pit and a seating area, hosting a bonfire party in your own backyard is easy. Serve whatever food you would like, whether it's BBQ or other snacks. Better yet, roast sausages over the fire to get the full fire pit experience.
If you want to bring out your inner child, have some marshmallows handy to roast over the fire and make some s'mores! 
Conclusion: Try the Endless Outdoor Party Ideas for Adults
To recap, the top 7 outdoor party ideas for adults are:
Outdoor BBQ
Pool party
Dinner under the stars
At-home wine tasting
Brunch garden party
Outdoor movie night
Bonfire
Why not try something new this summer? Experiment with these ideas, and even mix and match them to create your perfect event that will have your friends talking all summer long.
With so many ideas, you might end up having several outdoor parties this summer.