When the snow melts away and the flowers bloom, homeowners are ready and eager to get to work, landscaping and preparing their garden beds for spring. 
While you will surely need various tools and other materials, a shovel is one main product you won't want to go without. But did you know there are tons of different shovels, each designed for a unique task? Finding the best shovel for the job will make things go more smoothly.
Before April showers fall and May flowers grow, familiarize yourself with the different types of shovels you may need to get the beautiful lawn you have been dreaming about all winter.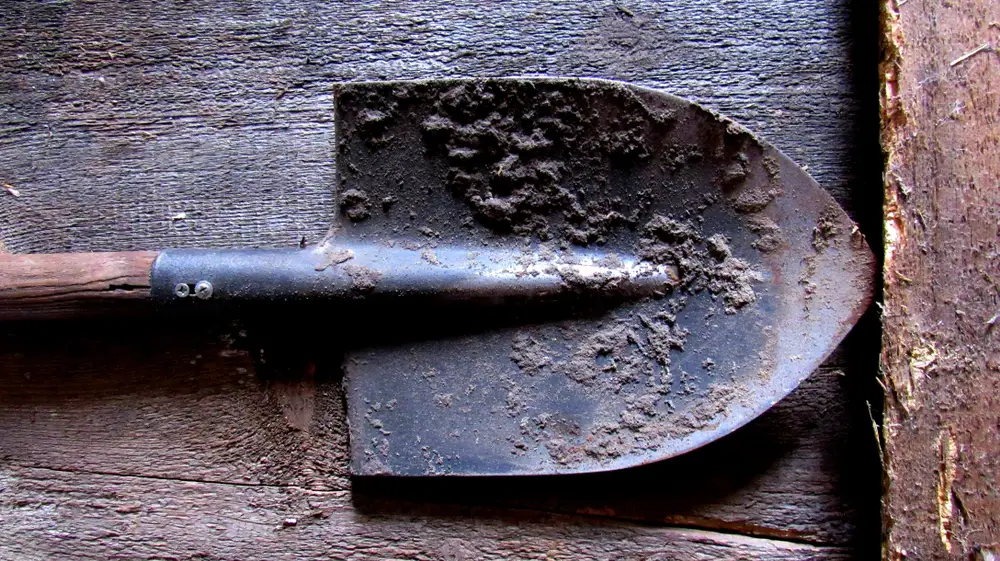 Different Types of Shovels to Use for Yard Work
When you walk into a hardware store ready to pick up your lawn tools for the upcoming spring and summer season, don't get overwhelmed and confused by the variety of shovels on the shelves.
Check out this list to easily identify which shovel is which and what you need for the jobs you have lined up.
1. Digging Shovels 
A digging shovel is the most commonly found type, and you likely have one inside your shed, garage, or barn already. These shovels were made to penetrate dirt, stones, grass, and other tough surfaces for your basic lawn duties. 
A pointed digging shovel is more often than not created with a non-slip grip and a D-shape handle.
2. Edging Shovel
If you enjoy working in a garden or own a landscaping business, you are probably familiar with an edging shovel. These tools are used to provide clean cuts in the grass and along flower beds to create straight lines.
An edging shovel is often made of thin metal with flat blades and edges. Unlike the digging shovel, edging shovels are for creating a nice smooth look and not for moving and carrying a heavy load.
3. Gravel Shovel
You will see gravel shovels used on projects that require moving loads of rocks short distances, such as when filling in potholes or lining a pathway in a front yard.
These shovels have a rounded blade, making it easier to scoop and carry the stones without losing them as you move along.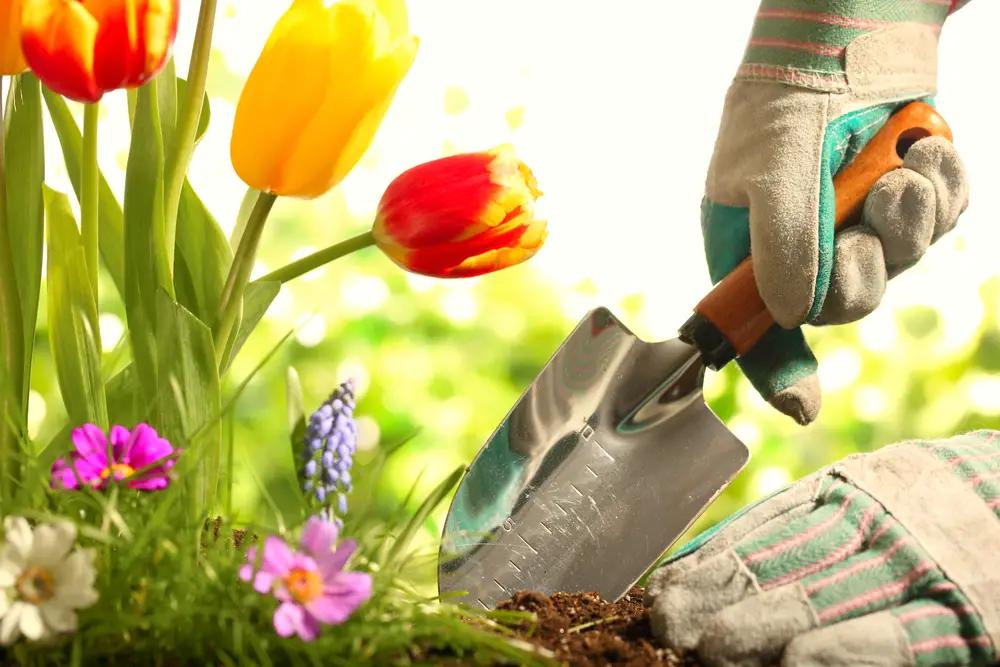 4. Garden Shovel (Spade)
A garden shovel, otherwise known as a garden spade shovel, is a small handheld shovel used to tend to a garden. These are great for weeding or planting thanks to the sharp v-shaped blade and non-slip grip handle.
5. Mulch or Grain Shovel
As you have probably already guessed, the mulch or grain shovel is used to scoop and transport small loads of mulch and grain.
The shovel is made from durable metal material, like aluminum, and sports a large bucket blade ideal for scooping and loading mulch and grain from one place to the next.
6. Folding Shovel
If you love camping or hiking, having a folding shovel on hand can be extremely useful in so many different situations.
Folding shovels are similar to digging shovels with a sharp pointed blade, but they can fold into a small, transportable size so you can easily store them in small spaces and carry them around without worrying about them getting in the way.
7. Root Cutting Shovel
You guessed it. A root-cutting shovel is specifically designed to penetrate the earth's surface to remove roots, cutting them as far down as possible.
This root shovel has serrated sides and blades perfect for sawing away at even the most stubborn root system.
8. Tree Planting Shovel
You have probably noticed that these shovels don't have the most unique names. However, they are easy to identify and do exactly what they say they will.
A tree planting shovel is longer than your typical shovel, with a thinner blade and sharp, v-shape top. This design makes it simple to dig a deep hole to quickly plant a tree, giving the roots plenty of room to flourish.
9. Sod Shovel
Removing sod can be daunting, with or without the proper tools. Nonetheless, having a sod shovel on hand can make this chore much easier to tackle with its crescent moon-shaped blade and angled collar, helping you get up and under the sod easier than any other option on our list.
10. Snow Shovel
As the winter starts to fade, no one wants to think about snow anymore. However, you might still need a snow shovel in the spring to lift and move the last of that heavy, wet, white stuff out of your yard.
A snow shovel is designed with a wide sharp blade and is bucket-shaped to bust through heavy snow and ice, to scoop it up and toss it out quickly.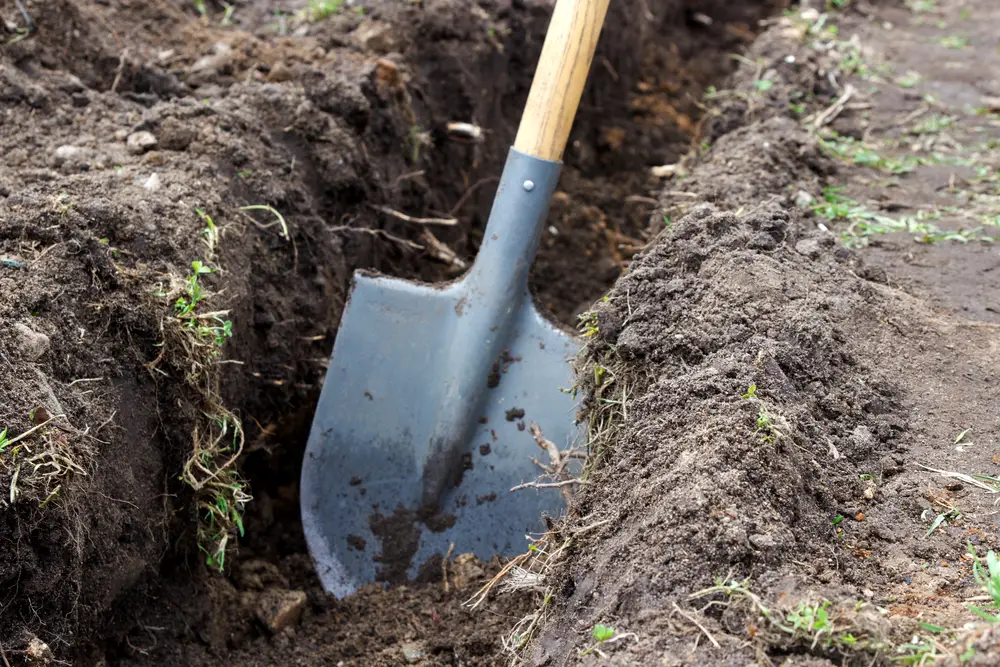 11. Trenching Shovel
A trench shovel is often used while digging ditches or installing irrigation systems. These shovels will typically have long, thin blades with sharp points to help cut through grass, stone, and dirt.
12. Shingle Shovel (Roofing Shovel)
If you plan on working on your roof this summer, consider investing in a shingle shovel. Thanks to the thin-toothed blade, these shovels make it easy to remove old shingles, perfect for gripping onto and pulling nails while lifting the old shingle off the boards.
13. Ash Shovel
An ash shovel is shaped similarly to a mulch or other bucket-type shovel. However, these specific tools have a small lip at the back to hold soot and ash from falling out while you scoop it up.
These shovels are often used to clean fireplaces, clear out fire pits, and remove burned debris from industrial jobs.
14. Post Hole Shovel
If you are putting up a fence, clothesline, deck, or anything else that requires posts securely placed in the ground, you will want to use a post hole shovel. 
This unique-looking tool resembles two shovels put together front to front, creating a circular blade that can cut through the earth that makes the perfect hole for a post to fit securely inside.
15. Coal Shovel
When choosing a shovel for scooping and moving coal, you want a durable, strong, broad blade. A coal shovel is built to get underneath hundreds of coal pieces and bucket them until you get them where you need them to go.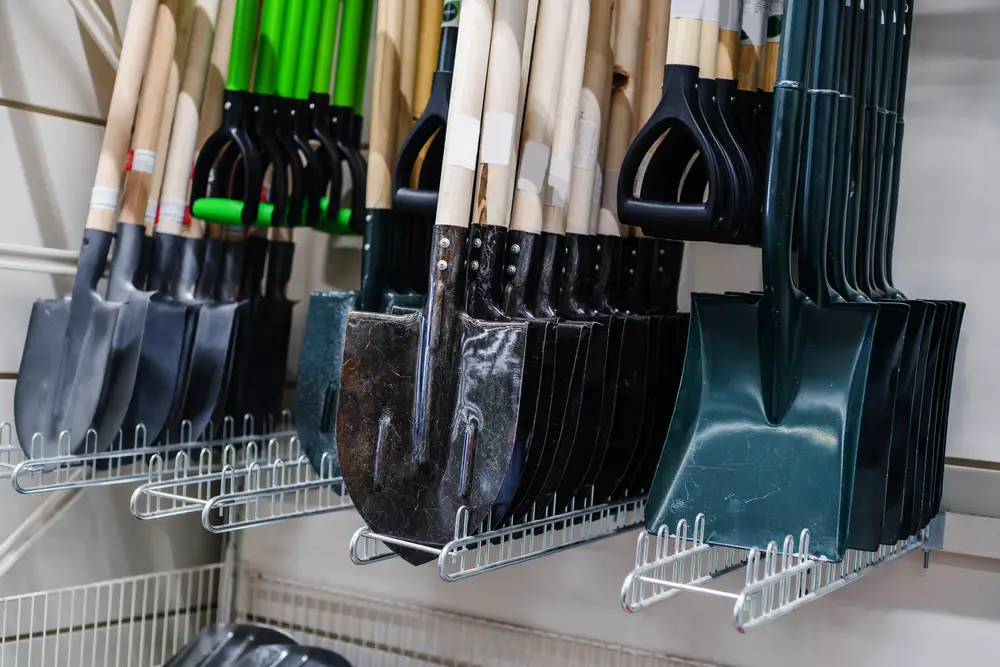 Things to Consider When Buying a Shovel for Your Yard
Now that you know what each type of shovel is and what they are used for, you can choose the right option for your upcoming job. But, before you click on the "Buy Now" button, ensure you get the product you need by checking out the details, not just looking at the product title.
What Material Is It Made From?
A good, durable, quality shovel is typically constructed from a heavy-duty wooden shaft made from oak, maple, or ash. It will have a strong metal blade, preferably made from steel. 
You also want an ergonomic design that provides the best handle, grip, and curves for the task at hand. This will keep you from struggling with back pain and muscle aches at the end of the day.
Although that is the description of the ideal shovel, it isn't the only way these tools are made and will often cost much more than other options.
You can also buy shovels with a plastic, fiberglass, or aluminum shaft and a soft metal or plastic shovel blade. The design might not be user-friendly, and some will break quicker than others.
Are You Buying a Reputable Brand?
Almost anyone can produce a line of shovels marketed as yard-work ready. Unfortunately, not all companies selling these products are on the up-and-up. They might end up selling you a tool that is more trouble than it is worth.
Before you purchase a shovel of any kind, check out the manufacturer's ratings and reviews, and look at where the product is made.
What Are Your Needs?
Unless you own a landscaping business or are really into yard work, you don't necessarily need all these different types of shovels when one or two options can get the majority of the work done for you.
While having a tree planting, root cutting, or post-hole digging shovel on hand for a quick and clean cut might be nice, a basic digging shovel will work just fine for most jobs.
If you already have a scoop shovel with a flat blade, you can use that instead of an edging shovel when prepping your garden or edging your flower beds.
Instead of wasting your money and storage space, find ways to optimize the tools you already have to tackle more than one task.
Final Thoughts
Once you understand each type of shovel and the jobs they were designed to handle, you can get started on your lawn to get the perfect look without too much of a hassle. Whether you're planting bulbs and gardening or need something to dig a deep hole in hard soil, the right shovel will make the job much easier.