As beautiful as the flowers and plants in your garden may be, sometimes it helps to add a few extra elements to turn it into your personal outdoor oasis. There are many ways to spruce up your garden and make it memorable. From adding a lake to choosing rustic decor or making your own fairy garden, the possibilities are endless.
If you're looking for a focal point that will make your garden stand out, adding unique garden statues might do the job. Keep reading to learn more about garden statues and how to find the right one for your outdoor space.
Why Add Garden Statues to Your Yard?
There are several reasons why you should consider adding unique garden statues to your outdoor living space. The perfect garden statue or garden ornaments can transform your yard in many ways and pique the eye's interest. Beyond that, a garden statue can:
Reflect your style and eye for design
Provide shading for specific areas in your yard
Scare away birds from your garden
Create symmetry in your garden
What's more, there are many elements to consider when choosing a unique garden statue.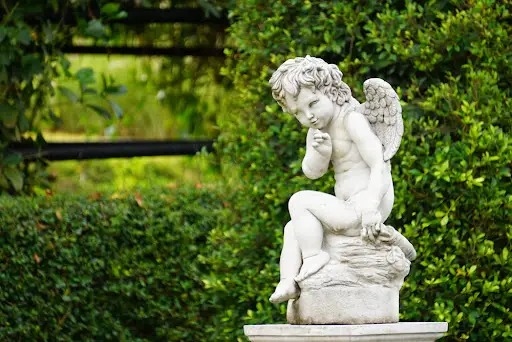 Where to Place Your Garden Statue
Placement is one of the most important elements of choosing a garden statue. 
Although a lush garden abundant with plants is a beautiful sight, it can have a monotone effect that detracts from the uniqueness of each of your plants. A garden sculpture is a good way to break up the greenness around your outdoor space and make your yard stand out. Having a bold statue or garden ornament among the greenery will catch anyone's eye. 
If you have an area of your garden that you're particularly proud of and want to draw attention to, adding unique garden decor is a great way to emphasize your hard work. Better yet, in the winter, when your flower bed is no longer in bloom, a unique garden statue will still give it character.
Decide in which yard or garden you want to place your statue. You can work this type of garden decoration into your front yard or your backyard. Front yard placement is great if you want to make a statement about your home to the world, while backyard placement can serve as a private artifact and creative surprise to guests.
What Size Statue to Choose
Something else to think about is the size of the statue. Unique garden statues range from being small trinkets to real-life-sized human statues. To best use a unique statue in your garden, you must decide how big or how small of a statue you want to get.
If your garden and backyard are relatively small, you probably don't want to choose a large statue that will swallow up your garden and reduce the total space you have in your yard. At the same time, if you have a big backyard or an especially abundant garden, you want to ensure that your statue is visible and doesn't get lost in the scenery. Assess the size of your yard and the prolificness of your garden to determine what size statue is right for you.
Let's take a look at your options for choosing unique garden statues.
Unique Garden Statues: Your Options
With so many options, choosing the right garden statue is a challenge. Once you get a better idea of the type of statue you want and what best suits your garden, you will know what to look for. 
To help you out, here are some unique garden statues to bring your yard into focus.
Crane Garden Statues
Our first unique garden statue recommendation is this pair of Crane Statues from Shorayn. 
Measuring in at just under 34 inches, these cranes are subtle yet make an impactful addition to your garden. Hand-crafted from durable and high-grade metal materials and hand-painted with a vintage gray finish, this pair of statues will add an elegant and vibrant touch to your garden.
Although they are metal, the finish on these cranes is weather-resistant, waterproof, and rustless, so you don't have to worry about maintenance. Whether you choose to nestle them into high hedges or put them amongst your favorite flowers near a pond, these cranes are sure to serve as a unique focal point in your garden.
Virgin Mary Outdoor Statue
​​Statues and religion go hand in hand. To represent your religion, a statue is a great outdoor option. This Virgin Mary Outdoor Statue from TOETOL is a great start towards a Catholic collection.
This beautiful garden sculpture measures just under 30 inches, a versatile height that can work for yards of various sizes. Carefully handmade of high-quality magnesium oxide, you can rely on the durability of this statue to last through whatever the weather has in store.
Take in the soothing inspiration this statue brings to your garden, your porch, or anywhere else that you decide to put in your home, whether that be indoors or outdoors.
The Bunny Den Rabbits Garden Animal Statues
​​As mentioned, unique garden statues come in many sizes – even as small as a few inches. The Bunny Den Rabbits Garden Statues from Design Toscano are an example of how impactful small statues can be in your garden.
This set of three bunny statues makes an adorable addition to your garden. Hand-painted and hand-cast using real crushed stone bonded with durable resin, these statues are designed with great detail to give the effect of the real adorable wildlife in your garden. 
Add them right in the middle of your garden, perch them on a stone, or line them around your patio. The possibilities are endless with these adorable imitation furry creatures. Until you get used to them, don't be surprised if you continuously mistake them for the real thing!
Turtle Garden Statue
Wouldn't it be nice if winter didn't have to come along and your flowers were always in bloom? Well, this Turtle Garden Statue from GIGALUMI can fulfill that wish.
This statue is 7.5 inches tall and features a turtle with a bouquet of colorful flowers for a shell. The colors of the flowers on the shell are hand-painted with bright details to ensure that this unique garden stands out amongst your plants.
However, this turtle statue is more than just a statue. It is also a vibrant garden decoration thanks to its solar-powered lights. Enjoy the vivid color of the flowers during the day and the soft light at night to always keep your garden vibrant. 
All you have to do to light up this turtle statue is set it and forget it. Just turn on the turtle, and it will automatically light up for 10 hours in the summer and 5 hours in the winter when fully charged.
DIY Unique Garden Statues
What's the best way to ensure that your garden statues are unique? Make your own!
You can turn your hunt for the most unique garden statues into a DIY sculpture project to ensure the individuality and authenticity of your garden art.
You don't have to get a block of clay to start making your statues. You can make statues out of whatever material you want, but it's best to use durable materials, such as wood, metal, or stone. It doesn't have to be detailed. For example, you can collect a series of beautiful stones and put them together to make a simple but unique statue for your garden. Don't be afraid to get as creative as possible and bring your vision to life!
Unique Garden Statues Bring Your Yard to Life
Statues are a simple addition to your garden that requires less work than adding new plants but make a huge impact. The right piece of outdoor decor can transform your garden and elevate it to new heights, giving it the look and feel of formal gardens.
It might take you some time to find the right garden statue for your yard, but once you do, you'll see that it's the perfect centerpiece your outdoor space has been missing.