When the weather turns cooler, homeowners can continue to enjoy their outdoor living spaces by adding a heat source like a fire pit. There are a variety of types, including custom-made and pre-fab, but no matter what type you choose, remember to keep a few crucial safety tips in mind before, during, and after you light the fire. Before you purchase a fire pit or have one built, remember to check with your local government to confirm that fire pits of any make or model are legal in your municipality.
1. Choose the right fuel.
It is important to select the proper heat source for your fire pit. If it is a pre-fab model, the manufacturer will list the correct type. If you plan to have one custom built, work with your landscape architect to obtain the type that best suits your needs. Most fire pits can safely control fires that are fueled by hard woods like cedar and oak or can be outfitted to produce heat through natural gas, propane, or gel.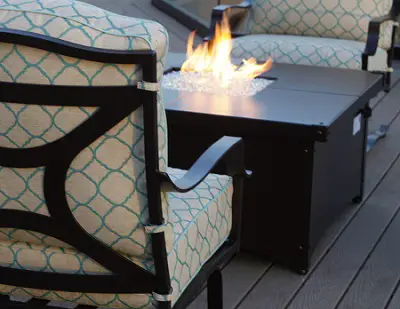 2. Make sure your fire pit is on a stable, fireproof floor.
Your fire pit must be placed on a surface that can handle sparks or embers that might blow from the bowl. Any natural stones, like flagstone, travertine, slate, and granite, and manmade materials like concrete and durable fire-safe paving stones, are excellent choices.
3. Keep your fire pit away from anything flammable.
The rule of thumb is to maintain at least 10 feet of space between the fire pit and anything combustible. That means, when you use the fire pit, keep furniture and accessories at a safe distance. You will still feel the heat and enjoy the ambiance!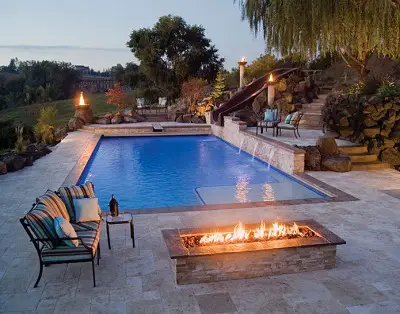 4. Check weather conditions before lighting the fire pit.
Never light a fire pit in windy conditions. Not only will you have difficulty starting the fire, but you will also have a greater chance of flying embers or sparks blowing away from the controlled area.
5. Keep your fire low and slow.
Be patient. If you are using wood in your fire pit, start the fire slowly. Once the fire is burning strongly, add more fuel until you have the level of heat you desire. Never, ever use an accelerator like gasoline—it's too unpredictable and risky.
6. Use a mesh cover.
A good way to keep embers and sparks from flying out of the pit is to contain them from the beginning, and a wire mesh cover is a great option. The warmth and ambiance remains intact while the fire pit area has one more line of defense against unsafe conditions.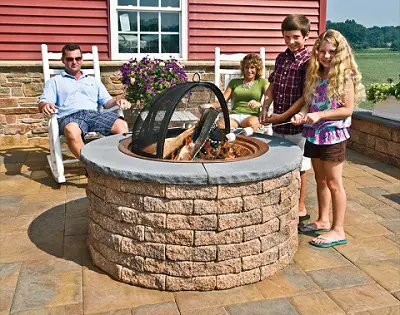 7. Never neglect your fire pit
No matter the fuel, always attend the fire. If you are using wood, you should have a container of water or fire extinguisher on hand to quickly but carefully contain a flare-up. If your fire pit is fueled by propane, natural gas, or gel, read the manufacturer's instructions. Usually, all it takes is a turn of the knob to extinguish the fire. It's a smart plan to have a fire extinguisher nearby that can dowse your particular kind of fuel should it become necessary.
8. Always make sure the fire is out before you leave the area.
When you are finished with the fire pit, take precautions to make sure the fire is entirely out. If you used wood, smooth the ashes and let them cool. Then, gently pour water over the cinders. Look for hot spots or smoldering embers; once the fire pit is fire-free, you can exit the area.