What Is A Fire Pit? A fire pit is something that was made to contain a fire and prevent it from spreading. A fire pit is also known as a fire hole. Fire pits come in many different shapes and many different sizes if they are purchased from a retailer.
A fire pit can also be a simple hole that is dug into the ground. Fire pits that are purchased from retailers can be very basic, or they can be elaborate. When the word elaborate is used regarding a fire pit, it means the pit can be made of different stones, brick, and metal.
Fire pits are not new, but many cultures have used them for various reasons, even religious ceremonies.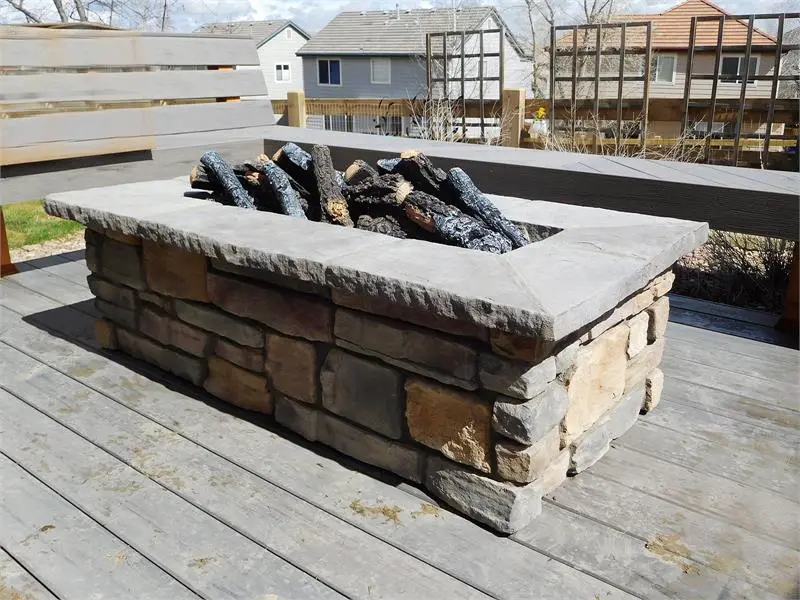 The Different Types Of Fire Pits 
A premade fire pit is the most commonly used type of fire pit. Pre-made fire pits are all the fire pits that can be purchased from retailers both in-store and online. Pre-made fire pits are typically made from metal tables and stone or metal and precast concrete. Pre-made fire pits are usually propane, ethanol, or natural gas burning fire pits. Some issues cause wood-burning fire pits to be scrutinized. Environmentalists have a problem with wood-burning fire pits because they think they are a fire hazard and cause particulate emissions to go into the air.  
Looking for something unique? Check out our Guide To Smokeless Fire Pits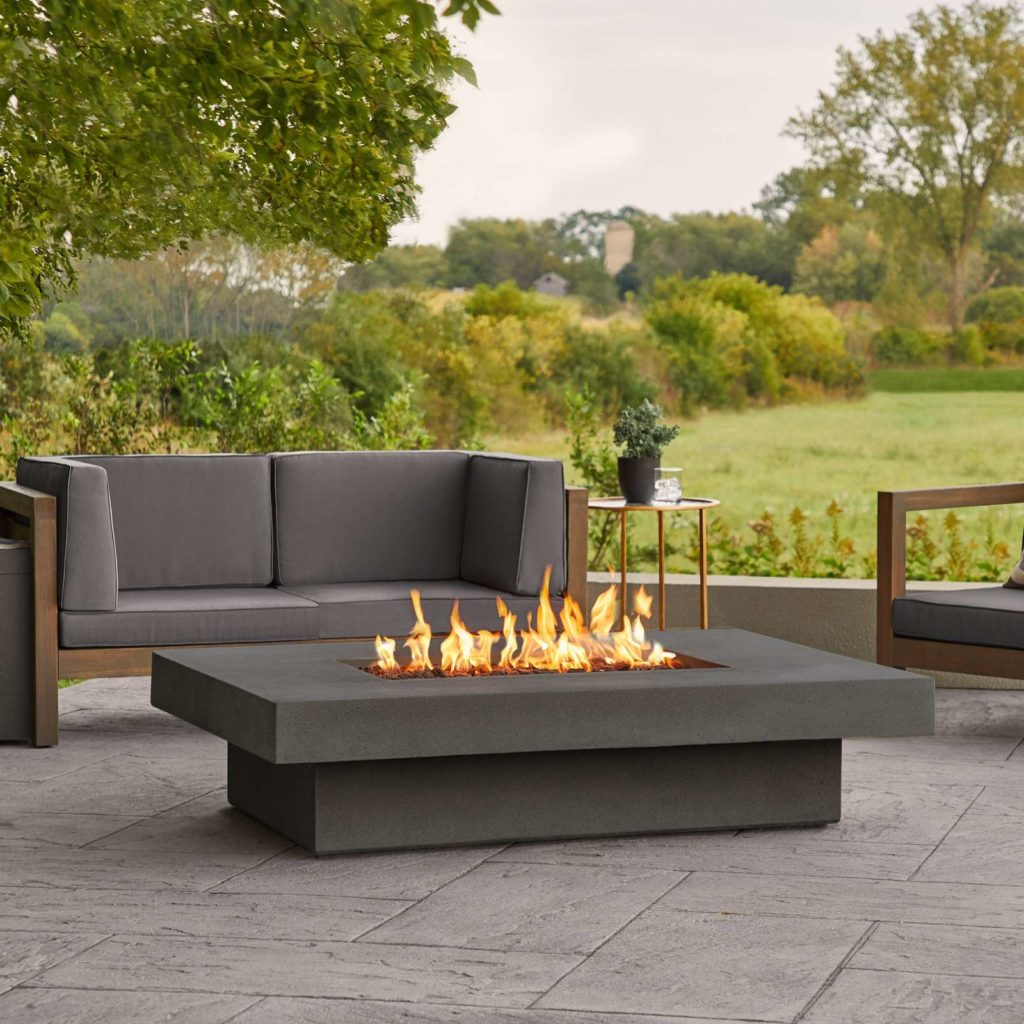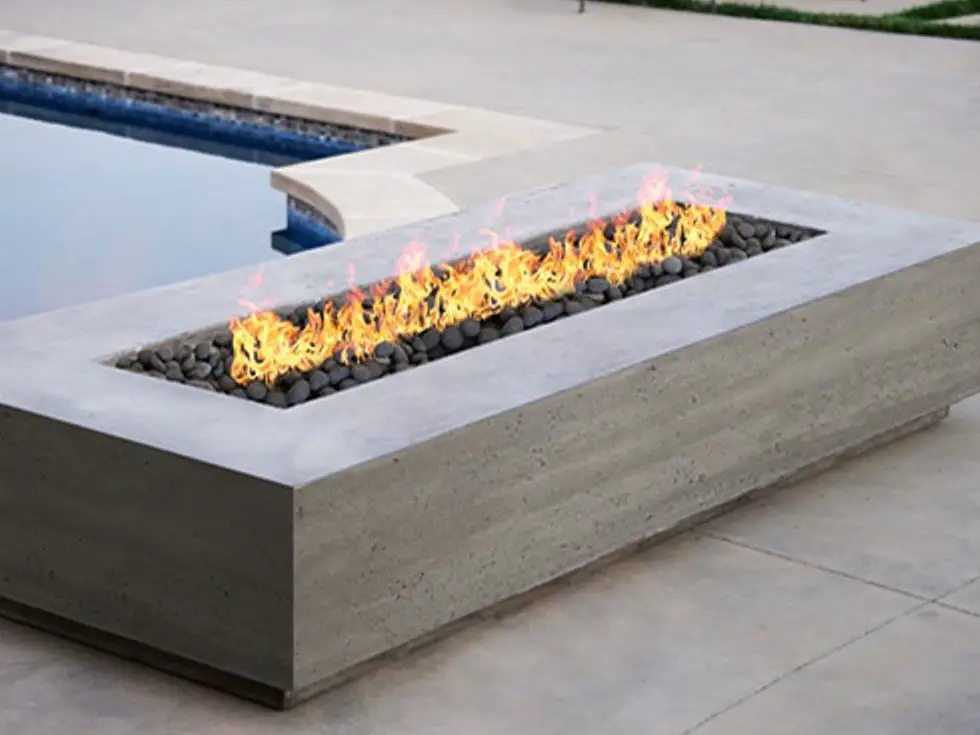 Rectangular Fire Pit Fuel Types
The four fire pits that individuals have to choose from are natural gas, propane, wood-burning, and gel fuel.  

Natural Gas Firepit – A natural gas fire pit is very similar to a propane fire pit. The only difference is that the natural gas fire pit is connected to a gas line. This connection to the gas line means that any individual who owns a natural gas fire pit cannot move it from the location where it is connected. 

Propane – The flip of a switch operates this fire pit. The button cuts off the propane supply that is usually stored in a tank below the pit. Most propane tanks come with some type of fire pit media. What a fire pit media does for propane or any tank is give it an aesthetic appeal.  

Wood-burning – These types of fire pits give the owner a more natural outdoor experience. An individual can smell the wood and hear it crackling. Wood burning fire pits are more challenging to put out, but they produce the most heat. 

Gel Fuel – A gel fuel fire pit is fueled by an alcohol-based gel. These fire pits burn clean and are smoke-free. The downside to using a gel fuel fire pit is that they do not provide heat.
Rectangle Fire Pits
Individuals use rectangle fire pits to give their backyards an elegant look. A rectangular fire pit is similar to a square fire pit because both provide a high-end feel. The lines and angles in a rectangle give a formal look to the fire pit. The modern rectangular fire pits are now being made of hardscape materials such as stainless steel and granite. If an individual is a gardener, a rectangular fire pit can make a garden stand out and complement it. If a rectangular fire pit is placed along a long seating wall, more seating can be created by putting a loveseat on the other side. An individual has to decide when purchasing a fire pit is if they want a permanent or temporary fire pit. 
Rectangle Fire Pits To Buy Online Now
Custom Tabletop Rubbing Alcohol Fireplace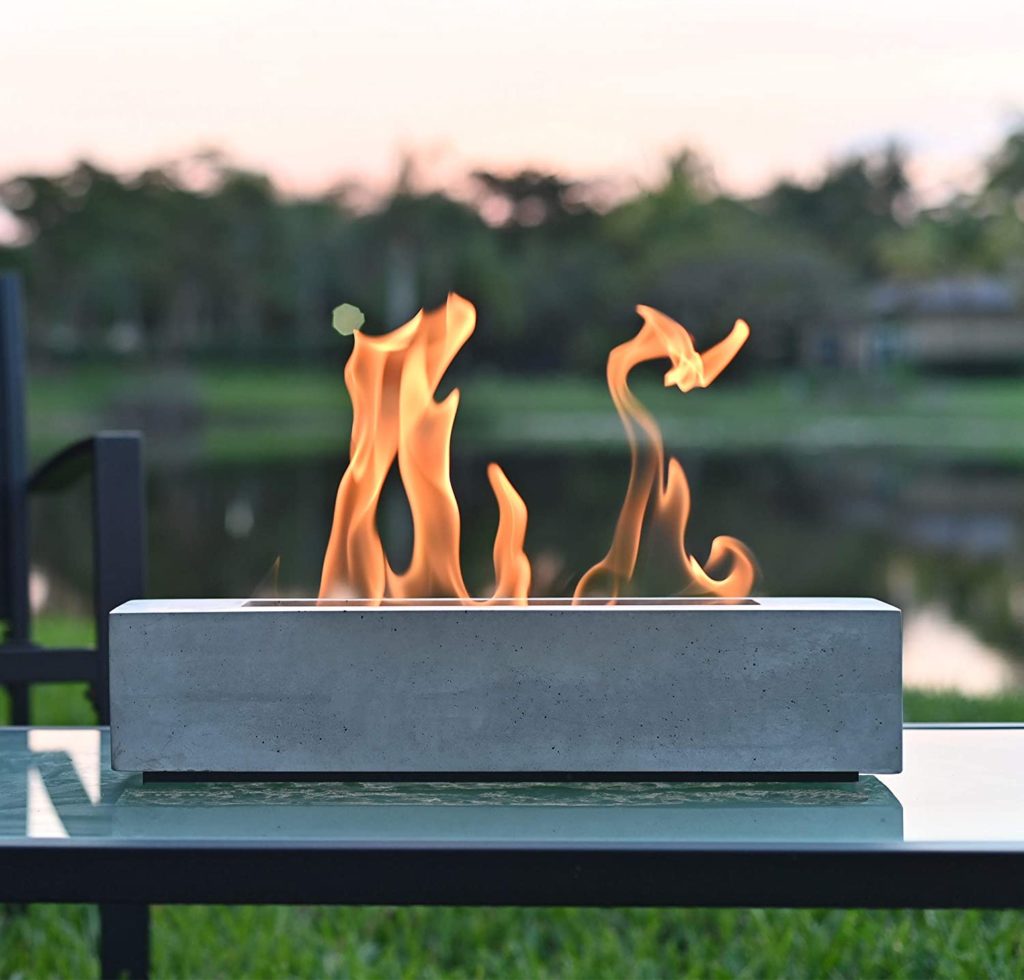 Afuera Living 56" Patio Concrete Fire Pit Table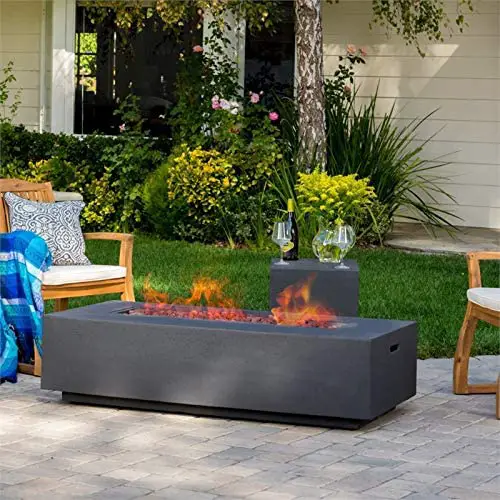 The weight of a firepit depends on its size. The lowest weight for a fire pit is 20 lb. The highest weight for a fire pit is 70 lb. If there is a square coping on the fire pit, it is usually made up of tile, granite, slate, or the owner's choice of material. It is recommended that homeowners who purchased fire pits try to blend with their home's theme. Individuals in the market for a fire pit should not just consider rectangular shapes when making the purchase. But they should also be mindful of what type of fuel the fire pit uses. Because if an individual or a family member has respiratory issues, liquid propane fuel will be the best. The typical design for a rectangular fire pit is modern and is usually made from brick or traditional stone. If the fire pit is made of metal, gasoline is used to fuel these fire pits. 
Once you decide on a fire pit shape, be sure to learn our fire pit safety tips.
How To Build A Rectangular Fire Pit 
There are ten different steps that an individual should take when they are building a rectangular fire pit. The ten steps are :
One of the steps that need to be done when building a rectangular fire pit is to choose what the pit will be used for. Will you use the pit for one thing, such as a decoration piece, or would you use the fire pit for multiple things like a heating source and making s'mores. Once you decide what fire pit will be used for, you can move on to the next step.
Before you begin building your fire pit, you should check your local area and make sure that you are allowed to have a fire pit in your yard. Certain cities do not let individuals have fire pits or have a specific type of fire pit. So again, you must know the regulations about fire pits in your local area before you start building.
Another step in this process would be to decide how you want to build a fire pit. An individual can make a fire pit in three different ways. The first way is building the entire fire pit from scratch. Individuals also have the option of purchasing a prefabricated fire pit. The third way is to buy a fire pit kit. The kit provides the individual with everything needed to build a fire pit and all the individuals have to do is put it all together.
If you do not know the fire pit shape you will use, you should choose a shape. This is important because each shape requires different materials when it comes to building a fire pit. The three most basic and most common fire pits are square, rectangular, and circular.
Once you know the regulations for building a fire pit, you should also pick what area of your yard you want the fire pit in. It is essential to keep fire pits away from your home and any other flammable materials or structures. You also have to be mindful of building a stone fire pit; do not put it on or close to your neighbor's property.
Before you start to build your fire pit, you should gather everything that you will need initially. This will save you time and prevent you from having to run back and forth to hardware supply stores. Here is a list of some of the tools you may need when building a fire pit yourself: caulk gun, shovel, measuring tape, level, and a rubber mallet. A do-it-yourselfer may also need a water hose that has a spray nozzle for this project. As well as a wheelbarrow if they are using bricks or stones to build a fire pit with. The materials needed to build a fire pit are construction adhesive, pavers or bricks, and a crushed gravel paver base.
One of the most complex parts of building a fire pit is the moving of the pavers. This step is required for the building of a fire pit. The pavers weigh about 25 lb. The good thing is there are ways to move the pavers that help reduce the risk of injury. The individual should always use gloves when moving the pavers. They should have some good work boots with good grip. Lastly and probably the most important, the individual wears a back brace. 
You will need a shovel, too, because you have to dig holes that the pavers go into. When digging the holes, they have to be at least seven inches deep. If you plan to build the pit on a patio, you won't need to dig a hole for the pavers. Before you use the paver base, you want to make sure that your base is level. If it is level, you pour the paver base on top and continuously tap it down, keeping it even. You continue this process until you see that the paver base is about five inches thick. 
When laying the stones onto the paver base, individuals should try to ensure there are small gaps in between. The builder should also make sure that the stones are uniform because it makes the fire pit look better. Once the stones or pavers are in place,ensure the builder should make sure that they are all even. If they are not even or level make the proper adjustments as needed. Once the first layer of pavers has been laid adhesive should be placed on top of them. This is so the next level of pavers can be stacked on top. You repeat the same steps for another row. Once everything is dry the fire pit is then ready for use.