One part of a home that often goes forgotten is the walkway. Having a good walkway in your front or backyard is essential for safety and to tie together the aesthetic you may see in your outdoor space. 
Whether you want to spruce up the walkway at the front of your home to welcome guests or build a more beautiful path through your garden, it's essential to make an effort in how you present your walkway.
If you're looking for creative walkway ideas but don't know where to start, you've come to the right place. Keep reading to discover some fun and unique ways to turn any plain walkway into a beautiful path to paradise.
Why a Walkway Is So Important
Generally, your walkway serves as a way to walk up to and away from your home outdoors. Having a walkway is crucial to ensure a safe way for you to access your home when needed.
However, beyond the safety aspect, walkways are also important in determining how your yard looks. Considering that walkways take up a significant portion of your backyard, you want to ensure your walkway looks the way you want it to look. Whether you want a subdued walkway or want it to be the centerpiece of your yard, there are various ways to ensure that your walkway gets the attention it deserves.
Let's look at some of the top walkway ideas for a beautiful yard.
Walkway Ideas to Spruce Up Your Yard
One of the best parts about walkways is that it's easy to get creative with how you design them. From the shapes to the patterns and the materials you use, there are various ways to mold your walkway to reflect the personality of your yard and your entire home.
That said, deciding how you want your walkway to look can be overwhelming. To help you out, here are some of the top walkway ideas to liven up your walkway and bring your vision to life.
Stone Path
The first walkway idea on our list is an oldie but a goodie. Stone paths are not a new idea and may be one of the most common types of walkways that you may come across. Sometimes it's best to stick to what you know best. However, if you want to make your stone walkway a little more interesting, there are many ways of doing that. Consider the following ideas:
Mix and match different textures of natural stone
Use different colored stones
Use an assortment of smaller stones for a more detailed look
If you want to make your walkway even more unique, consider adding ground cover or greenery between each stone to give it a more relaxed look. Moreover, doing this might be less work than ensuring no spaces between the stones, as you can simply lay them on the grass and make them into a beautiful walkway.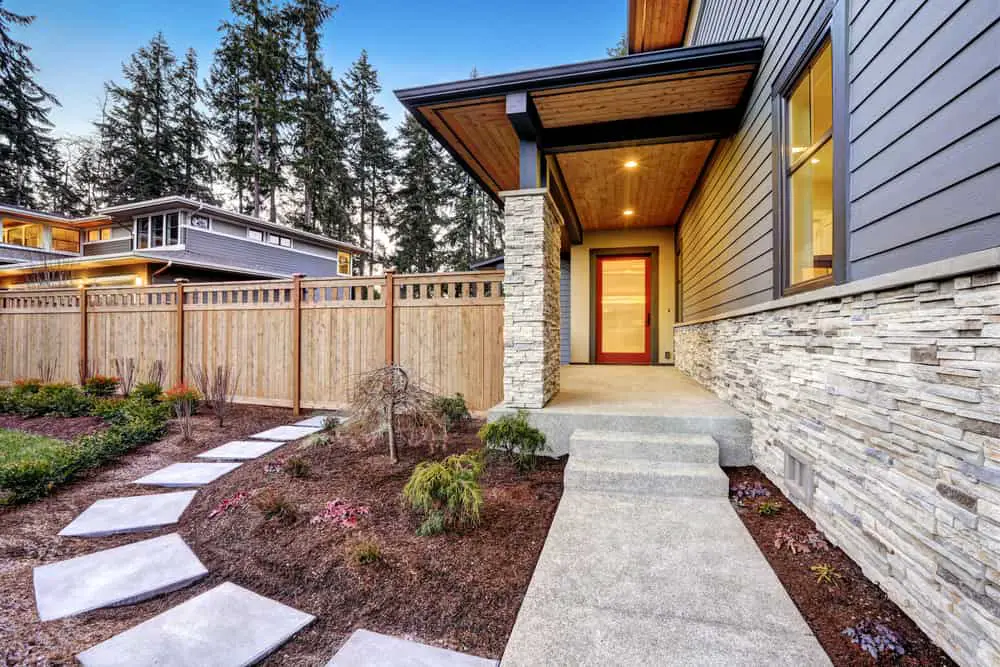 Mixed Materials
Next on our list of creative walkway ideas is to use mixed materials to create an eye-catching walkway.
Using more than one material will add texture and an edge to your walkway. Consider doing something simple, such as using stones and grass, or you can go for a bold approach and use more extreme materials, such as wood and concrete pavers. 
Mixing materials is a risk and might not always be a hit. Experiment with a small section and if you don't like how it looks, you can try again with other materials until you find the perfect match.
Boardwalk
Boardwalks aren't only for beaches. They can also make for a beautiful addition to your backyard.
A raised boardwalk will add a rustic and laid-back feel to your backyard, especially if it's lush with various garden plants. If you want to put minimal effort into sprucing up your walkway, you can skip raising the boardwalk and add the boards directly to the ground.
Boardwalks are typically one of the most affordable walkway ideas to implement. Moreover, a boardwalk is also easier to install than other walkway options so that you can use your walkway in no time. 
Light up Your Walkway
What you're walking on itself isn't the only aspect of your walkway that you must consider. No matter what type of walkway you choose, adding some lights to ensure it's seen no matter what time of day is always a good idea. 
There are a variety of walkway lights to choose from that you can use to line the path straight from your home. No matter what types of landscape lighting you choose, it's a good idea to ensure that they are solar-powered so that you never have to worry about turning them on or off or your electric bill going up.
If you want some creative walkway lights, these solar ground lights can be placed directly on the ground, making it look like light is coming straight from your grass. They're also inexpensive, making them an affordable way to light up your walkway.
Zigzag Walkway
Something else you can do to make your walkway unique is play around with the shape of it. What shape is more fun than a zigzag?
A zigzag shape may not be the most practical walkway idea if the point of your walkway is to make it from point A to point B. However, it is one of the most creative ideas for a backyard walkway that will have everyone walking on it talking about it.
If you want a more practical shape, you can opt for something easier to maneuver around, such as an S or softer spiral or snake shape. This will still add a creative twist – no pun intended – to your yard without making it unwalkable. 
Form a Walkway With Your Garden
The last walkway idea on our list is to take advantage of your garden to shape your pathway.
If you have an abundantly lush garden or landscaping that takes up a significant part of your yard, use it to your advantage to help you make one of the most unique walkways your neighbors will have ever seen. For the base of the actual walkway design, you can choose any simple material, such as brick or stone, because it is the edge of the walkway material that will be the star of the show. 
This idea takes a lot of work and gardening and landscaping ideas, as you'll have to be strategic about how you plant, grow, and shape your plants. However, the payoff is worth it in the end when you have the most creative garden walkway around.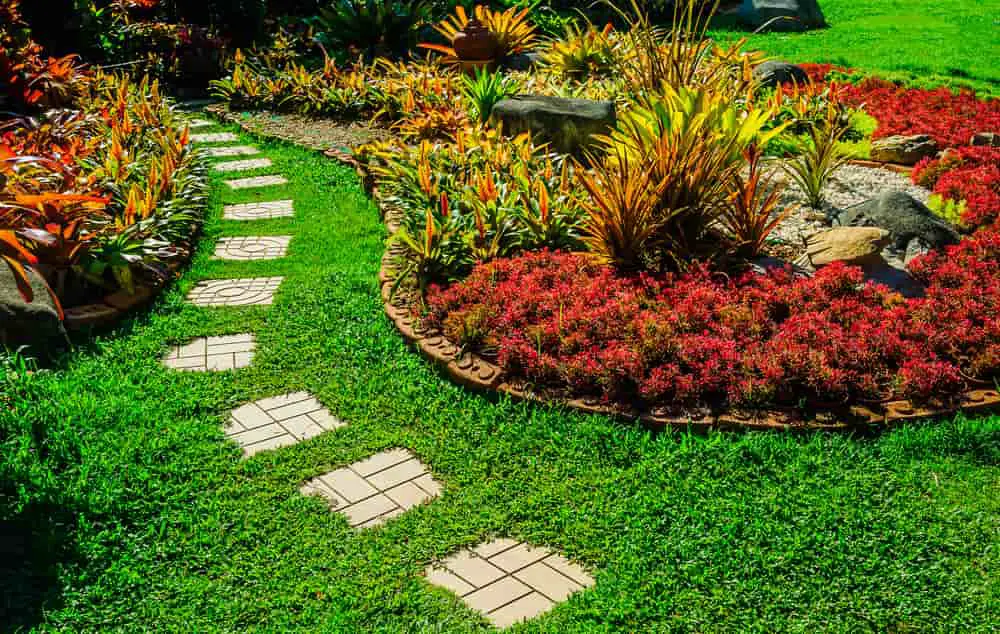 Conclusion: Create Your Own Path to Paradise
To conclude, a garden path or walkway is a crucial part of your outdoor space – whether at the front or the back of your home or made of stepping stones, pea gravel, or concrete pavers.
As shown in this article, there are many different ways in which you can design a beautiful walkway that fits with the vision you may have for your home. Don't be afraid of getting creative with your front or backyard walkway design. After all, if you do not like it or eventually find it outdated, it's possible to change it!