Are you tired of looking at a dead, brown, or bare lawn but don't want to pay a fortune to hire a lawn service or purchase pricey aerator tools? If so, we have an excellent solution for you, and it comes in the form of … shoes!
Yes, lawn aerator shoes are a thing, and they create beautiful, full, lush, and green yards everywhere. Save your hard-earned money for something a little more fun, and look at our list of the best aerator shoes on the market today.
What Are Aerator Shoes?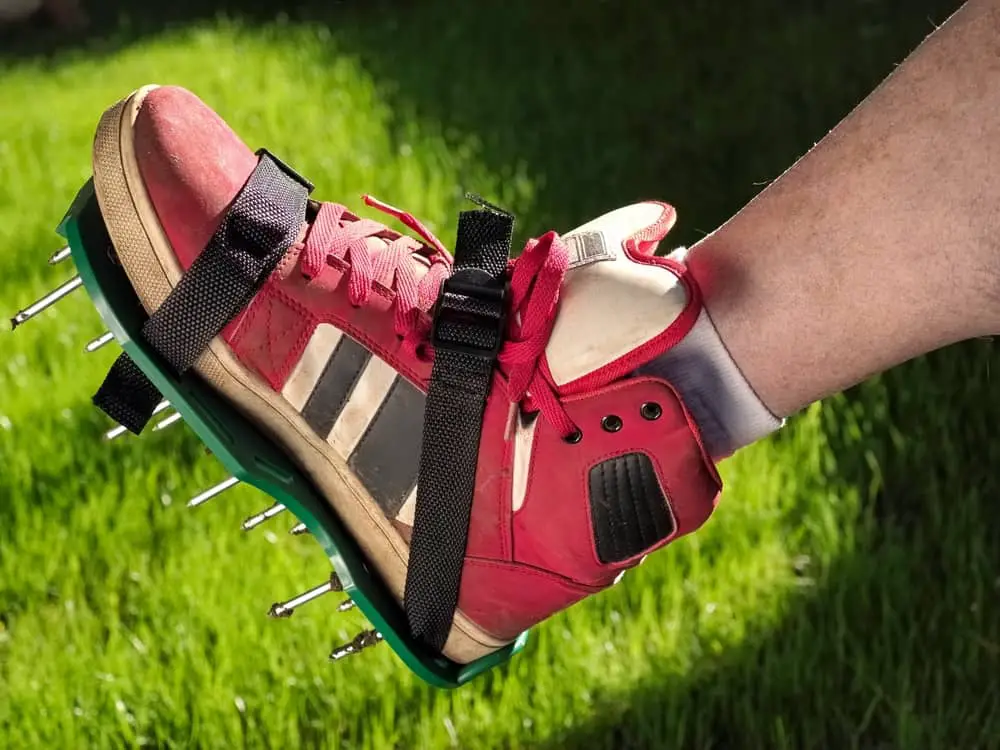 To understand what aerator shoes are, you need to know what an aerator is. Aerators are used to insert air into various materials. Typically, these are used in gardening or lawn care to keep your lawn looking its best.
A spike or plug pushes deep holes through the earth to insert air into the ground. You can create these holes in one of three ways: handheld tools, push machines, or shoes. 
Aerator shoes look similar to sandals with spikes attached to the bottom. These "sandals" fit over your shoes, making it easy to aerate your lawn without heavy machinery. As you walk around doing other lawn work or gardening, these shoes puncture holes through the dirt, providing easier access for water, air, and fertilizer to get to the roots. 
When buying aerator shoes, consider these factors:
What size and weight do they support?
What materials are they made from?
What reviews do they have?
How do they strap to your feet?
Do they come pre-assembled?
How long are the spikes?
How much do they cost?
Not all products are going to be a good choice for everyone. You must consider the most important factors to you and go from there. 
The Best Aerator Shoes in 2023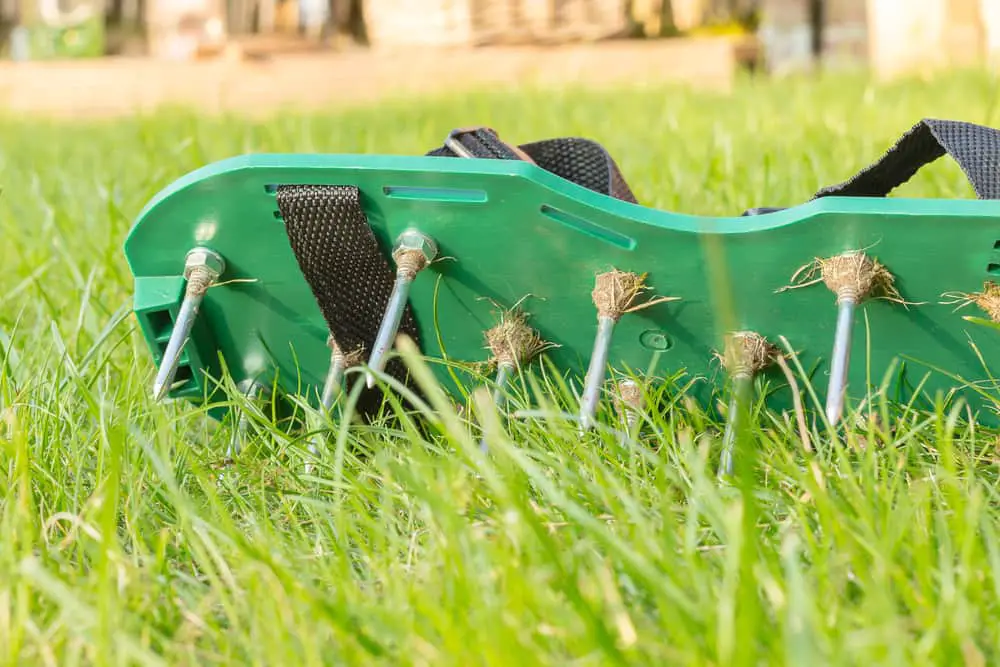 Aerator shoes are a quick, easy, and affordable way to improve the condition of your yard. However, the results are only as good as the products you use. 
Before heading to the store or shopping online, look at our list of aerator shoes that offer everything you need and are more than worth the investment. 
Envy Green aerator shoes are the go-to product for picture-perfect lawns with healthy root systems and luscious green blades.
This brand uses a pre-constructed, ready-to-go design to get you cruising right away. Simply slip these spiked sandals onto your garden shoes, tighten the adjustable straps (which are the trusted x-strap technology), and let the product do the rest.
The spikes are 2.1 inches long and can push through nearly any soil your yard is sitting on. 
Our Favorite Features:
X-strap technology
2.1-inch long spikes
For users up to 220 lbs
Pre-assembled slip-on construction
These lawn aerator shoes are made for heavy-duty lawn labor. You can use these shoes on lawns in any condition and made from any soil type. 
With three thick, tough, adjustable straps, and anti-corrosive, durable buckles, you won't have to worry about these shoes slipping and sliding on your feet or falling apart. The additional heel support ensures your feet are comfortable the entire time you work.
The Abco aerator shoes come with 13 heavy-duty spikes attached to the bottom of both sandals, each 48 mm long. This offers plenty of length for deep soil penetration and excellent aeration.
Our Favorite Features:
Added heel support
3 large straps and heavy-duty buckles
Affordable
Durable and built to last
Skip the hassle of attaching each spike to your sandals; these aerating shoes are assembled and ready to go. Simply slip the large straps over your shoes and lock them in place with the "hook and loop" velcro for a strong and long-lasting hold.
Did it just rain? No worries, the anti-slip grip added to these sandals ensures you will be safe even if the grass is wet. 
Once your lawn work is complete, the convenient metal shovel included with these shoes will help dislodge and remove any stuck debris between the spikes. Once clean, you can easily store them out of sight until the next time you need them.
Our Favorite Features:
Comes with a metal shovel
Anti-slip grip on the bottom 
Anti-corrosive features
Adjustable to any shoe size
The Axansiho lawn aerator shoes are the durable, long-lasting, top-of-the-line construction you have been waiting for. Unlike many other brands that use plastic, these shoes are made with a sturdy metal base.
The spikes are industrial-grade metal, each 2.2 inches long, providing optimal penetration for fantastic lawn care. 
Thanks to the wide, thick, well-constructed double strap system, you never have to worry about these sandals slipping out of place. 
Our Favorite Features:
Industrial-grade metal spikes
2.2-inch long spikes
Durable metal base
One size fits all
Are you hunting for a more eco-friendly way to aerate your lawn and provide optimal nutrients and resources to the grassroots? DenForste lawn aerator shoes can do just that, and in no time at all.
These shoes are made to quickly move through your yard's soil with their 1.8-inch spikes, creating deep holes while you move about. 
The x-strap designs ensure your feet stay strapped in and secure without worrying about slipping off or loosening as you walk. The base is durable, with a double layer of plastic and metal to ensure they don't crack or break, no matter how many times you use them.
Our Favorite Features:
Easy to adjust and strap on
Plastic and alloy metal soles
Pre-assembled
Come in various colors
If you want a professional-looking lawn at a fraction of the cost, you must invest in the Opmeiro lawn aerator shoes. These slip-on "sandals" fit over most shoe sizes and provide a comfortable, slip-free solution to unkempt yards.
These shoes are pre-assembled with all 13 spikes on each plastic and metal sole. This makes it easy to penetrate the surface of your soil without additional force. 
This highly affordable product has a nice, vibrant blue color that everyone will love.
Our Favorite Features:
Affordable
Durable on any type of lawn
13 spikes on each shoe
Convenient and durable hold
These one-size-fits-all Plantnomics lawn aerator shoes are easy to slip on and won't budge once the hook and loop velcro is securely in place.
The combination of thick straps, durable base, and heavy-duty spikes guarantees your lawn is in great hands. You don't have to assemble the shoes as they come put together. However, they also come with a wrench in the event a spike comes loose.
Why pay a pro when you can get the same results by sliding a pair of affordable spike sandals over your boots? 
Our Favorite Features:
A 6-point anchoring strap system
Durable base with 13 spikes
Works best with up to 220 lbs of weight
Performs well on all soil types
These Leweio lawn aerator shoes are slightly more expensive than the other options. However, this slip-on lawn aeration product is worth every penny you spend. They are highly durable with an improved and secure strap system. 
The adjustable buckle and strap design makes putting these shoes on and taking them off a breeze. Plus, the material is super durable and made to last.
The aluminum alloy soles ensure the sandals won't break and the spikes won't bust through the tops. You can use them in any type of weather and soil without worrying about the effectiveness or ability to pass through.
Our Favorite Features:
Innovative strap system
Aluminum alloy soles
Bend- and break-resistant spikes
Flexible and non-slip design
Why Should You Aerate Your Lawn?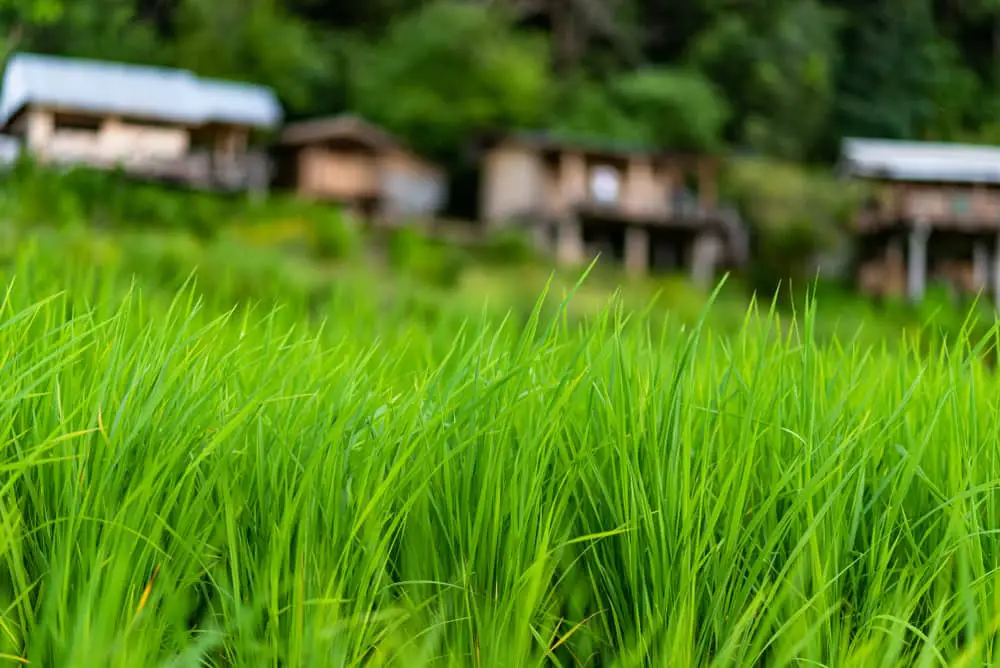 Lawn aeration is vital for healthy plantation and soil. During bad weather, constant foot traffic, and other activities, lawns can get beat up, the soil can compact, and there is little room left for water, air, and nutrients to go down to your grass's root system.
Aerator shoes can dethatch dead and tangled clumps of grass (above and underneath soil), push holes through compact, dry dirt, and break up debris, suffocating or negatively impacting the growth of your lawn.
Using lawn aerating shoes or other tools a few times a year gives your grass access to everything it needs to grow and thrive, giving you the perfect lawn all year long. 
Final Thoughts
Stop spending so much money on lawn care services and get the work done quickly and easily on your own. Using one of the eight excellent lawn aeration shoe products above can save time and your hard-earned cash so you can use it for more exciting activities. 
Before choosing the perfect aeration shoe for you, take a little time to look through the options we have listed here and find the pair that is your perfect fit.