Did you know that ping pong is among the top participating games worldwide, amassing close to 350 million fans! With a viewing that high, it's no wonder that ping pong equipment sales accumulated up to 65 million dollars in a year.
Looking for a ping pong table can be exciting. You probably can't wait to invite your friends over or see the look on your kids' faces.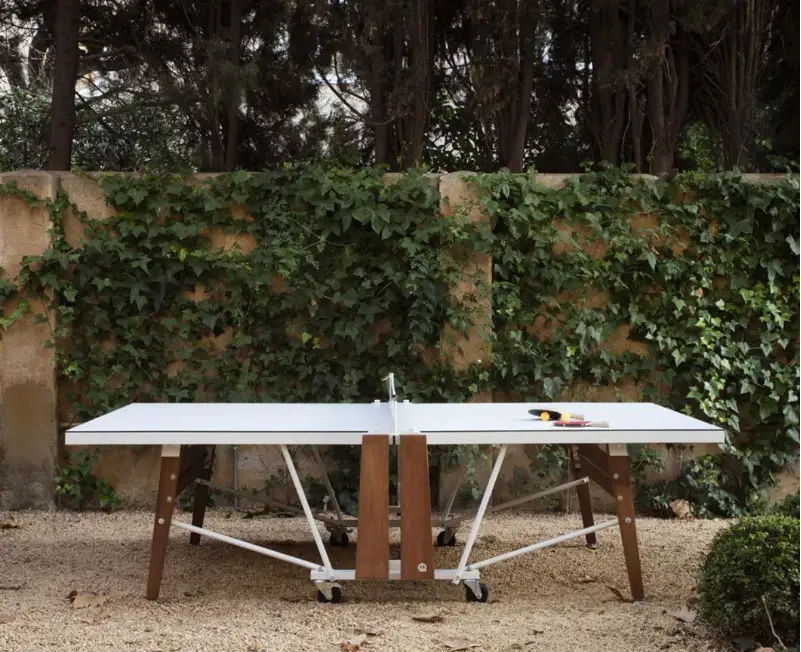 Generally, the main factor you'll be looking for in an outdoor ping pong table is size, foldability, and material. With those in mind, it'll be smooth sailing from then on.
Stick around to learn more about outdoor ping pong tables and check out our top picks.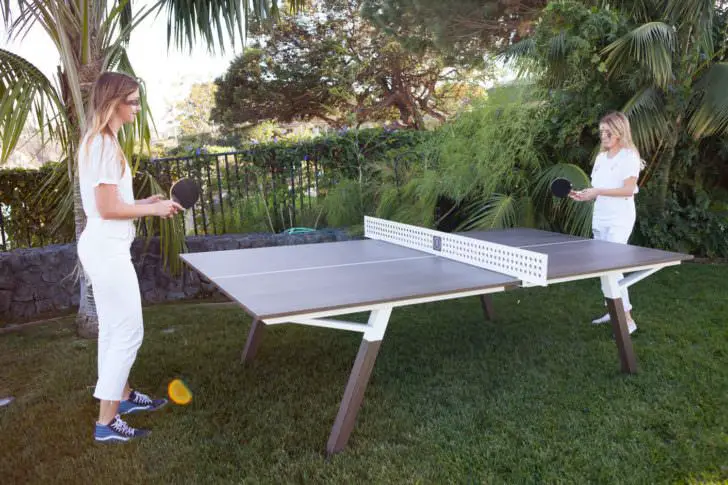 Outdoor Ping Pong Table Buying Guide
Before you make your ping pong table choice, you may want to consider several factors such as the table's thickness, the wheeling options, and more. Luckily, our comprehensive buyer's guide can give you some useful points to look at.
Space Capacity
The first thing you'll want to consider is how much space you have in your outdoor area to accommodate the table.
As a general rule, the ping pong table should have an extra five feet of space on the players' ends. Meanwhile, the width of the table should have around three feet of space on either side.
Table Thickness
The table's thickness, otherwise referred to as its play surface depth, says a lot about its durability. Typically, the thicker the ping pong table, the more bounce you'll achieve from the ball.
Now, outdoor ping pong tables are usually a lot less thick than indoor options. The minimum thickness you could look for is about 0.20 inches. Anything below that won't give your ball a proper bounce.
In addition to this, anything that's higher than 0.27 inches is usually highly-priced.
Wheel Options
Having sturdy wheels for your ping pong table is crucial for convenience. These tables generally weigh around 150 lbs to 200 lbs. Imagine carrying that around every time you want to play.
Since it's an outdoor table, you may need to check how durable the wheels are and whether they can roll on grass. For this reason, if you're planning to move the table around the patio or lawn, then bigger wheels are the answer.
Make sure they also come in reliable parking brakes so the ping pong table doesn't move around as you play.
Foldability
Unless you plan on keeping the table open permanently, storage can be necessary. Most ping pong tables are foldable, which is perfect when you want to stow them away in your garage or basement.
If you want a solo playing option, we recommend getting a ping pong table that has a rollaway folding style. That way, you can fold one part up and play like a mini squash ping pong game. Meanwhile, the legs underneath are supporting the table sides, even when folded.
Other folding options separate the halves of the table and prop them vertically together. The legs are folded into each table side. Accordingly, this may be a better choice for storage since it takes up less space.
Frame Material
The frame material can decide how long the ping pong table could last in your possession. Broadly speaking, a few of the best options for frame material would be aluminum and stainless steel.
Net Style
When it comes to ping pong table netting, three types are mostly available. The first is the non-standard fixed nets, which aren't detachable, giving you less time to prep.
Secondly, clamp nets allow you to stretch the net piece, in case it sags, through a clamp on each end. Thirdly, clip-on nets are almost the same as clamp nets, instead, they use clips to hold the net rather than clamps.
3 Best Ping Pong Tables Outdoor
If you're unsure how to start when buying a good ping pong table, we've assembled some bestsellers for you. These top picks may offer you just what you need in terms of size, durability, and portability. Check them out below.
Joola Nova offers multiple outdoor ping pong table options. This model is one of its best for outdoor playing.
It features an aluminum frame table top with a 0.24-inch thickness. The table is exceptionally lightweight scaling in at around 144 lbs. The best part is that the assembly won't take up a lot of time since it's already 95% assembled.
The table contains a clamp-style net to avoid any sagging. The folding style is rollaway, making it easier to store. Plus, you can play solo by just folding one side up.
Pros
Reasonably priced
Lightweight
Easy assembly
Clamp style net
Sturdy aluminum table frame
Cons
The Stiga XTR series features the XTR, XTR Pro, and XTR Vapor Edition. The XTR is the most affordable out of the three since its dimensions are smaller. Nevertheless, it contains several noteworthy features such as an adjustable leg, aluminum top, and a 72-inch net.
Meanwhile, the XTR Pro and XTR Vapor Edition are larger options and more pricey. The main difference between the two is that the Pro model is fixed with heavy-duty six-inch double-wheeled casters and a locking mechanism.
Pros
More variety
Strong-wheeled
Strong aluminum frame
Water and sun resistant
Cons
The Butterfly company is a well-known name in the table tennis industry. Its Playback Rollaway model allows you the option to have a one-player match by folding one half upwards.
Durability-wise, this ping pong table can withstand water with its synthetic lamination top. The table's legs come with five-inch wheels, but they don't contain leg levelers.
Additionally, the tabletop's thickness measures 0.25 inches. The Butterfly model also features a paddle and ball holder for added convenience.
Pros
Light
Paddle and ball holders
Rollaway folding style
Cons
DIY Outdoor Ping Pong Table
Final Thoughts
Playing ping pong isn't only a fun pass time with friends and family, it also burns about 275 to 400 calories per hour. You just need to make sure you purchase the right option for your outdoor space.
The most crucial factor you need to ensure is getting the right size. Otherwise, you may end up with a large table with no space to play on either side.
Although it's a large investment, it'll be worth it in the end once you've played on it for years to come.