Your porch serves several purposes. It's a place for you to hang out and gaze around your neighborhood, as well as being the first impression guests have of your house. That's why you want to ensure that your porch well represents your home. What better way to do that than through decorations?
As the winter brings cold and snowy days, we're always looking for ways to add warmth to our lives during these months. Winter porch decor can add a touch of warmth to your home before anyone even enters, no matter how cold it is outside.
Keep reading for winter front porch ideas to brighten your home and make it feel inviting. 
Top 8 Winter Porch Decor Ideas
Your winter porch may be the first place you decorate for the season and inspire you to decorate the rest of your home a certain way.
Winter porch decor is more versatile than you might think. While you truly can't go wrong with Christmas decorations, you may want to consider decorations that aren't limited to the holiday season to keep them up for longer and take full advantage of your hard work.
Moreover, you don't have to break the bank to decorate your porch for the winter. In fact, you may already have some of the items you want to use to decorate your front porch lying around your home. 
Need some inspiration? Here are eight winter porch ideas to brighten your porch during these cold months.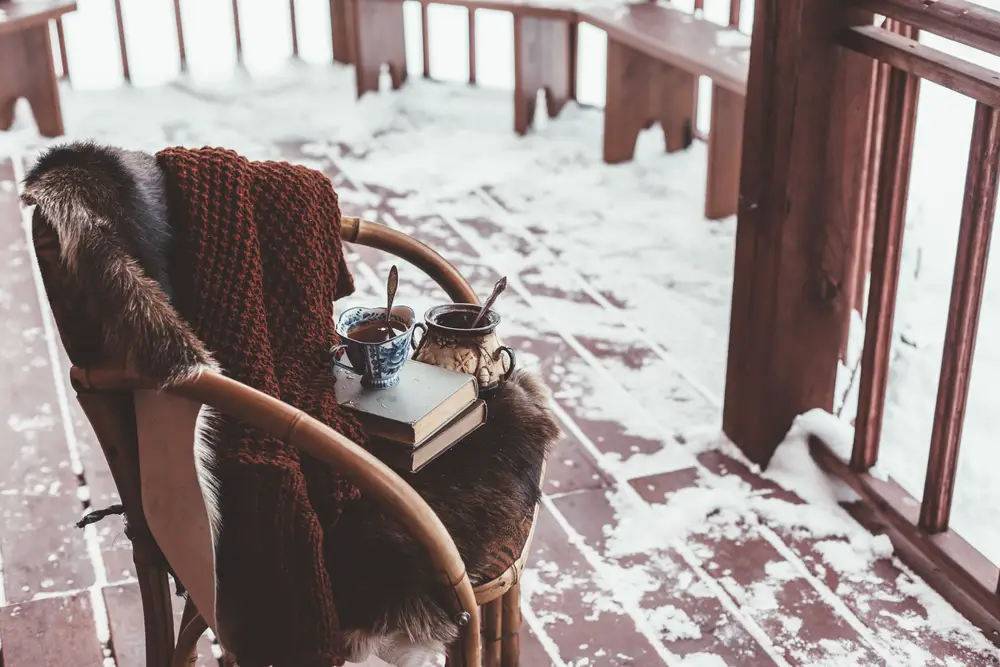 1. Winter Greenery
With winter comes the idea of nature's death, but that doesn't always have to be the case. Plants aren't only great for the summer. You can add some natural wonder to your surroundings to liven up the winter. That's why the first winter porch decor idea on our list is to add some greenery to your porch.
Plenty of winter-friendly plants do well outdoors during the cold season. One of the most common is pine trees, and you can easily find mini pine trees during this time to decorate your porch for the winter. 
Other plants that can withstand cold winters well include: 
Siberian Cypress
Weeping Norway Spruce
Tiny Button Stonecrop 
If you're really a fan of winter greenery, don't be afraid to fill up your porch with potted evergreens for a lush forestry effect. It also makes for great Christmas decor. 
2. Light It Up
With winter comes long hours of darkness, so it's up to us to add a little more light to our lives during this time. Make sure your house is seen from a distance by adding lights to your porch.
Lights are a great way to decorate your home for the winter and create an ambient mood. They're also versatile, as you can arrange them in several different ways and choose from an assortment of colors. 
Better yet, choose fairy lights that change from various colors and modes, from flashing Christmas colors for the holiday season to a more subtle warm color for the remainder of the winter. These Toodour Outdoor Christmas Lights may do the trick and portray your festive spirit throughout your home. 
Consider adding lanterns for a unique effect on your winter porch. Lanterns light up your porch beautifully and give a touch of warmth and coziness if you place them right. 
If you want more subtle lighting that won't overpower your porch, fairy lights are a beautiful addition to your porch for the winter. They also can come in a variety of colors to suit the overall decor of your home. Just make sure that the ones you choose are safe for outdoor use.
No matter what other decor you choose, adding lighting is almost a must to bring your winter porch back to life. It's amazing what a difference a string of lights can make to your home!
3. Ski Decor
Are you a family of skiers? Showcase that with ski decorations for your porch.
As mentioned, you can execute beautiful winter porch decor with things you already have lying around. Every avid skier has a pair of old skis that they no longer use. Instead of throwing them away, you can turn them into vintage decor for your front porch.
Not only does ski decor put your old skis to use, but it also tells anyone who comes by your home exactly what your family is about. You can have fun fixing up your old skis by painting them to match your other outdoor decor, or adding additional embellishments to them. 
You can do the same thing with other items for winter activities you may enjoy, such as a sled, skates, or snowshoes.
Lastly, if you love this idea but don't have any old skis to turn into decor, there's a variety of different ski decor that you can purchase to create this look on your winter porch. This Glitzhome 35″ H Wooden/Galvanized Christmas Ski Porch Decoration is great for farmhouse-style decor and even comes with a Christmas ornament to get you in the holiday spirit. 
4. Decorate Your Front Door
When thinking about decorating your porch, you shouldn't forget about your front door. You have several options when it comes to front door winter decor.
A wreath is a classic way to decorate your front door; they aren't just suitable for the holiday season. Wreaths are great for decorating your home all winter long if you find the right, versatile one. The best way to do that is to decorate your wreath yourself. 
For example, instead of adding cranberries and pine cones to your wreath, you can add colorful flowers or golden wire to take it beyond the holiday season. If you like to keep things simple, you can stick to a simple wreath that will still have a beautiful effect on your winter porch decor. Better yet, match it with other evergreen decor for a uniform look. 
5. DIY Winter Arrangements
For well-rounded winter porch decor, you should ideally have various items on display. One of the best ways to do that is by creating DIY winter arrangements. 
To make your winter arrangements, start with a small tin bucket or basket and figure out where to place them around your porch for the best visibility. 
Once you have your buckets, you need to figure out what to put in them. To keep with the theme, make sure that you think about items that remind you of winter. 
Your DIY winter arrangements can include a variety of different items that represent winter, such as:
Pine cones
Pine branches (artificial or natural)
Logs
Cranberry branches or garland
The options are virtually limitless when it comes to your winter arrangements, and if ever you feel bored of it one day, you can rearrange your bucket again and add new items!
6. Winter Sign
Some people love signs as decor, and others don't. If you're part of the former group, there are various signs for you to choose from for your winter porch decor.
If you feel like a DIY project, you can easily make your own winter signs to display on your porch with a wood board and some paint. You can paint virtually anything onto your sign, from a simple "hello" or "welcome" to common winter sayings such as "happy holidays" or "let it snow."
If you don't feel like making your own winter sign, you can purchase one that best matches your winter porch decor. This "Hello Winter" sign from WhatSign is the perfect welcoming sign for the holiday season. The wood adds warmth to the sign, while the adorable painting of the child and snowman matches the joy of the holiday season.
7. Log Display
Next on our list of porch ideas is a log display.
This is probably the simplest idea on this list, but it's worth exploring if you're into rustic and farmhouse decor. After all, logs are reminiscent of a camp or bonfire, which is commonly done in the winter. 
If you already have a fire pit in your backyard, this idea can be as easy to execute as moving your firewood to your front porch for display. If not, you can purchase wood logs in various shapes, colors, and sizes for display. You can also get a decorative holder, so your logs don't get messy on your porch.
Better yet, several different wood logs are solely for decorative purposes. However, for authenticity and practicality, getting real wood logs for your winter porch decor is a better and more interesting choice. Matched with some lights and a small evergreen, your porch will feel as cozy as ever.
8. Mini Christmas Tree
The last winter porch decor idea on our list is a go-to for many people during the winter months: a Christmas tree. After all, what better way to welcome people into your home than with the holiday spirit?
Since this tree will be displayed on your porch, you probably don't want to opt for a full-sized Christmas tree. A variety of smaller Christmas trees are available specifically made for small spaces or to be on display on your front porch. 
For example, this National Tree Company Pre-lit Artificial Tree For Entrances is a great way to welcome guests and can be moved indoors. With a convenient urn base, this tree is easy to set up and store during the warmer months. Standing at four feet, it is a great choice to add to your front door.
However, outdoors is the ideal place to have a real Christmas tree, so you should consider getting a real mini Christmas tree if possible. You'll welcome your guests with the fresh smell of pine while adding some natural greenery to your front porch.
Wrap-Up: Represent Your Home Well With Winter Porch Decor
To summarize, winter porch decor is an excellent option for bringing life back into your porch during cold, dark winter. Plus, winter decor doesn't always mean Christmas decor. 
From plants to skis, there's no limit to how you can decorate your porch for the winter. You can probably decorate with the things you already have around your house! Don't be afraid to experiment with different decor this winter to have the most creative porch on your block. 
By the end, your winter porch decor will want to make you pull up a chair, grab a cup of hot cocoa, and enjoy the cool refreshing winter air.