Most people build their patios intending to use them throughout the summer months. But why limit your patio use and time outdoors? You should enjoy your patio all year long. 
One of the best ways to prolong the use of your patio is by adding patio heaters. These heaters ensure you have dispersed warmth throughout your patio and make it comfortable enough to use on cool summer nights or even in the middle of winter. 
Consider this your complete guide to patio heaters for your backyard. By the end, you'll be an expert on patio heaters and have a good idea of what type of patio heater is the right choice for your outdoor space.
What Is a Patio Heater?
To kick off this complete guide to patio heaters, let's start by discussing what a patio heater is.
A patio heater is a heat source specifically made to heat outdoor spaces. If you've visited a patio in the fall or winter in the past few years, chances are you've experienced the heat from a patio heater, as they gained popularity for use in restaurants throughout indoor dining restrictions during the Covid-19 lockdown. 
Most patio heaters use radiant heat to warm up the surrounding area, as opposed to forced air that pushes hot air out — such as a blow dryer. Radiant heat involves heat traveling through the air so that you can feel the warmth of the heater all over. 
What makes a patio heater unique is that it's powerful enough to heat a large portion, if not the entirety, of your patio. However, there are different types of patio heaters that work in various ways, depending on the type of heater it is. 
Different Types of Patio Heaters
For a complete guide to patio heaters to be comprehensive, it's important to know the different types of patio heaters. 
There are two main types of patio heaters: fuel and electric. Fuel patio heaters need propane or natural gas to function, while electric patio heaters are typically plugged in and rely on — as the name suggests: electricity. 
Let's take a look at both of these options.
Natural Gas Heater
Gas patio heaters are the most popular option, as most people already have a gas pipeline in their backyards, making it easy to set up. They burn easily and are also easy to maintain. At the same time, they are the most expensive option, and you need a professional to install them. 
You'll also find propane patio heaters, which work quicker than other heaters. Although their tank is more expensive than natural gas heaters and requires a propane tank, they're often more portable to provide additional flexibility for heating your patio.
Electric Heater
Electric patio heaters are also a popular option as they're extremely simple to use and can be installed in minutes by anyone. All you have to do is plug them in, and they're ready to use. While gas heaters often emit a smell, electric heaters are usually odorless, giving you one less distraction while you enjoy your patio. 
They're also generally less expensive than natural gas heaters. But the downside to electric heaters is that they increase your energy bill, so they may end up being a more expensive option in the long run. They also may not be as powerful as gas heaters as they burn slower. 
Chances are that if you've been considering heating your patio for a while, you've considered adding a fire pit. Let's compare the benefits of patio heaters and fire pits to determine which one is better for your patio.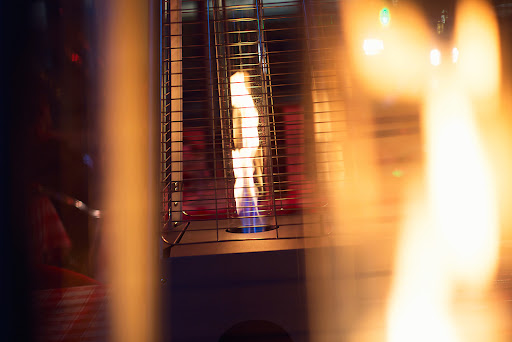 Patio Heater vs. Fire Pit
A fire pit is another good option to heat your patio during the cooler months. This is a classic, reliable option, and many people gravitate toward it. After all, people have used fire pits for heat since the beginning of time. However, there are a few reasons why you may want to opt for a patio heater over a fire pit.
First of all, fire pits get messy as the flame is open. Fire pits emit ash, smoke, and debris that can lead to you having to clean up your patio after every use. The smoke can also be unpleasant on windy days when it's blown toward you. 
Fire pits can become a safety hazard, especially if your fire pit is an open flame on a wood deck near flammable items. That said, patio heaters are also a fire risk, so it's important to monitor them and turn them off when you're done using them as well.
Beyond that, fire pits require a lot of maintenance. Although they aren't too difficult to clean, they still require some tedious work and must be cleaned regularly. In contrast, patio heaters don't need to be cleaned as often — especially electric ones — and require little maintenance beyond plugging them in or turning them on and off. 
Now let's dive deeper into the specific benefits of a patio heater.
Why Do You Need a Patio Heater?
There are several ways to protect your patio during colder weather, depending on the severity of the weather. Some common ways include:
Building an enclosure for your patio (indoor-outdoor style)
Add a cover over your patio
Adding a fire pit
That said, a patio heather remains a must-have to ensure that your patio remains heated whenever you need it. 
Year Long Use
One of the top reasons to get a patio heater is to extend the use of your patio.
Typically you only want to sit on your patio when the weather is nice, primarily when it's warm outside. If you live in a climate where all four seasons are extreme, you may only be able to comfortably sit on your patio for 3-4 months of the year. Even in the summer months, you may find it gets too cold at night to sit on your patio. If you've invested in creating a beautiful patio, you surely want to get more use out of it than that. 
A patio heater extends the use of your patio to all times of the day and the year. You can turn on your patio heater at night and enjoy the stars or turn it on around Christmas time and enjoy your winter wonderland with a cup of hot cocoa. The possibilities are endless with the right patio heaters!
Low Maintenance and Mess
Another top reason to choose a patio heater over other options such as a firepit is that they're less maintenance. This is especially true for electric patio heaters where all you have to do is plug it in and go. Even gas patio heaters require simple maintenance once installed. 
Better yet, there is almost always no mess involved with a patio heater. All you have to do is remember to turn it off once you're done using it. This is in contrast to a fire pit, which can sometimes create debris that spreads across your patio. 
Sleek Cool Designs
Lastly, patio heaters can also add aesthetic value to your backyard. 
Patio heaters come in many different designs that can add style and your personal touch to your outdoor space. Some have cool sleek designs that are minimal and blend in with the rest of your patio decor, while others are large and can serve as centerpieces. 
What's more is that they come in various sizes, giving you options for how you'd want your patio heater displayed. You can get a tabletop one for your patio table or a large one for the center of your patio. Even though a patio heater is a practical investment, don't be afraid to have fun with it.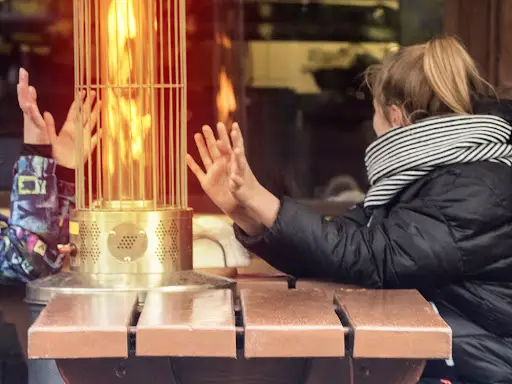 How to Light a Patio Heater Manually
Manually lighting a patio heater isn't as difficult as you may think. Follow these steps to safely light your patio heater:
Inspect your heater to ensure that it's in good condition.
If the ignition is automatic, hold the control knob and ignite the flame with a lighter.
If it's non-automatic, turn the control knob to the lowest setting and then ignite the flame with a lighter. 
How Much Do Patio Heaters Cost?
The price of patio heaters depends on several factors — primarily the size and fuel source. 
In general, the price ranges from $100 for a small portable patio heater to a few thousand for a large powerful one with a high BTU.
However, when choosing a patio heater, you must also consider the cost of functioning the heater, whether that be with natural gas, electricity, or propane tanks. 
Can You Use Patio Heaters in the Winter?
Patio heaters are a great source of outdoor heat in the winter to allow you to use your patio all year long. 
However, it's important to understand that patio heaters aren't necessarily miracle heaters and won't make your patio feel like the inside of your home. The right patio heater will, however, be able to raise the temperature of your patio by 20 degrees or so. 
Consider what winters are like where you live and invest in a patio heater that's powerful enough to allow you to sit on your patio during the cold winter months. 
Now that you're an expert on patio heaters and know how they can enhance your backyard experience, you're ready to choose the best one for your home. Let's explore some options to help you make the right choice. 
Complete Guide to Patio Heaters: Our Top 10 
There are several factors to consider when choosing a patio heater. Some of these main factors include:
Size
Location
Temperature
These elements can make it difficult to choose the right patio heater for your backyard. Luckily, we've done some browsing and chosen some of the best patio heaters to get you started on your search.
Without further ado, here are our picks for the top 8 best patio heaters for your backyard. 
The first option in this complete guide to patio heaters is the Hiland Pyramid Glass Tube Propane Patio Heater.
This large propane-fueled patio heater stands 89 inches tall. It provides a 40,000 BTU output to keep everyone warm on chilly nights. 
It uses a standard 20-pound propane tank meant to last 8 to 10 hours — perfect for an entire day on your patio. The Quartz Glass Tube Flame Heater is stylish and livens up your outdoor heating. It also includes an igniter and a safety auto shut-off tilt valve.
The best part about this heater is that it includes wheels, making it easy to move around your patio at your convenience. 
Next, we have a Hanging Electric Patio Heater from Paraheeter.
The hanging style of this heater makes it convenient to hang over your patio from a gazebo to heat your space. It has three heating modes — 600W, 900W, and 1500W — to meet your seasonal heating needs.
The halogen tube technology of this heater allows it to be used efficiently for up to 5000 hours. It's also waterproof,
 meaning it can withstand the elements pretty well. 
As it is an electric heater, it's easy to install — just plug it in, and you're ready to go. It also ensures top safety, as if the heater senses itself overheating, it will automatically shut off. 
The Fire Sense Tabletop patio heater is another efficient propane heater. However, this one is much smaller as it is meant to sit on your tabletop. 
Made of heavy-duty stainless steel material, this portable heater uses a 1-pound standard propane tank to emit 10,000 BTU. It's also simple to use as it turns on and off with the push of a button and has adjustable heat settings. It also has a protective heat screen guard and a weighted base for prime stability. 
This tabletop heater is best used for an intimate gathering to keep your guests cozy and warm as you gather around the patio table.
Our next option in this complete guide to patio heaters is the Legacy Heating Outdoor Propane Patio Heater.
This propane heater stands 89 inches tall and has an electric ignition to ensure a quick, seamless start. The adjustable heat control settings allow you to customize the temperature of your heater as needed, with a capacity of up to 48,000 BTU of warmth. 
It can warm up outdoor spaces up to 200 square feet, making it a great option for larger backyard gatherings. A 20-pound propane cylinder will keep this heater working for up to 10 hours.
One of the top safety features of this patio heater is that if tipped to 30 degrees, it will shut itself off so that you can minimize the risk of any accidents happening. What's more, the stainless steel material will ensure its longevity while keeping you and your outdoor guests safe and warm. 
Dr Infrared Carbon Infrared Outdoor Patio Heater is a great option if you want your heater to be felt but not seen, as it mounts to the wall and provides heat to your patio. 
This heater provides clean, instant, and odorless infrared heat with three power settings: 900W, 1200W, and 1500W. Just plug in the heater once and use the remote control to turn it on and off and switch between the settings to get the perfect outdoor temperature. 
What's more, this heater has a high-level aluminum mirror reflector with 90% reflectivity, which brings strong heating efficiency. Made with durable and weatherproof aluminum, you can depend on this heater at all times of the year. 
The next heater we have in this complete guide to patio heaters is this 1500W Patio Heater from Air Choice.
This corded electric patio heater contains three halogen tubes to offer instant heating in three seconds with three heating levels ranging from 500W-1500 to meet your outdoor heating needs. 
If it's knocked down or gets overheated, it will automatically shut off, which is a great relief if you have children or pets. Installation only takes 5 minutes, and then you can enjoy hours of heat on your patio.
This halogen heater has a special waterproof design, making rain or snow no match for it. It also emits no harmful odors and is energy efficient, saving you up to 30-40% off your monthly energy bill.
Looking for a particularly stylish patio heater that can add flair to your patio in multiple ways? This Planika Faro propane heater is a great option, thanks to its aesthetically pleasing design. 
This heater uses a propane cylinder that provides a 360-degree flame for you and your guests to admire. With a 20-pound standard tank, you can expect this heater to burn for up to 45 hours. It's best used for intimate gatherings, as you can feel the heat up to 120 cm away. 
This heater is also easy to assemble and comes with wheels to make it easy to maneuver around your patio. It automatically turns off when tipped over or tilted, and the gas supply turns off when the flame goes out to ensure top safety on your porch. 
This patio heater is practical and decorative, giving you the best of both worlds. As a bonus, it even comes with a dust cover to ensure that it stays in good condition even when it isn't in use. 
The last option in our complete guide to patio heaters is the Bromic Heating Portable Radiant Patio Heater. 
This efficient heater is contemporary and stylish. The infrared burners direct the heat in the direction you want it, ensuring that your patio is always warm in the right places. It heats up to 15 feet away, so it works well for a decently sized group gathering. 
Starting up this patio heater is easy, with electronic ignition for an instant start-up. What's more is that the wheels of this patio heater make it easy to maneuver around your patio, so you make the heater adapt to you and not have to adapt to the heater. 
Conclusion: Use Patio Heaters Year-Round
If you have a patio that you enjoy spending time on, a patio heater is a must. They extend the use of your patio to ensure that you get the most use out of it, no matter what time of year you want to use it. 
Using this complete guide to patio heaters, you'll be able to choose the best one to warm up your backyard on summer nights or for winter gatherings.