More and more people are choosing to add outdoor showers to their backyards. While this may sound like an extreme luxury for many, outdoor shower fixtures are actually quite practical in our modern world. That said, most people don't know where to begin when it comes to installing an outdoor shower for their at-home shower system.
If you're interested in adding an outdoor shower to your space – you could even install a foot shower or a handheld shower – but don't know where to start, you've come to the right place. Consider this your guide to choosing and installing the best outdoor shower fixture for your backyard so that you too can reap the benefits of having such a fixture.
Why Add an Outdoor Shower?
Outdoor showers are not a new concept, but they have increased in popularity over the years. There are several reasons why you might choose to add an outdoor shower unit to your backyard. In fact, there are a multitude of benefits to outdoor shower fixtures.
Firstly, there's the idea of becoming one with nature, even if it's only for a few minutes in the privacy of your backyard. It can be liberating to take a worry-free shower – even just a foot wash – outdoors, feeling the sun beaming on your skin and surrounded by your lush garden.
However, an outdoor shower fixture also serves practical purposes. It's fun to play outside, but do you get anxious about dirty kids and pets coming into the house? An outdoor shower kit lets you clean them off before they enter the house, leaving the dirt outside where it belongs.
Kids and pets aren't the only ones who may need to be sprayed down. You can also use your outdoor shower to clean things such as gardening and lawn care equipment, as well as toys and your patio furniture. Having a single designated area to spray things down with hot water prevents the mess from spreading to other areas of your backyard and makes cleaning up a breeze.
Now that you know the benefits of an outdoor shower, let's walk through the steps of choosing the right one for your home.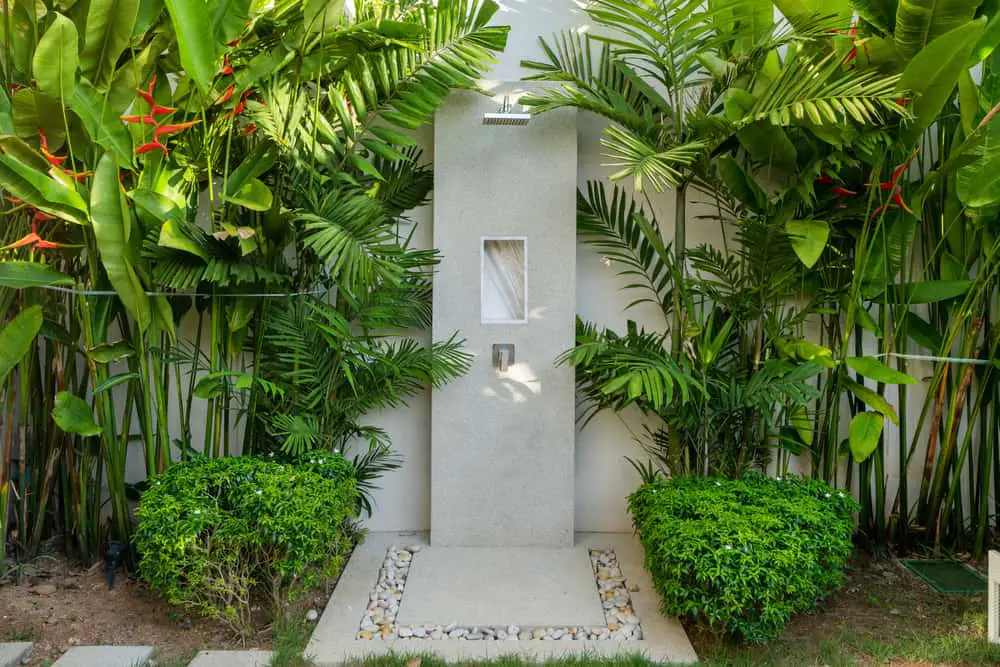 3 Steps to Choosing Outdoor Shower Fixtures For Your Home
If you're thinking of adding an outdoor shower enclosure to your backyard, there are a few things that you should consider while choosing the best option for your needs. Let's take a look at the three steps to choosing which outdoor shower fixture will work best with your outdoor space.
1. Plumbing and Location
One of the most important considerations for outdoor shower fixtures is plumbing, as without proper plumbing, you can't have outdoor shower fixtures. Therefore, your first step should be to figure out your water supply. You'll also need to ensure that you have an appropriate drainage system for greywater that follows your city's regulations. Get a professional to take a look at your shower stall and advise you on what you can do.
Plumbing and location go hand in hand, and location is just as important of a consideration for a modern outdoor shower. For most people, the most important aspect of location is ensuring that you have enough privacy – like a proper shower enclosure – wherever you choose to put your outdoor shower. After all, chances are that you'll be nude in your outdoor shower, and you don't want to have any witnesses!
Make sure that you stand at the location of your potential outdoor shower fixture and take a good look around at what you can see. If you can see your neighbor's windows, then they can most likely see you.
If you can't find anywhere that will provide you with the privacy you need, you may want to consider an enclosure for your outdoor shower fixture or a shower curtain to give you the option of more modesty.
You also want to consider other factors when it comes to choosing the location, including:
The amount of sun
Potential wind
Your surroundings (near the garden, a door, etc.)
2. Choose Your Type of Shower
Once you have an idea of your plumbing situation and the potential location of your outdoor shower fixture, you'll want to choose your shower type. (You could even try something innovative like a solar shower.)
Firstly, you'll want to consider whether you want a wall-mounted shower or a freestanding shower. A wall-mounted shower is easier to install, but a freestanding shower may be more practical if the location of your shower is far from your house. This will also determine the type of outdoor shower head fixture that you should choose. If you want an all-in-one shower head that gives you several options, this Rainfall Shower Head from Gotonovo is a great option that will satisfy anyone's shower needs.
You'll also want to consider the construction of your shower itself. Stainless steel showers are a popular option due to stainless steel's durability and the ability to winterize them if you want to prolong the use of your outdoor shower all year long.
3. Consider Additional Aesthetics
Once you have all of these important functional factors figured out, it's time to have fun with your outdoor shower fixture and figure out the aesthetics and what other accessories you'd want with it! Your outdoor shower aesthetic will largely depend on the current decor of the rest of your backyard.
Although the main accessory to worry about is the shower head, there are several other additions you may want to consider for your outdoor shower:
Benches or areas to sit
Floor mats
Hooks
A towel bar
The enclosure
Wrap-up: Outdoor Shower Fixtures For An Outdoor Oasis
Outdoor showers will continue to grow in popularity, so now is the time to jump on the bandwagon and experience the joy of having one for yourself.
Whether you want to create your own garden oasis or need a quick option for hosing down your muddy kids, there are numerous reasons to add an outdoor shower fixture to your backyard. Take the time to ensure that it's the right decision for you, and have fun with it!