After creating the perfect layout for your backyard, it's time to bring it all together with a few finishing touches, like mosaics. Whether they're made from glass beads, natural stones, or broken tiles, mosaics add interest to plain elements while giving the overall design a personal touch. They're easy to overdo, however, so it's important to plan out just where to add your works of art. For ideas, simply use this guide to select your favorite options, and then get to work.
Pools and Hot Tubs
Swimming pools and hot tubs serve as the perfect blank canvas for your backyard mosaics. You can add a mural to the steps, put zig-zag lines across the bottom, or install a border around the edge of the pool.
If you want to add a large design in the center of the pool, consider going with:
Octopus
Sea turtles
Dolphins
Waves
Compass
Mandala
Monogram
As for the hot tub, mosaics work best when added along either the inside or outside walls. If you want to go with a bold design, consider bringing the mosaic along the outside over the top edge and right down to the waterline.  
Fountains and Water Features
For a smaller splash of color that makes a big impact, go with a mosaic on your fountain, pond, or other water features. If you'd like to make your water feature the statement piece in your backyard, cover it from top to bottom with the mosaic design of your choice.
For small artistic touches throughout your landscape design, put several mosaic ball fountains along your pathways. Either way, the water will create even more movement through the design, helping draw the eye across your backyard landscape.
Outdoor Showers
Outdoor showers definitely look their best when built using vivid tiles along the walls and floor. You can go one step further by covering your shower walls in a tile mosaic featuring your design of choice. Then, create a privacy wall from ice-patterned glass blocks, which will diffuse the colors as the light shines through.
For the shower floors, build your shower pan using natural stones that offer just enough grip while still feeling pleasant underfoot. The stones come in a wide range of colors, allowing you to create your design of choice. For a green and blue mosaic, for example, go with jasper, jade, marble, turquoise, and lapis lazuli.
Garden Features  
When used for your garden features, mosaics pair beautifully with green foliage and colorful flowers plus keep the color going through the fall and winter months. If you position the artwork just right, its bright patterns will help guide the gaze through all your favorite garden areas.
The garden features that look best dressed up include:
Benches
Sundials
Stepping stones
Planters
Statues
If your garden runs along a wall, consider going with a mural that covers just a small portion or extends along the entire length of the space. Retaining walls also look great topped with mosaic tiles. Or you could think outside the box by building a mosaic-inspired rock wall using colorful stones enclosed in sturdy wire.  
Birdbaths
As they're already a fun focal point in your backyard design, birdbaths are the perfect spot to add a mosaic. You can go with a subtle touch by creating your design on the inner bowl surface. Or throw caution to the wind by covering the entire birdbath in an attractive pattern.
The sky is the limit to what designs you might want to add, although abstract patterns often work best. To help the birdbath stand out the most, choose colors that contrast the surrounding landscape. Pink, purple, and blue are perfect for birdbaths surrounded by green foliage, for example.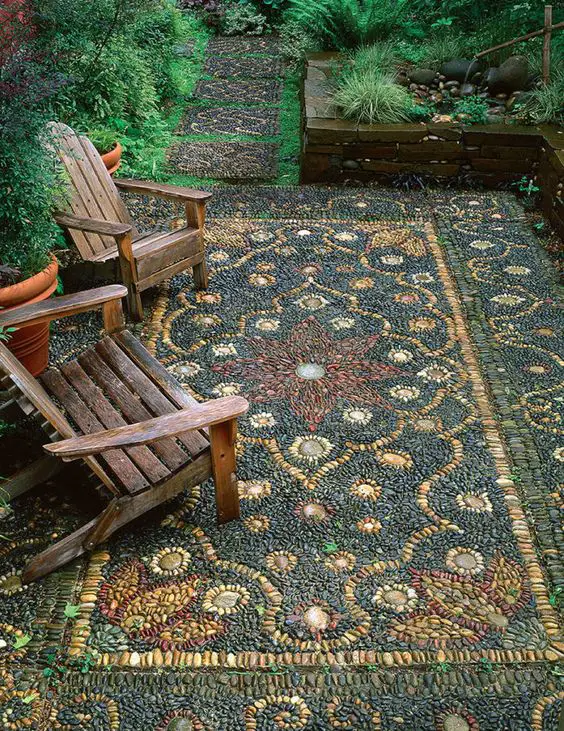 Patios
Mosaics look phenomenal when used for your patio design. If you want the entire thing to look like a mosaic, piece together natural stones in all shapes and sizes to create the surface. After that, just add a contrasting grout color to help the mosaic design stand out.
For a patio design with much finer details, cover a concrete surface with mosaic tiles. You can build each tile using broken pieces of other tiles, glass beads, and natural stones. Then, lay them out across the patio to create a patchwork quilt of color for your patio surface.
Unless you have a particularly big backyard, three to five mosaic-accented items will usually fill out the space pretty well. You can always go beyond that if you want fun colors and textures to dominate the space. To find your perfect design, just reflect on what you want to see when you step outside, and then work with your landscaper to make it happen. You could even try your hand at making your own mosaics if you wish, adding even more personalization to your backyard.