Metal garden sculptures are a unique element that you can add to your backyard to give it character and make it more interesting. 
Although the look and style of the sculptures themselves are the most important element in determining their success in your garden, it's also important to choose the right placement to ensure that your sculptures are visible and seen but don't detract from the landscape. 
But where should you place your garden metal sculptures to ensure that they have the best effect on your yard? Keep reading to find out.
Garden Metal Sculptures Placement Options
Essentially, you can place your sculptures wherever you'd like in your garden. No matter where you decide to place your garden metal sculptures, there's one rule you must follow: they must be seen. After all, what's the point of adding a sculpture to your garden if it isn't visible from at least one angle, even if ever so subtly (more on this later). 
The placement of your sculpture will affect how you perceive it and your garden as a whole. For this reason, consider every area of your garden to determine where your sculpture is best suited.
Here's a pro-tip. Test out the placement of your garden metal sculpture of choice using basic design skills. First, take a photo of your sculpture; then, take a photo of your garden. Upload both and use Photoshop to test putting your sculpture in different areas of your garden to give you an idea of how it will look and where it would look best.
Here are some ideas to give you a starting point for finding the best placement for your garden metal sculptures. 
Near an Entrance
The first place to consider putting your garden metal sculptures is near an entrance. This entrance can be the entrance to your home, your shed, your garage, or even your gate. Adding a sculpture beside the entrance to your home creates a great first impression and can liven up an otherwise empty outdoor space.
This option, of course, depends on the size of your garden metal sculpture. You don't want to place a large towering sculpture just outside the entrance to your home, as it may make it feel crowded and might even scare your guests who aren't expecting it to be there. However, with the right strategy, placing a garden statue there can have a charming effect on your house as well as your garden.
At the Center
Placing your garden metal sculptures near an entrance may make a first impression, but placing one in the center of your garden makes the biggest impression.
The center of your yard is a great spot to place your garden metal sculptures, especially if it's a statement piece. Be prepared to make this the centerpiece of your yard and have all eyes drawn to it. That's why it's important to make sure that you choose an attractive piece that suits your garden.
What's more, placing your garden metal statue at the center may create symmetry in your garden to further enhance its beauty.
In a Corner
If you don't want your garden statue to take center stage, you can also consider going the opposite route and putting it in a corner.
Putting your metal garden art in the corner of your yard is a great way to showcase it without it being the focal point. The key is to be conscious of other elements in your chosen corner. This option is best if you have a prominent garden in the corner of your yard, or a lot of greenery, as the effect may be overwhelming if you add just a standalone garden sculpture.
In a Pond
If you have a pond in your garden and want to make it more unique, adding garden metal sculptures to it is a great way to do so. 
Depending on your garden sculpture, having a figure coming out of the water can be a stunning piece of outdoor art. Ensure that you choose a statue with a finish resistant to water and rust to ensure durability.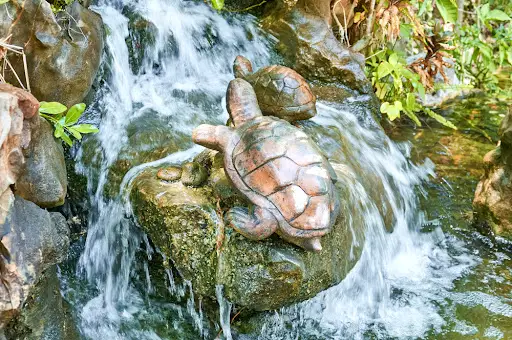 In a Bright Flower Bush
Our last placement option for garden metal sculptures is a trickier option to pull off, but if you are strategic about it and use the right statue, it can bring a sense of mystery to your garden. This option sees you putting your sculpture deep within an abundant flower bed or within a bush and just having it peek out enough to be seen. 
This option is best suited for statues that are a monotone metal color to best contrast with the vibrant color of your flower bed or the greenery of a bush. However, it's important to beware of the placement of your sculpture if it's small – you want to ensure that it remains visible and doesn't become a tripping hazard for anyone.
Garden Metal Sculptures Placement Matter
Sale
chisheen Garden Statue Outdoor Metal Heron Crane Yard Art Sculpture for Lawn Patio Backyard Decoration,46 inch (2-Pack)
Garden statues yard art are handcrafted from thick metal and parts welded together with nice details.
Garden cranes pair are finished in black and gold, attractive,majestic and prominent figure in any yard.
Crane statues for outdoor in its life like proportions (43.3"/46.4'') make it realistic and detailed.
Metal yard art heron decoy come with U-shaped spike to hold it down on the ground. More it stable.
Shipped in perfect packaging and easy to assemble,no tools required. 1-year quality warranty. Friendly Service Always.
Jesokiibo 2pcs Tequila Rustic Sculpture Metal Agave Plant Home Decor Rustic Hand Painted Metal Agave Garden Ornaments Outdoor Decor Figurines Home Yard Decorations Lawn Ornaments
[100% handmade] This agave plant will illuminate any space where you place it. This particular agave has no base and looks like it has grown from the ground. These are all handmade, so each plant will be slightly different. (2pcs is a set of 14.5 inches and 18 inches respectively)
[Indoor and outdoor use] This indoor and outdoor uses a head-turning agave. At any level or family space can attract attention. This particular agave has no base, making it look like it grows from the ground. The perfect garden statue can also be used as garden party supplies or birthday/holiday gifts for friends and family.
[No tools required to assemble] DIY Art Agave Country Sculpture Just put it wherever you want, perfect decoration for gardens, courtyards, ponds, decks and lawns. It can be placed on the ground, on the terrace, as an ornament for flower pots-outdoors and indoors.
[Safe and durable material] Made of high-quality old iron materials, the leaves of these artificial plants are environmentally friendly and durable, and can support long-term use. In addition, the bottom basin is very strong and stable and easy to place.
[Easy to care] This agave plant is easier to care for than real plants. No need to spend time watering and fertilizing, no need to worry abou
From a pair of cranes to a unique rustic plant, you have several options for garden metal sculptures. But finding the right spot for your garden metal sculpture is almost as important as the sculpture itself, so you must take the time to determine where it will have the greatest influence on your garden.
If you don't like the spot where you first place your garden metal sculptures, it's not a big deal. Don't be afraid to move your sculpture around until you find the perfect placement in your garden. Even if you do think you find the best placement for your statue at the time, you might change your mind later in the season or as you develop your garden. The good thing about statues is that they aren't restricted to one spot forever. You can move them at your leisure!
Depending on the type of sculpture you choose, it might be heavy and a little difficult to move, but it's worth it once you find the perfect spot to marvel at it.