One of the worst parts of tree removal from your lawn is the large stump that will typically get left behind. 
While many people pay a lot of money to remove these tree stumps, there are other solutions to your problem. Instead of destroying it, why not dress it up?
Before calling in the stump removal crews, look at the article below for ten great ways to turn the old stump taking up space in your yard into a masterpiece, enhancing your landscape and improving the look of your home.
10 Tree Stump Ideas You Have to See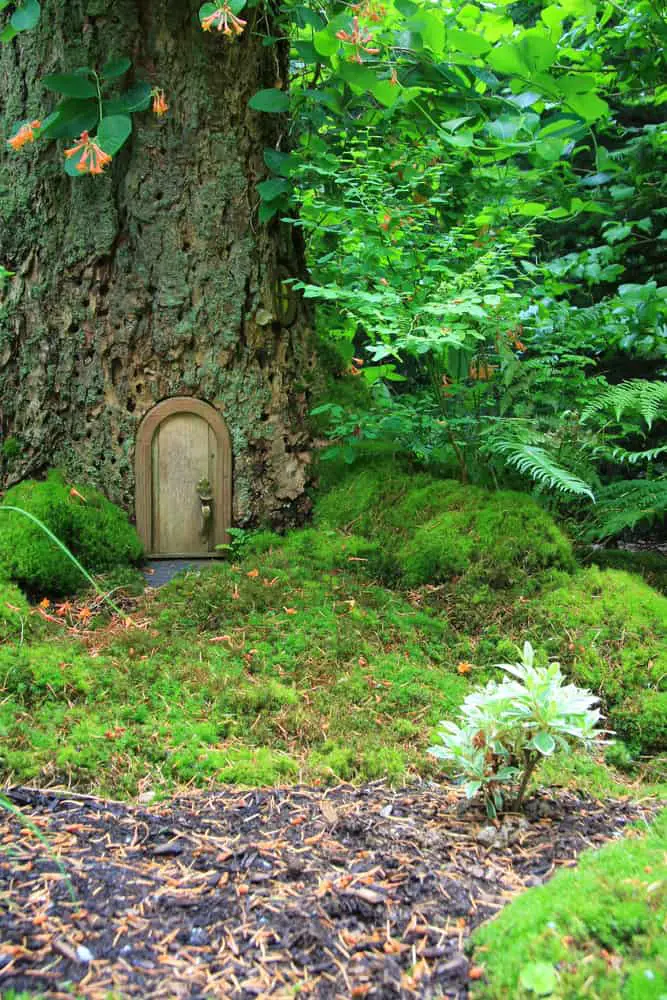 It might be hard to imagine that a large tree stump can be something other than, well, a tree stump. Yet, there are so many different ways to utilize this leftover wood, creating projects that can be useful, beautiful, and even entertaining. 
Check out these ten intriguing ideas already tried by creative homeowners, and hopefully, you can find something that piques your interest. 
1. Build a Magical Fairy House
Creating a fantastical fairy garden or house is one of the most magical projects you can take on. There are many creative and fun ways to do this, making it easy to design a unique and mystical world in your backyard.
There are endless ways to build a fairy house. You can pull ideas from various movies or mythical legends. Your fairy house can be full of sweet fairies, colorful flowers, and butterflies, or you can go for a land of gnomes, mushrooms, and forest creatures. 
When creating a fairy garden house out of a tree stump, you can keep it simple and decorate with garden decor, placing the figurines around the stump and some on top.
If you are feeling creative, you can go all out and carve groves and divots into the unsightly stump, making rushing rivers, luscious mountains, and rolling hills. 
2. Create an Outdoor Garden Table 
If you have a larger stump near your home or in a private space you can use for rest and relaxation, consider turning it into an outdoor table.
The rings that developed as a tree ages create a unique and gorgeous design that provides a garden table perfect for tea time or reading a book.
If you choose this option, you might have to do a little work to get the top of the tree stump flat enough to hold cups, plates, etc., adequately. Consider adding a coat of weather-resistant sealant to the top. Not only will this keep the wood from rotting in wet weather, but it will also add a beautiful glossy finish if you purchase the right products.
3. Turn It Into a Natural Makeshift Flower Pot
Another idea that would be perfect for an old tree stump is creating a rustic makeshift flower pot. This option will add beautiful landscaping to your yard while utilizing what would otherwise be quite an eyesore.
One of the best ways to do this is by hollowing out the stump's center at least a few inches deep. Then, add some high-quality soil, and place your favorite colorful flowers inside.
You can add to the look by adding crawling vines around the edges of the stump or lining the edges of the tree with some glow-in-the-dark pebbles.
4. Make a Unique Yet Savoy Bird Bath
Can you think of a better way to create a natural bird bath than using an old, unused stump? 
This is a fun idea to try with a taller stump. All you have to do is carve down into the stump an inch or two, then line it with a layer of concrete. Once that dries, fill it with water, decorate it with fake flowering plants and plastic birds, or place a few feeders in the surrounding area.
After that, you can sit back and enjoy the view as birds flock to your yard from all around.
5. Little Wooden Chairs
If you have a portion of a tree stump sitting around after cutting down a tree in your yard, you can turn them into fun and beautiful outdoor chairs.
After trees are chopped down, most people will cut the stump into portions, making it easier to clean up. These are ideal for stools, seats, and other furniture for around a fire pit or in a cozy spot somewhere in your backyard.
Imagine placing these unique wooden stump seats around your elegant stump table. This would be a fantastic outdoor space for entertaining a friend or finding a bit of privacy while enjoying the peace and quiet of nature. 
6. A Hiding Spot No One Would Ever Suspect
If you have a large stump somewhere near your home, you can quickly turn it into a storage space no one would ever think of checking. 
Everyone knows most homeowners will hide their spare key underneath a mat or large rock close to the porch, but who would ever think to check the wooden stump nearby?
Just hollow out the center of the stump and leave the bark in place, using it as a makeshift door. You can cut a large hunk out of the center to keep oversized items or carve a small space to fit your spare key or other small treasures.
7. Turn It Into a Piece of Art
You can use your artistic abilities to come up with a work of backyard art out of a tree stump in many ways. You can create exciting sculptures, using the tree bark as clothing to dress an enchanted wise woman carved into the wood.
You can remove the tree bark from the remaining stump, carve out nature scenes, paint a mural, or design a wooden sundial.
Let the artist inside you shine and get creative with your work.
8. Make a Place to Cleanse Your Crystals
If you look to healing crystals and stones for their incredible powers, you already know they require frequent cleansing. 
One of the best ways to cleanse your crystals is by placing them outdoors under sun rays or the light of the moon. 
This process requires you to leave your stones outdoors for hours or often overnight. You can use a tree stump to create a safe place to store them while they rejuvenate.
Decorate the stump with fun designs with Chakra themes or decorative glass stones. 
9. Light Up the Night
Why not use the natural fixture as a way to illuminate your lawn? There are many great outdoor lighting products to choose from, giving you endless options. 
LED lighting is the most common choice for outdoor designs. You can decorate the stump with string lights that glow one bright color or wrap a strand of multicolored bulbs around it that will dance to the music you choose.
Instead, you could forgo the strand lights and create a wooden light post out of the stump itself. It doesn't have to be perfectly detailed because the tree's look is breathtaking all on its own.
10. Create a Pathway Like No Other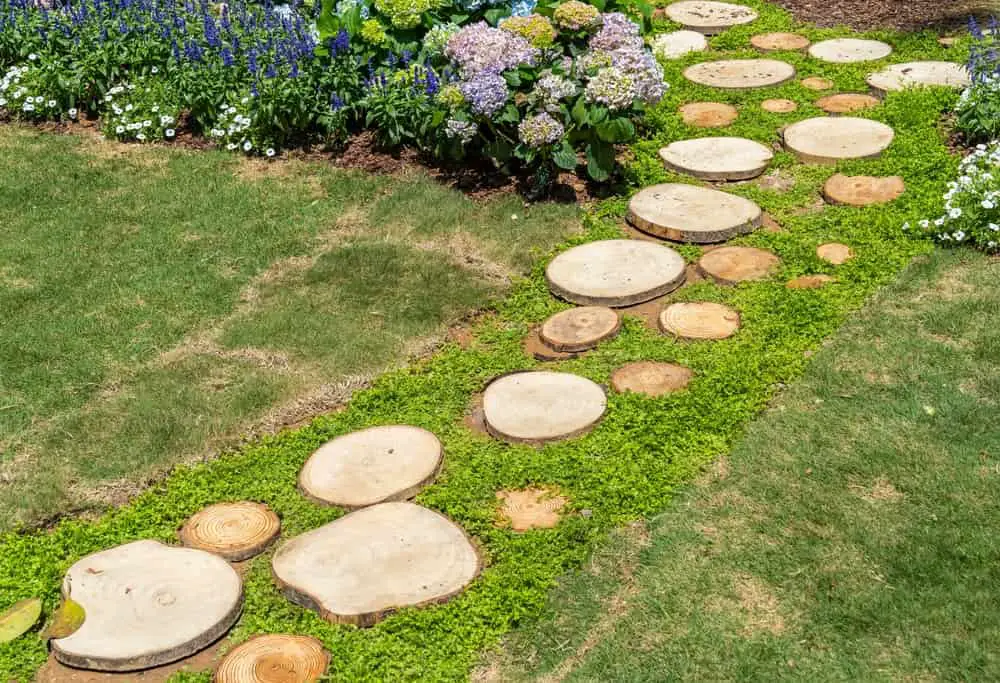 Use a chainsaw to slice the tree stump into thin slabs. Then, add a coat of weatherproof sealant for a nice layer of protection.
Once the slabs are dried, place them side by side, forming a pathway from your home to your driveway, garden, or pond. You can design a beautiful walkway with these wooden pieces that will make your guests jealous. 
You could also use these wooden slabs to line the edges of your garden, design a fun and exciting wall over your fence, or as decorations on your porch.
Bonus Idea: Build a Waterfall
Wouldn't a beautiful waterfall spilling from the top of a tree stump look astounding? You could easily create a waterfall from a leftover stump and a small pump. The water can trickle down the stump, following paths you carve into its sides.
You can have the water flow out to an open garden full of lush vegetation, vibrant flowering plants, or a small artificial pond. 
Your family, friends, and neighbors will be impressed with your handmade waterfall's sophisticated, elegant, and impressive look.
If you want to get creative with it, add a few goldfish, frogs, or turtles to your space.
Final Thoughts
Turning a tree stump into a work of art may be challenging or even impossible. However, with a bit of creativity and a few good tools, you will be amazed at the beautiful things you can come up with. 
If you have a tree stump sitting on your lawn, consider trying one of the ideas above and make it a project you ca